Sheri Ward
Juliet Ward '21: on the universality of fencing
Whether serving the purpose of amusement and passing time or developing military tactics for hand to hand combat in battles, sword fighting has been an essential component to different cultures and societies for hundreds of years.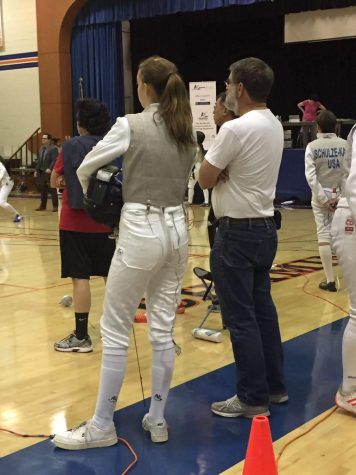 In the early 15th century, these duels began to transition into the official sport that is now commonly known as fencing. While given a name, the popularity of fencing didn't increase until the 17th century when developments were made to ensure a fencer's safety (and avoid a potentially bloody or fatal outcome).
The "foil," a weapon with a flattened tip, and a wire-mesh mask were created, both commonly used fencing gear intended to reduce the likelihood of injury. A comprehensive set of rules was also outlined to solidify the proper etiquette of fencing. Together, these developments ensured the safety of participants and helped fencing gain the popularity that it has today, as well as earning it a place in the Olympics.
Juliet Ward '21 recently became involved in the sport, practicing at Points West Fencing in Ventura, and has quickly been drawn in to the world of fencing. "I wanted to try a sport that was different," Ward said. "I'm not really one for team sports; usually, I like to be more independent."
Ward has been fencing for six months, and although she is still at the beginner/intermediate level, she has participated in two competitions. She has already won a direct elimination round (DE) in competition, which is the main bout of the tournament.
While Ward recognizes that fencing does have a strong element of competition, she identifies a more relaxed factor, as well. "Usually at competition I see a lot more competitiveness—a lot more harshness with coaches. But at [practice] they're really open and really nice and you still get work done, but in a pleasant environment."
"I wanted to try a sport that was different," Ward said. "I'm not really one for team sports; usually, I like to be more independent."
Her practice consists of basic warm ups and stretches, footwork practice, and then actually drilling her fencing skills with her teachers and other fencers.
Ward appreciates fencing for its unique and mentally challenging aspects, rather than just the exercise component.
"It's strategic and it's mental—it's not just physical," she said. "It's a big challenge, and not just on your body. It's taught me to have more diligence because I've never really been a sporty person, and I've become more aware just because of the mental workout it is," Ward reflects.
Ward encourages others to consider learning how to fence so that they can experience this impressive mentally and physically challenging sport: "Anyone can do it, anyone. It doesn't matter your body type. Everyone has a certain advantage."
Comments on articles are screened and those determined by editors to be crude, overly mean-spirited or that serve primarily as personal attacks will not be approved. The Editorial Review Board, made up of 11 student editors and a faculty adviser, make decisions on content.