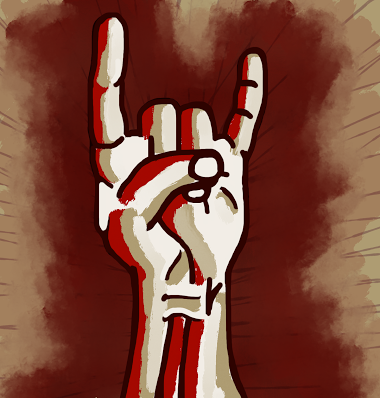 Rock
Eagles
The Eagles will always be one of the top bands on my list of favorites. The band reminds me of sweet summer mornings on the beach while camping at Ventura's local beaches. The band is made up of four members that all play a part in vocals. Every voice creates a sweet melody and a beautifully harmonized sequence. The award-winning band has a variety of types of songs, from the soft "Desperado" to the fast-paced and thrilling "Witchy Woman." Every single song has a meaning to it that's twisted, making the lyrics so intriguing. With five songs reaching #1 on the charts, this band will die being the greatest of all time in my book.
-Sophia Parker
Kings of Leon
Well-known for their amazing vocalist and incredible musicians, Kings of Leon have built a platform for "Best International Group." You will not find another rock band like the Kings of Leon; the band is so one-of-a-kind and no one can nearly compare. I grew up to this music and I will always continue to listen to this band throughout my life; they're simply timeless. "Sex on Fire" is their most popular song and has gotten awards after releasing their album "Only By the Night," which I hold as their best. I say this with the highest regard because every song on the album is liquid gold. My favorite song that's hidden on the album is "Revelry." Do yourself a great favor and listen to their music; it'll be worth your time.
-Sophia Parker
Guns N' Roses
In 1985, one of the most legendary rock bands rose in California, Guns N' Roses. A year after they released their debut album "Appetite for Destruction," they reached #1 on the charts for a very good reason. Three of their most known songs "Welcome to the Jungle," "Paradise City" and "Sweet Child O' Mine" debuted on their first album causing for a riot of hysteria. This band of insanely powerful artists created their own Rock n' Roll empire and it will live on until the end of time.
-Sophia Parker
Queen
Holding more awards than I can count on my fingers, currently ranked #3 on the artist's charts and now with a movie made after them, Queen has become one of the best bands to go down in history. Their diverse songs show the raw talent each member has and their true passion for music. Some of their biggest hits, "Bohemian Rhapsody," "Another One Bites the Dust," "Under Pressure" and "We Will Rock You" will never be forgotten. Their biggest hit, "Bohemian Rhapsody" is simply a masterpiece. The complexity of the music and the intentionality of the lyrics come together to brew one of the greatest songs of all time. Like a play, there are acts of this song that come with very different stories and styles of music. This timeless song will forever touch the hearts of listeners.
-Bella Hall
Comments on articles are screened and those determined by editors to be crude, overly mean-spirited or that serve primarily as personal attacks will not be approved. The Editorial Review Board, made up of 11 student editors and a faculty adviser, make decisions on content.