The story of Dudeo Perez
February 4, 2019
Noah Boland '16, Spencer Cefalu '17, Jackson Morris '20 and Jackson Reynosa '16 are all Ventura High School ( VHS) alumni or students, and they formed the band around six months ago.
In July of 2018, Morris met Boland, who said that he was currently working on a side project with Reynosa. Morris was familiar with Reynosa, as Reynosa's mom is a science teacher at VHS. When the three started playing together, they felt a "chemistry when it came to music." One day, Cefalu met up with them, and Boland suggested that he played bass with the group.
"It all kind of clicked rapidly within a week," Reynosa said. "The week before that happened, I mean I was just—you know—writing songs in my room. Showed 'em to Noah—he put a twist on it. We showed it to Jackson—he put a twist on it. Showed it to Spencer—he put a twist on it."
The band name, Dudeo Perez, is inspired by an alter ego that Reynosa created as a child. The alter ego is designated for "a kid in general" who was the same age that Reynosa was at the time.  According to Reynosa, Dudeo Perez is not an alter ego created for himself, but rather for "anybody" with a large imagination and big dreams who was underestimated as a child.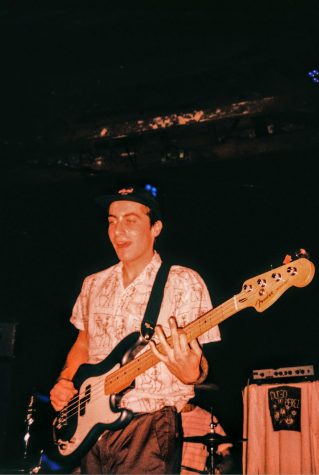 When the band started working together and writing songs, they wanted to bring back the name that followed Reynosa as a child. The first and most recent album released, Allons'y, is inspired by Dudeo Perez's life today.
"Dudeo Perez now," Reynosa continued, "the songs that you hear and everything are pretty much him living out those dreams in some form, so everyone can kind of enjoy it."
"The album kind of takes you through each little story he's got," he added.
In regards to working together, Cefalu said that since the group all really enjoys listening to and playing music, bringing that together by playing with his closest friends "enhances the entire experience."
"I would honestly say that these guys are definitely the most passionate people," Reynosa said. "When your energy and passion towards a certain thing—music in this case—is mashed by all four members of the band, it's really special."
"It's that constant drive and want to be—you know—just the best we can be; that really makes it for me enjoyable," he shared. "It keeps us really grounded and connected, which is really sweet."