Fourth annual "Love the Earth" benefit concert raises funds for memorial garden (20 photos)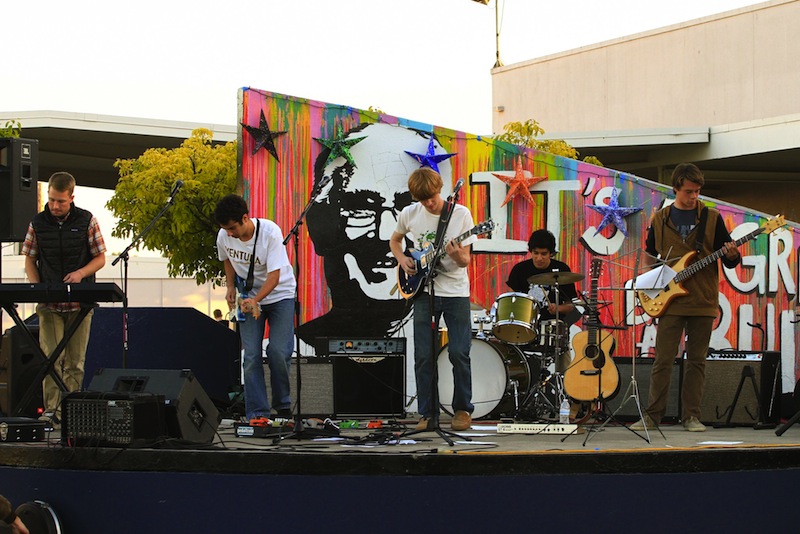 Buena's Environmental Club put on the fourth annual "Love the Earth Concert" to fund the school's Amy Reinert Memorial Garden which provides fresh produce for the Buena cafeteria and the ASB bistro.
Both students and teachers from Buena, Ventura, El Camino and Foothill performed on Friday night in front of a small yet engaged audience in Buena's quad.
The benefit concert was split into three acts, each act having some form of local connection to Ventura high schools.
Buena library media teacher Joel Levin is the vocalist and guitarist in Far From Kansas, which was the second act. Levin played in last year's concert and decided to play once more.
"It['s] just a really cool vibe," Levin said. "The organic garden is pretty amazing."
The Environmental Club at Buena held the benefit concert as a general funraiser for all of the clubs campaigns, and for a renovation of the school's organic garden.
"We raise money for our organic garden here on campus as well as buying acres of the rainforest to save them from industrialization," said Cole Citrenbaum, musician and vice president of the Environmental Club.
The organic garden is known as the Amy Reinert Memorial Garden, a commemorative project that was built in wake of the teacher's tragic death last year.
"It is on campus, we make sure to do maintenance on it, we [plant] seasonal vegetables and we sell them to our cafeteria on campus and we painted a wall orange for her because that was her favorite color," said Lauren Zika, co-president of the Environmental Club.
Some of the money earned from this concert will be put towards the creation of a decorative entrance bearing Amy Reinert's name to replace the existing chain link fence. Other portions of the money will be spent on gardening essentials.
The garden yields seasonal produce which the Environmental Club sells to the Buena cafeteria, the ASB bistro and even directly to Buena students and staff.
"It [the garden] is still in it's infancy, basically. We're trying new things, and we do try to keep it all seasonal to promote that," said Brian Gialketsis, co-president of the Environmental Club.
Credit: Aysen Tan/The Foothill Dragon Press