AVID students carve Halloween pumpkins (19 photos)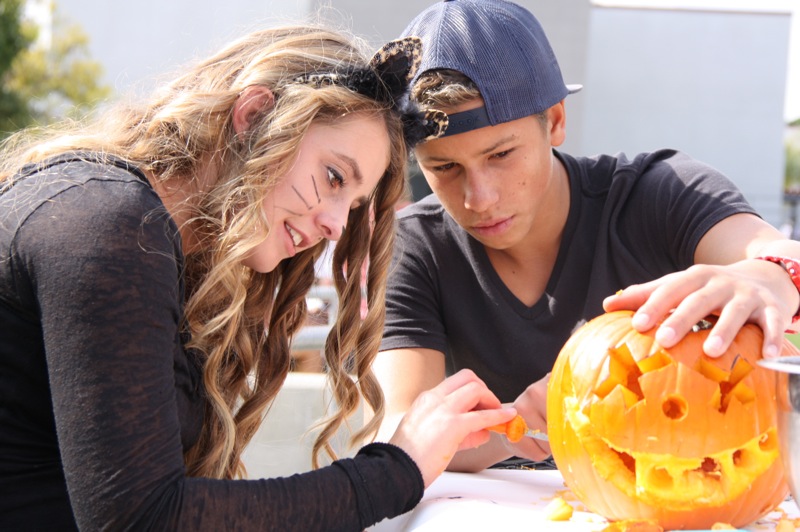 AVID students set out with pumpkin carving tools and skillful tactics during sixth period on Halloween to participate in the annual pumpkin carving activity under the direction of AVID advisers Jason Dinkler, Heather Ferris, Alice Braitman and Anthony Villa. 
"The pumpkin carving tradition has been going on for about five years now," Dinkler said.
Students competed in teams of threes and fours to try and win from the categories of scariest pumpkin, most "AVID-ized" and best overall with candy awarded to the winning teams.
The AVID students also got to sample Marie Callender's pies which they will begin selling as a fundraiser.
"The pies are a great fundraiser because you can eat them on Thanksgiving. We also sell them on Christmas," Villa said.
Proceeds from the fundraiser will benefit the AVID program. 
AVID stands for Advancement Via Individual Determination and is an academic elective class with the goal to prepare students for a four-year college. The Foothill AVID program has been recognized as an AVID National Demonstration School.
To end their pumpkin carving competition, students filed into Villa's room to put candles in the pumpkins and vote. Students got to bring home their scary pumpkins. 
"It is much better than being in class during this period," sophomore Sarah Cameron said.
Credit: Stevi Pell/The Foothill Dragon Press