Class of 2012 becomes tenth Foothill class to turn tassels (89 photos, video)
Rachel Crane
June 13, 2012
Hang on for a minute...we're trying to find some more stories you might like.
Friends and family of the Class of 2012 cheered in excitement as the graduates ceremoniously turned their tassels before throwing their caps into a rain of streamers.
Prior to the ceremony, friends and family filed into Ventura College's gymansium while the students gathered in an adjoining building where they adjusted their caps, took photos, and chatted before the graduation began.
"I'm having mixed feelings. Foothill has given me so many new skills, but I'm excited to try something new," graduate Andres Parra said.
Senior Maelynn Dickson said that her favorite part about graduating was "just seeing that you succeeded even though people told you 'that school is hard,' just knowing you made it."
"It's always exciting and inspiring to think about everything they've accomplished and everything they're going to accomplish as well." Honors World History and AP Government teacher Cherie Eulau said of the graduates.
Don-Joseph Rojo said that he's sad he will not be able to maintain all of the friendships he made at Foothill.
"I'm actually not going to see a lot of the friends I made over the past four years… and I'm going to miss a lot of them, I'm going to miss high school," he said.
Twelve members of the junior class volunteered to be on Dragon Honor Court and helped set up for the ceremony. The volunteers were Hayley Abourezk-Pinkstone, Victoria Delgado, Sydney Gustafson, Ryan Harris, Alexander Koch, Stephen Mariani, Andre Sehati, Otto Tielemans, Jackson Tovar, Marnie Vaughan, Natalie Waechter, and Mallory Woertink.
"I think the seniors deserve not to have to do the background work," Abourezk-Pinkstone said about her reason for joining Dragon Honor Court. "They deserve to be the stars of their own show," she continued.
Minutes before the ceremony, the seniors began stomping to the beat of "We Will Rock You" by Queen in the small gymnaisum as they lined up to walk.
Then, "Pomp and Circumstance" began to play as teachers and administrators, followed by Dragon Honor Court, walked to their seats. The graduates then walked in pairs down opposite aisles before greeting each other with handshakes, hip bumps, and hugs.
After the graduates took their seats, Senior Class President Trevor Kirby went on stage to introduce this year's League of Inspirational Heroes. Each year, seniors select an educator who has positively influenced their lives and invite them to the graduation ceremony. This year, the senior class chose 71 different heroes.
After Valedictorian Alexa Constantine's performance of "The Star Spangled Banner" was met by roaring applause, Principal Joe Bova began the commencement ceremony.
"Today we have reached the tenth graduating class in Foothill's history," Bova said. "And there could not be a better class to celebrate this achievement."
Of the graduates, 96% will attend either a four-year university or a junior college and three students will enter the military. Ninety-eight graduates received the Golden State Seal Merit Diploma, and one person, Joseph Castro, is a National Merit Finalist.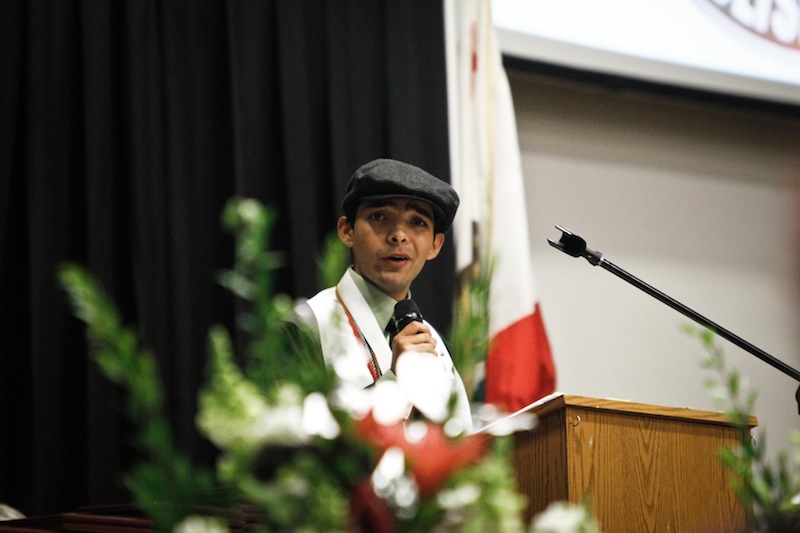 Thirty-seven graduated magna cum laude, meaning they received a cumulative grade point average of 4.0 or higher. Ten students graduated summa cum laude, meaning they graduate with a 4.4 GPA or higher. A total of 102 students graduated with honors, or with a 3.5 GPA.
Twenty-eight students were inducted into the Dragon Hall of Fame, 40 were FIRE leaders, and 32 earned the VUSD multi-lingual seal.
Twenty-four were part of Bioscience Cohort 6, all of whom will attend college the fall, and 70% of whom are pursuing a career in science.
Collectively, the Class of 2012 completed 27,000 hours of community service, and 36 exceeded the Foothill graduation requirement of 75 hours to perform 225 hours of community service, earning the Exexmplary Community Service pin. Senior Natalie McCambridge served over 500 hours of community service during her four years at Foothill, more than anyone else in the Class of 2012.
After listing the graduates' accomplishments, Bova noted that this class graduates with the school's highest API score, and that Foothill earned a national Blue Ribbon award as well as a gold distinction from U.S. News and World Report this year.
"It's kind of like a trifecta… getting all three of those things in the same year. It's pretty special," Bova said of the awards.
Afterwards, senior Kevin Kunes, choosing to wear his own hat rather than the gradutation cap, gave his speech entitled "A Much Larger World."
"If you really want to make a meaningful difference in this world, call home often and talk to strangers," he said. "In short, I'm asking you to love your neighbor and the Class of 2012 has shown that they can."
The valedictorians and salutatorians were recognized after Kunes' speech and they each received medals for their hard work. Constantine and Averi James were named the valedictorians, and Aron Egelko, Emma Huebner, and Emily Wages were named the salutatorians.
"I'm so happy that I'm doing it [being valedictorian] with Averi… I feel like it was fate… we've been best friends since we were kids," Constantine said.
The graduates then walked on stage as their names were called and their senior photo and post-graduation plans were shown on two large screens.
After the diplomas were given out, Bova returned to the stage to give Campus Supervisor Jim Lewis an honorary diploma. Lewis is retiring this year after working at Foothill for 10 years.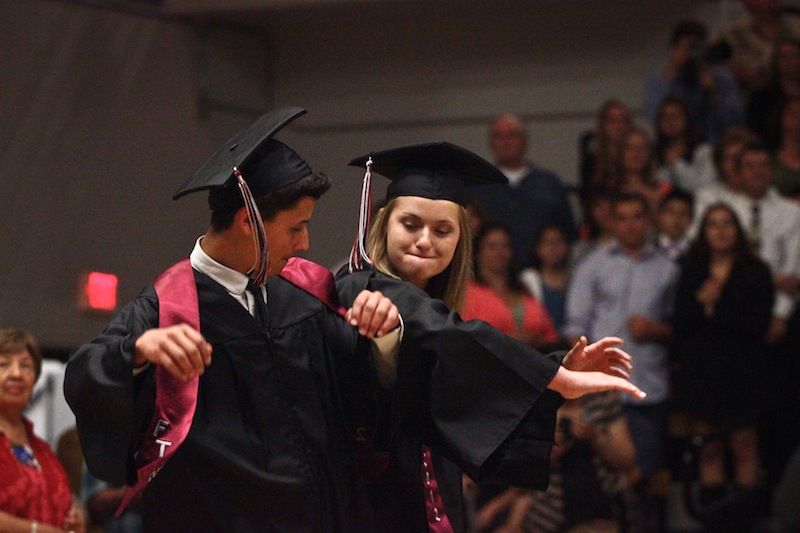 Then, seniors Tianna Cohen, Connor Fenwick, Daven Layman-Gonzales, and Joseph-Andrew Malach performed a version of "Somewhere Only We Know" by Keane.
Salutatorian Aron Egelko gave his speech entitled "Objects in Motion" afterwards.
"That journey we began with Velcro light up shoes and running noses seems to be coming to an end," he said.
Egelko finished his speech by saying, "We are objects in motion. Our initial velocity has been set. But how we accelerate, that is up to you."
Finally, the graduates were instructed by Board President Velma Lomax to turn their tassels. Black hats and streamers then filled the air as the Class of 2012 finished their commencement ceremony.
"I'm very overwhelmed, it went by so fast and I'm thankful to everyone who helped me on this journey," senior Natalie McCambridge said.
Foreign exchange student Estefania Zapata walked with Foothill's class even though she earned her diploma in Colombia.
"I feel really excited [to walk at Foothill]… It's another country so I'm really surprised I made it," she said.
Friends and family waited outside as the graduates collected their actual diplomas from the smaller gym at Ventura College.
Devon Henderson's mom, Danielle Cortes, said she was proud of her son's accomplishments.
"I'm very excited for him but I'm going to miss him… he's going off to San Francisco," she said.
Junior Seychelle Kauffman went to graduation to see her friends Katie Billings, Christian Giammichele, and Kieran Giammichele.
"I'm just going to miss seeing them around campus everyday," she said. "You don't really realize how lucky you are to see them everyday until you can't, and it's really sad."
Junior Chase Huffaker was at the ceremony so he could watch his sister, Taylor Kennepohl, graduate.
"It [the ceremony] was nice. I know she's worked really hard and it's nice to see it all paid off."
Credit: Bethany Fankhauser and Aysen Tan/The Foothill Dragon Press
Credit: Emily Chacon and Bridget Parrino/The Foothill Dragon Press
Ninty-six percent of Foothill graduates will attend college next year. Click on the blue markers to see where they will be.

View FTHS Class of 2012 College Destination in a larger map
Credit: Chandler Gerard-Reimers/The Foothill Dragon Press.