UCLA: Amanda Marshall ('11)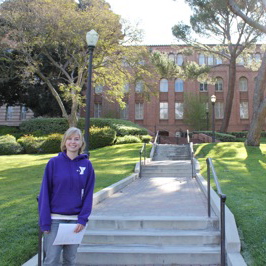 Rachel Crane
February 2, 2012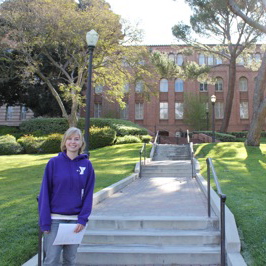 UCLA is an amazing school because it is so well-rounded. It is world-renowned in academics and sports, has a beautiful campus with classic brick architecture, and is located in one of the busiest places in the west. It has top-notch academics, including a famous medical department, law school, and film school. My experience with classes so far is that they are intense in terms of workload. It is nice because there is no busy work, but the homework involves a lot of reading. Students have to be internally motivated to get it all done, because your professors aren't breathing down your neck to do your work.
What I really like about UCLA classes is that there are so many to choose from. There are classes that range from your standard chemistry and English classes to obscure Slavic languages, the history of music and dance, ancient architecture, health and fitness, etc. UCLA also offers what they call freshman "clusters" in which you take a course for an entire year instead of a quarter. This makes the transition of adjusting to the fast-pace college curriculum a lot easier.
Sports are also important to the school. Most of the sports are Division I, so sports games and events on campus are a big deal. Students are always attending games for football, soccer, volleyball, waterpolo, etc. There are also club sports for people who are less competitive, and even more informal than that are intramurals.
UCLA is located in one of the safest parts of Los Angeles. It sits in the middle of Westwood, which has a smaller town vibe to it. The streets are lined with local restaurants, frozen yogurt shops, movie theaters, and quirky clothing stores. Students normally walk everywhere around town, but there is also a bus system that can take you to directly to places like Santa Monica, Venice, downtown LA, and Hollywood. The only downside to the location is that even if the campus is in a smaller branch of Los Angeles, you can't completely escape the smog. The stars are hard to find at night. Also, it is only an hour and half from Ventura, so for those who want to get as far away from their family as possible, Westwood can feel like a little too close.
What I really like about UCLA is the campus life. Although it is extremely large (it has over 20,000 undergraduates), there are so many ways to get involved and find your niche. There are dance clubs, religious clubs, sports clubs, singing groups, ethnic clubs, gardening clubs, etc. You name it, we have it. Also, in terms of dorm life, people's doors are always open, and there are dorm events constantly going on during the weekends. Karaoke is big on my floor right now, and field trips are a common activity. The only downside to that is that studying in your dorm room can be difficult.