Best of 2011: TV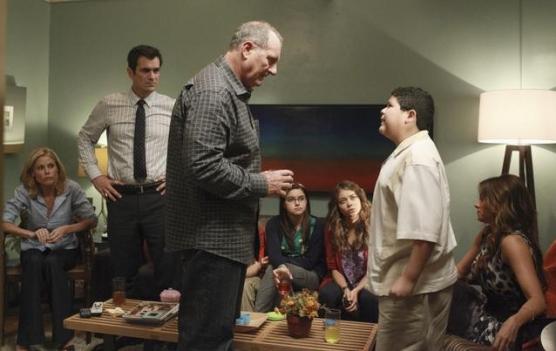 Chandler Gerard-Reimer
December 15, 2011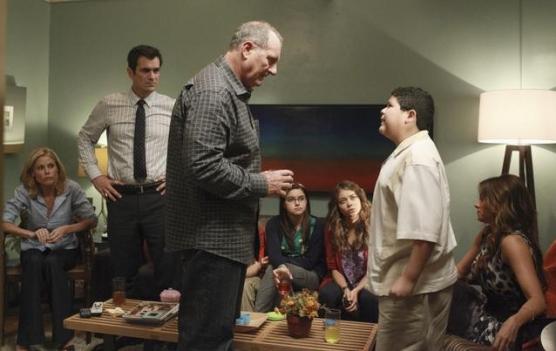 1.  Modern Family: "When Good Kids Go Bad"
"Modern Family" is one of the best shows on television; it has won the Primetime Emmy for Outstanding Comedy Series for the past two years. Its humor is funny for adults, appropriate for most kids, and deals with something every person has experience with: family life. In "When Good Kids Go Bad," Claire and Jay argue about proving a point, almost obsessively while Cameron and Mitchell stress about adopting a new baby. It all comes together to create the funniest TV epidsode of the year.
Ever since its debut in 2007, "The Big Bang Theory" has proven that the nerds have indeed inherited the earth. "The Pulled Groin Extrapolation" with Sheldon's train obsession prompting his female counterpart, Amy Farrah Fowler, to take Leonard to a friend's wedding despite the fact that she is Sheldon's "girl" and "friend." Meanwhile, recently engaged Howard and Bernadette must decide their future home, and spend a weekend "testing out" Howard's house with his overbearing mother. The episode contains a series of awkward Amy-antics, a near-fatal dance stunt (hence the episode title), and unexpected jealousy on Sheldon's part that will leave you laughing out loud for the entire thirty minutes.
3. Pan Am: "Ich Bin Ein Berliner"
This episode takes the flight attendants to Berlin at the same time John Fitzgerald Kennedy is giving his presidential speech, and the attendants are serving a flight full of media reporters and writers. The episode contrasts each girl's emotions towards Berlin through a powerful script and setting. Maggie has a dream of meeting Kennedy and tries to use a reporter from the "Village Voice" to get in on the press conference. For Colette, Berlin brings back the memories of WWII and her childhood, having flashbacks to German soldiers and gunshots. Kate is on yet another mission, but this time she nixes the plan and helps Anke, a spy that has blown her cover, escape. Finally, Laura and Ted's romance gets a rocky start as he makes a move and sherejects him. The excitement of an event such as the Kennedy speech and the branching off adventures of each girl makes this episode the best of the season.
What other television show do you know that has two alternate universes, a doomsday machine, a different timeline, and a mad but quirky scientist? "Fringe" manages to create a flawless setting that sets the scene for a television show without fault. For "Fringe," you have to expect the unexpected, and this episode is no different. Because it explores the concepts that people don't tend to think about, like how a simple decision can change the lives of many in ways you never thought possible, "The Firefly" is the stand out episode of the season.
5. The Borgias: "The Poisoned Chalice"
Writer Neil Jordan doesn't mess around. "The Borgias" pilot begins with the death of Pope Innocent VIII and immediately leads into Rodrigo Borgias' plan to rig the election. It's filled to the brim with corruption, murder, sex and deceit. And who doesn't like a good historical drama?
6. Awkward: "Over My Dead Body"
In this episode, the school counselor, Val, creates a drunk driving awareness day much like Foothill's very own "Every Fifteen Minutes." Jenna is cast as the star alongside Jake and their past "accidental" kiss is brought to the surface. At the same time, Jenna is determined to get Matty's public attention. The smash ending of the production is comical and takes an interesting spin to the awareness day.
The pilot episode of "New Girl," starring Zooey Deschanel, is a hilarious half-hour of clashing personalities. Deschanel is Jess, the "new girl," who moves in with three guys after breaking up with her boyfriend. The guys she moves in with are best friends who aren't quite sure how to act around Jess, especially when she gets emotional about her recent breakup. The guys try to take care of her and help her get back on her feet, but their cluelessness about taking care of someone mixed with Jess's crazy-quirky personality make for a show full of Deschanel charm.
8. How I Met Your Mother: "The Slutty Pumpkin Returns"
Ted's love interest from Halloween's past (guest-star Katie Holmes) comes back into his life after ten years. Only one problem – the flame is far from rekindling. On the other side of town, Lily and Marshall toy with the idea of living in the suburbs, though Lily's pregnancy has left her with poor judgment, leaving Marshall reluctant to agree to any life-changing decisions. While the idea of Marshall and Lily moving out of the city might make an avid "How I Met Your Mother" fan's heart drop a little, Barney discovering and coming to terms with his Canadian heritage brings back the much-needed humor. Viewers also have Barney's unforgettable hand-to-hand combat with his Canadian subconscious to look forward to (a scene that quite literally packs a punch).
9. Parks and Recreation: "Flu Season"
Who knew that a show about the Parks and Recreation Department in Pawnee, Indiana could be so entertaining? It's one of the few shows you can count on every week to elicit a laugh. The episode "Flu Season" was no exception, bringing a topic as boring as a flu exposure and transforming it into a hilarious episode filled with randomness and quirky lines. Amy Poehler does an amazing job as the lead, Leslie Knope, somehow portraying her character as both insane and normal at the same time. Co-stars Nick Offerman and Aubrey Plaza create unforgettable personalities chock-full of hilarity.
Humans love watching other humans fail. And if you ever find yourself watching Youtube videos of people falling off roofs or getting hit in the stomach, then you'll love "Shameless". This show takes the term "dysfunctional family" to a whole new level – just this episode includes the search for a baby daddy, discovering the secret life of Fiona's professional con-man boyfriend, and extremely messed up Karen takes getting back at parents to the extreme.