How has quarantine been affecting Foothill Tech students?
Since lockdown began on March 13, 2020, students at Foothill Technology High School (Foothill Tech) and around the world have been learning and growing in a new, socially-distanced environment. Adapting to online school, new routines and safety procedures have been challenging for most. However, quarantine has also inspired personal and creative growth for many people and allowed an opportunity to look into new interests. 
Jackson Vizzo '21 describes how lockdown has birthed creativity, but also stress. "I started writing and making music with my friends. Since we had so much time at home, this was the perfect opportunity to do so. Yet, the stress and unmotivation from online school bleeds into my desire to write and create music," he says. Vizzo also describes his experience with distance-learning; "I feel more and more unintelligent as we proceed, because for me, I have to be in the classroom interacting with teachers and students to actually learn. I feel so unmotivated, it makes me not want to show up to a Zoom class. It's very stressful for people like me."
Caitlyn O'Neil '23 says, "One activity I've been doing is running. It's been super nice to have something to do that gets me out of the house and away from Zoom calls." She mentions how practicing with the cross country team has changed due to COVID-19 protocols. "A couple months ago we didn't do anything as a team, but now we are, which is super nice because I missed running with the team. It's definitely different now though because we are all in different pods so we aren't all together (boys and girls) like we used to be." O'Neil has mixed feelings about distance-learning, "I'd obviously rather be on campus, but all my teachers are doing a really good job at making class fun and interactive," she explained.
Clarisse Cortez '23 talks about how she grew as an artist this year, explaining how it was something that she has done since before lockdown started. "I started a sketchbook at the beginning of 2020 and from cover to cover there's a large visual change between the first and last page." Her distance learning routine includes waking up, doing classwork and then sleeping. "I'm still getting education, I'm paying attention and all, but it's slower for me to absorb the information than being in school." She also notes, "My teachers are doing a great job at what they're doing."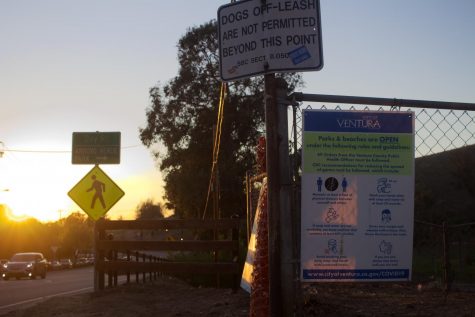 Leo Pankratz '24 has been filling his free time by playing video games. "Before quarantine, I was occupied with playing sports and hanging out with friends. Now that I can't do that, I've had a lot of free time." He explains that having online school is nice because there's no longer a need to wake up early and drive to school. "The only problem is making friends because there is not that many opportunities to talk to people and most of class is listening and taking notes," he explains.
Dafne Varela '21 describes her experience with gymnastics during quarantine, explaining the COVID safety protocols put in place so gymnasts can practice safely, "which was odd at first but anytime at the gym was a huge advantage for me and other gymnasts." Like many Foothill Tech students, distance-learning has been a bit of a challenge, and she elaborates, explaining how the lack of face-to-face contact has made keeping up with assignments a challenge, "That aspect has been stressful and I've been having to catch up but that is more to do with how I've been coping with my mental health more than anything." She finishes with, "Overall I think online school has its ups and downs."
Online learning has been a challenge for many students. Learning over a screen and being assigned what feels like loads of work is exhausting, but it also has its advantages for some students. Quarantine has proven that students can overcome even the hardest of tasks. 
Many people have been able to find their unique voice and style through the sheer amount of time to reflect and learn during the lockdown. They have also been able to discover new hobbies and interests, and learned a lot about themselves in the process.
Through all the obstacles, students will emerge more informed and strong-willed than ever, and the eventual return to classrooms will be all the more exciting.