Worldwide protests held for Black Lives Matter Movement, Ventura County follows
On June 7, 2020, around noon, hundreds of protestors flooded the streets of Ventura, shouting chants and raising signs in support of the Black Lives Matter movement. 
This particular protest, held at the Ventura Government Center, was donned the "Ventura County Black Out" and the flyer stated that a no violence policy and safety rules such as wearing masks had to be followed. The protest was organized via social media and there was an estimated 1,500 person turnout.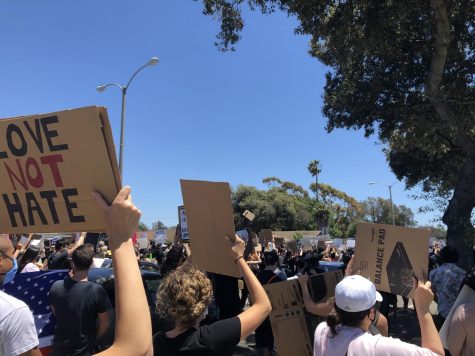 The protest was not the first in Ventura County and it follows hundreds of other protests in various parts of the world, a direct response to the killing of an African American man, George Floyd at the hands of Minneapolis police on May 25. 
Protestors young and old came to the event, most with handmade signs. Some read:"Who polices the police?," "Silence is betrayal," and "Say their names," regarding those whose lives were lost at the hands of police brutality. 
Madison Duston '21 thinks that these protests are important "because it's a sign of unity, breaks down deep rooted privilege, and uses that power as a voice for the oppressed."
One of the chants led was in remembrance for Meagan Hockaday, an African American woman shot and killed in Oxnard, California. 
The energy of the crowd was palpable, as ringleaders of the crowd started chants for the rest to follow. Cars driving down South Victoria Avenue cheered and honked to show their support. The crowd was then asked to kneel for the remembrance of George Floyd – for the eight minutes and 46 seconds that police officer, Derek Chauvin, had his knee on Floyd's neck.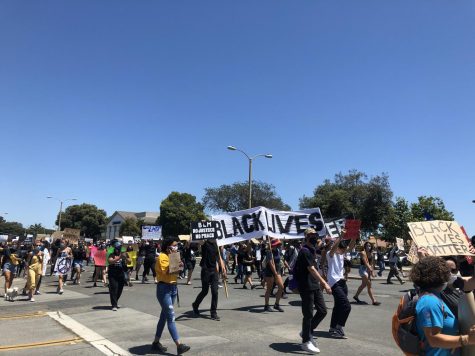 When asked why she was there, Aimee Kidwell '22 stated, "we protest in the name of George Floyd, Breanna Taylor, and all the other countless people that have been abused or murdered solely because of the color of their skin." 
The crowd then made its way down South Victoria Avenue, blocking the road and passing cars both ways. From there the crowd made itself to Thille Park, to listen to speakers and to watch a Aztec Blessing ceremony.
"What we stand for" explained one of the many speakers, "is liberation for all people."