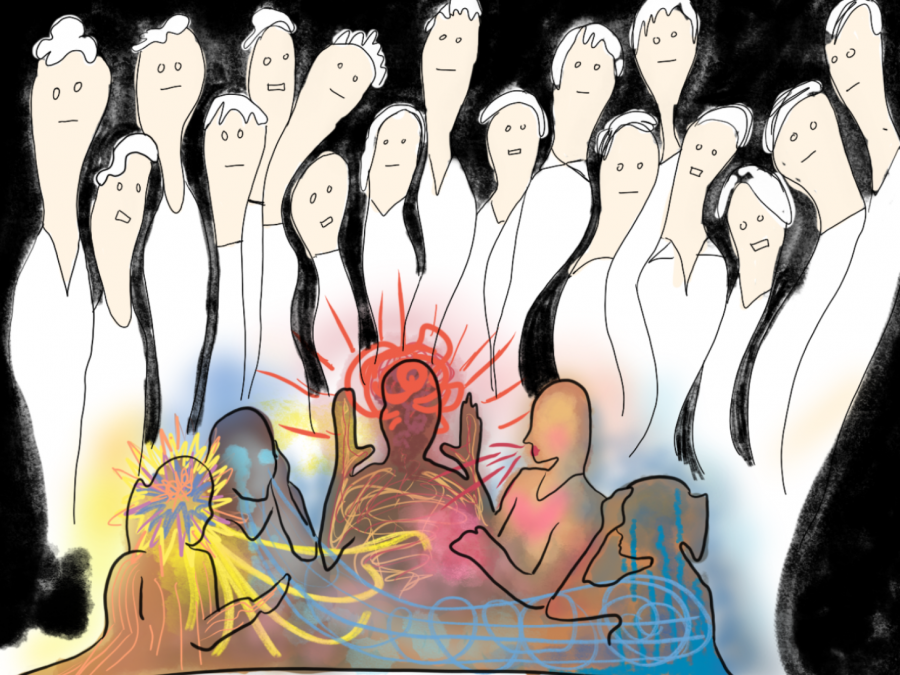 Rachel Chang
Feeling "uncomfortable." Feeling "very unappreciated." Feeling "out of place." Feelings contained inside for fear of being "perceived as angry and irrational."
These are only a handful of the sentiments of Foothill students from minority backgrounds, and they experience these feelings with striking regularity. Over the course of two months, Josiah Beharry '19, alongside Spanish teacher Josiah Guzik, hosted a series of three lunchtime meetings for minority students in order to give them a platform to talk safely amongst peers.
For the organizers and participating students, these meetings had an ultimate goal: feeling comfortable talking about experiences that may help make the Foothill campus a better place, and shine a light on issues that those in the meeting felt had to be addressed.
Beharry began the series with a discussion on how minorities felt on the campus. As a minority, Beharry said, "I notice that makes me be treated differently in some sort of ways."
Denise Castro '19 remembers how her mom had told her to not "pay attention to the color of their skin" because "you all have the same opportunity." However, after feeling out of place in sophomore-year Honors classes, Castro decided to not take any AP classes in junior year.
Castro felt unable to be "as outspoken, as I am in college-prep classes."
Castro added that she started this year taking AP Literature. However, on the first day of class, her classmates distanced themselves away from her, sitting next to her and then moving away. Castro "knew those people," yet as their classmate, she felt disconnected. Alone.
"I don't want to be here anymore," Castro realized after classmates continued to ignore her. Castro didn't want to have the need "to prove myself," nor "be held to a higher standard."
Similarly, Jay Garcia '19 has experienced ostracization because of factors out of her grasp. Because Garcia has several responsibilities such as working jobs to support her family, taking care of her sick mother, and complicated issues with her sister, she often does not have as much time as she wishes for to study, especially for classes that she enjoys, like Physiology Honors. Therefore, during group discussions with classmates of different backgrounds, she feels inferior.  Even when she may know the answer to the problem, she hesitates to speak up as a product of a lack of confidence and the fear that "they'll make fun of" her. Unable to effectively communicate her brilliance and passion for the topic, Garcia is silenced.
Jocelyn Soriano '19 shared her experiences of isolation in the Associated Student Body (ASB). Since she saw that no one in the class "looks like [her]," it was difficult finding someone "who to talk with." Consequently, her initial moments in the class were defined by being "quiet" and struggling to show "who [she] was." However, Soriano believes that this changed after "more Latinas" and "more people of different cultures" joined ASB, leading her to find more "people who [she] felt comfortable with."
Why did the introduction of "people that look like [her]" change her attitude?
Guzik was curious and asked the students, "would you feel as comfortable working with a white student as someone who has the same backgrounds as you?"
The majority agreed that as long as work is getting done, they wouldn't mind working with anyone. Xiomarra Salas '19 concurred, stating "yes, you can be white, and we will have a different connection, but I will not treat you differently just because you aren't Mexican."
Beharry added on, "in terms of clicking, I click with minorities."
Yliana Claudio '19 explained that "it's because it is in your comfort zone; minorities are always going to go with minorities."