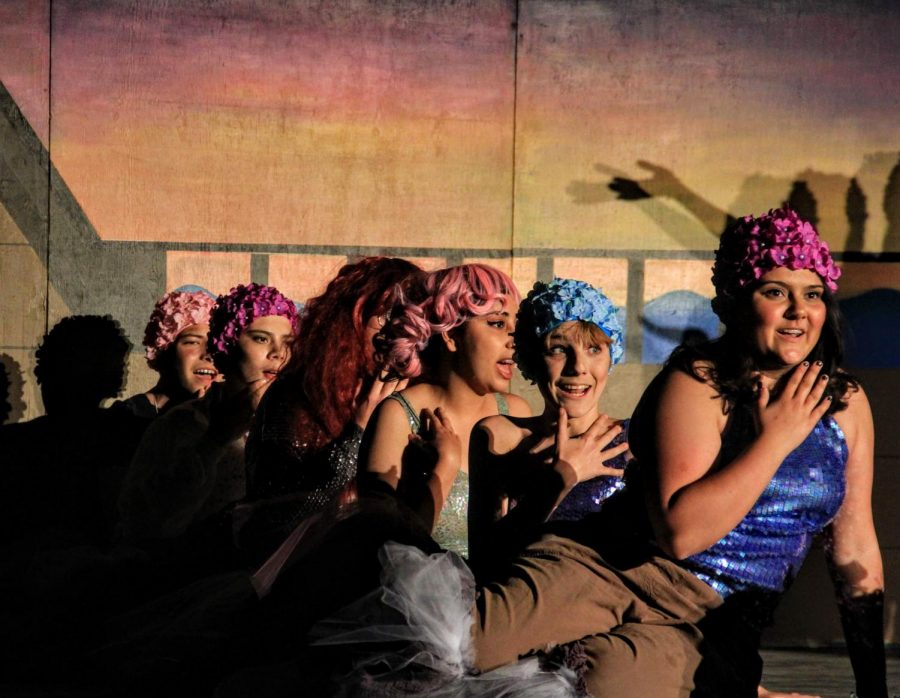 Ethan Crouch
"Peter and the Starcatcher," by Rick Elice, is brilliant and quite entertaining for all ages. The play performed by Foothill Technology students is impacted with talented young stage actors/actresses and drips with gold humor. This outdoor production serves up a humorous and spectacular backstory to the cherished character of Peter Pan and the rivalry with Captain Hook. The prequel to "Peter Pan" follows the adventure of a poor orphan, Peter, along with friends Molly, Ted and Prentiss as they take the quest in saving the chest from the grimy hands of Captain Black Stache.
As the spring sun is setting, the stage lights shine and the scene opens with three orphans on a ship who are imprisoned by the evil King Zarboff. We are introduced to a prisoner who simply called Boy, which is due to the abandonment of his parents and the irrelevance of creating a name when he is "too busy trying to survive." Although he is living life with two friends, Ted and Prentiss, by his side, he lives a life under a gray cloud of despair and loneliness. That is, until his world flips a 180 and he gets butterflies in his stomach as he witnesses the beautifully mysterious Molly. She comes to these boys not only with the selfless intention of releasing and feeding these hunger-stricken boys, but for the hopes of getting the favor returned to her by helping with a special mission. Coming to the consensus of Molly's part time role as the boss, Molly discovers that the young orphans have never heard a bedtime story. She begins to tell a tale of "Sleeping Beauty" as her father gives a mission to fetch a secret chest filled of "star stuff." Her father, Starcatcher Lord Astor, sends Molly on this journey to protect a trunk filled with "star stuff" from the cruel Captain Black Stache. The crew venture into a journey unlike anything else. From bedtime stories and magic star dust to sword wars, crocodile conflicts and pirate besieges, this fairytale takes a turn to a thrilling adventure.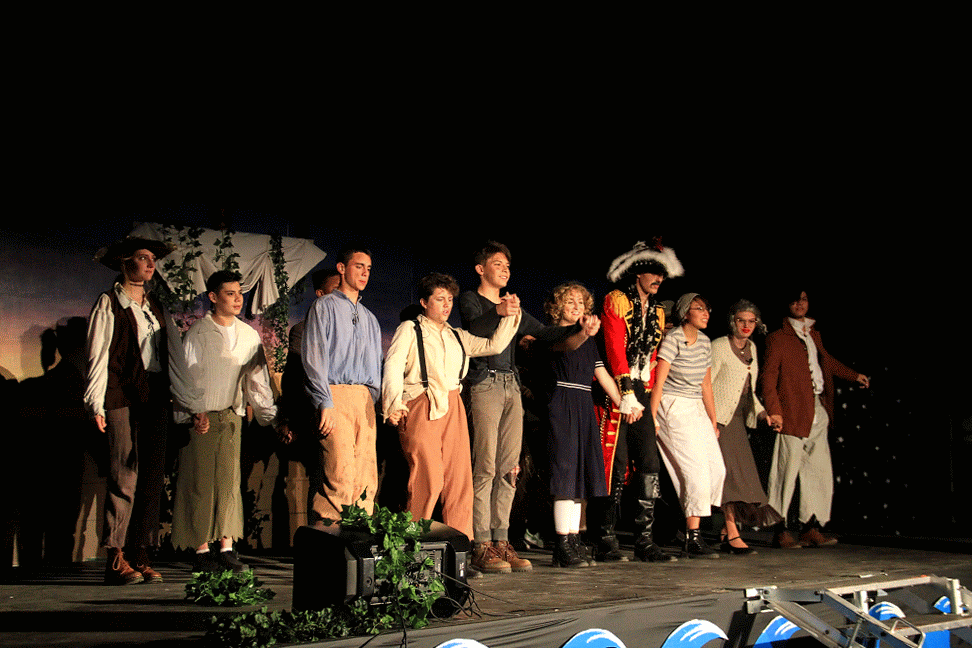 Not only is Foothill's interpretation of "Peter and the Starcatcher"  a creative plotline, but the production was beautifully orchestrated by student director Yoanna Soliman '19. Amidst the chaos, Soliman directed the show to present the overwhelming feeling of this adventure while still making the plot easy to follow.
Soliman describes that she wants to take the audience "through this journey, outdoors under the stars, as if us too, are an orphan, a pirate, a sailor, a mollusk and a mermaid." The intentionality of an outdoor theater made the play feel all the more alive and intriguing. Not only was her effort into the production exceptional, but her relationship with the cast made the most significant change in the actors' performance.
Along with Soliman's noteworthy directing, the actors' dedication to their character was evident in their phenomenal acting. The acting of the main characters, Peter Pan by Jared Lantiegne '22, Molly by Hannah Yale '20 and Black Stache by Colin McClain '20 exceeded my expectations. Lantiegne's acting was just incredible; from the scenes of excitement, intensity and anguish, Lantiegne can do it all. McClain describes how talented Lantiegne is with interactions and how "he reacts to what others say and creates a hilarious scene."
Yale's acting was superb, as the audience believed everything she said and it felt like she truly became her character. With this being his first lead role in any play, McClain killed his role. With a Jack Sparrow-inspired personality, McClain dove head first into his role, and he made the play all the more entertaining with his dedication and personality.
Despite a bumpy preparation and handful of lighting and sound issues, the cast managed to keep the show going without missing a beat. This play was hilarious, impressive and overall extremely entertaining.