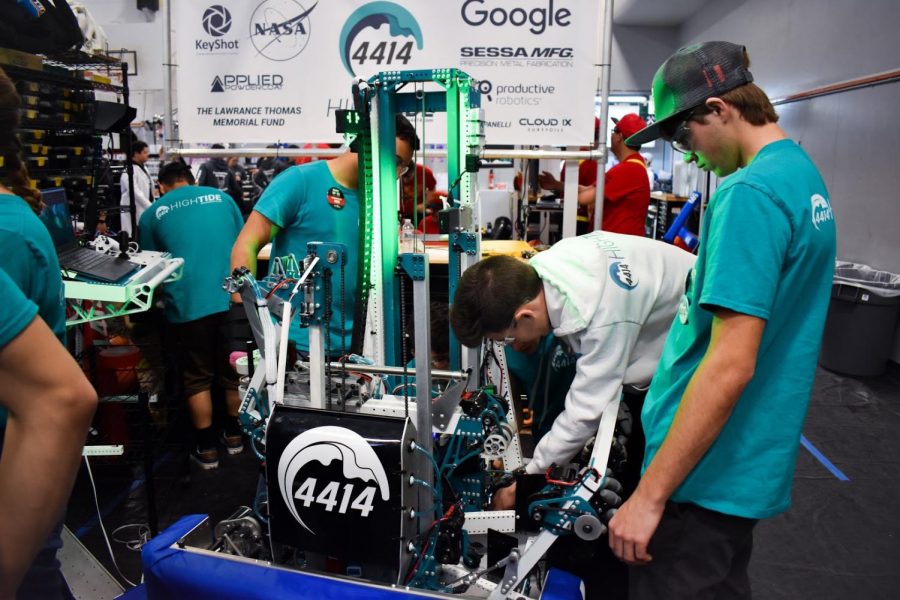 Anshul Bajaj (used with permission)
Ventura's robotics team, Team 4414 HighTide, is innovative, diverse, enthusiastic and to put it frankly, hugely underrated. Just a few weeks ago, Team 4414 won the Del Mar Regional competition with their robot "Banzai," earning themselves a spot among 600 other teams at World Championships.
However, because of the small percentage of Foothill students involved with Team 4414, as well as the general lack of knowledge of what robotics students actually do, Team 4414's success isn't incredibly well-known at Foothill.
According to some of the Foothill students on Team 4414, one of the greatest misconstructions about robotics is the exclusiveness of the program–that to join robotics, one has to be some sort of prodigy in math or science.
"There's stuff for everyone," said Avidh Bavkar '20, a member of the team.
According to Casper James '21, at an average day of robotics practice, one could usually find "a lot of people working on the machines and building parts, a couple of kids doing CAD (Computer Aided Design) and designing parts for a robot, people coding to make the robots move and drivers practicing driving and getting the robot to do all of its functions."
"I think a lot of people that don't know much about the program think it's elitist and that you need to know what you're doing," Nathaniel Barnaby '20 added.
There are kids on the team who didn't know much about robotics coming into the program. "I'm still trying to figure it out," Sallar Farokhi '20 said. "There's a lot of stuff I don't know yet. I'm trying to learn as much as I can, and I'm having fun doing it."
Another misconception about robotics, according to James, is that they design robots to "fight each other and try to rip each other apart" (sort of like the battle bot scene in Big Hero 6). "If anything," James explained, "it's one robot maybe getting in the way of another robot's path."
What Team 4414 actually does is design one robot per season, which they build to meet the FIRST robotics competition objectives, a series of actions that the robot needs to be able to complete in competition. They have six weeks to design the robot.
Team 4414 named their robot Banzai, influenced by Ventura's beach town atmosphere. "Our vibe is around the ocean and the beach," James said.
Though the team atmosphere is described as "laid-back" and "informal," Team 4414 is motivated and serious when it comes to practice. The team meets five days a week for an average of 20 to 25 hours per week. "On the weekends, it can go pretty late," Bavkar noted, "we've been [at practice] until 2 am or 3 am before".
"There's a thing for everyone to do, but you've got to be committed, obviously," Bavkar said. "We spend a lot of time doing this."
The hours that these students devote to robotics paid off at Regionals. However, it's not solely the glory of winning competitions that fuels their passion for robotics but the things they learn along the way, like leadership skills and teamwork. "I learned a lot about teamwork because we work as a team in high-stress situations," Bavkar recalled. "I learned how to lead a group of people."
Robotics also helps reaffirm students that the formulas they learn in school aren't completely useless garbage. Robotics sparks students' interest in their classes and strengthens their desire to learn. "When I first came into robotics, I saw the formulas I learned in school applied directly to robot controls," Bavkar said. "I'm like, 'This is why I'm learning this stuff!' so then I actually became interested in math."
Team 4414 is an incredibly multifaceted program. It's powered by passionate students of a diverse range of skills, it teaches students teamwork and provides a purpose for learning and it produces some super cool championship-winning robots. Be sure to watch out for Team 4414 at World Championships on April 17 to April 20!