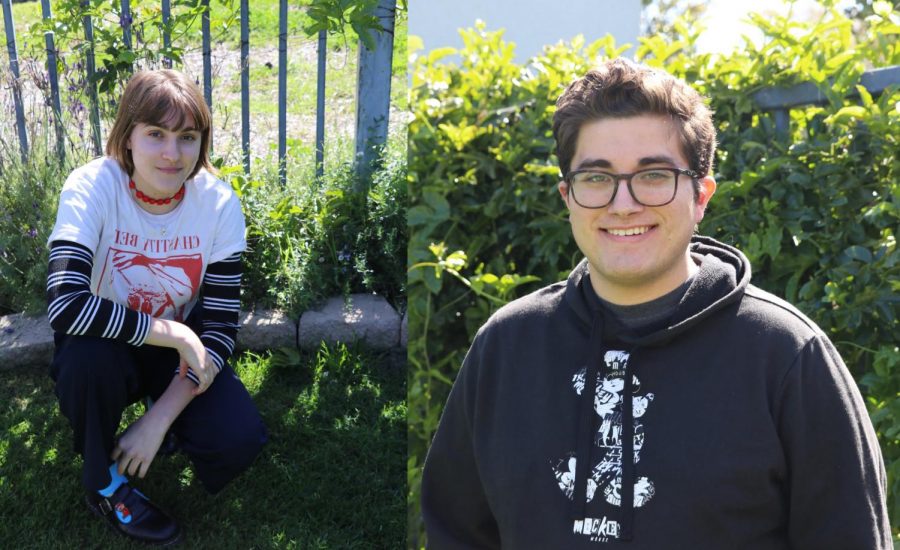 Olivia Sanford
When faced with hardship, many turn to art for answers. From song and dance to painting and drawing, artistry is a common coping mechanism in times of misfortune. For Foothill students Abbey Bufford '19 and Johnny Barrera '19, the art they turn to is poetry: a word that, when brought up in English class, makes students think of Shakespearean sonnets and complex literary devices. Bufford and Barrera are challenging the idea that poetry is only for English class with their modern and deeply imaginative art.
Bufford has been writing poetry since they were young but started "really writing" the summer before their sophomore year—2016. This summer was spent in and out of doctors' offices, trying to get a handle on what was going on with their health. When trying to explain what they felt to doctors and their parents, they found that "the only way to do that was just to come up with a bunch of weird metaphors—I just started writing lists, and it turned into poetry."
Poetry is a way to process negative emotion, which Bufford would typically keep inside if not for writing. "It's helped me understand myself a lot better," they said.
They have shared some poetry on their private twitter and at tournaments for Foothill's Speech and Debate team, but they said one of their goals is to share more poetry in the future.
The magic of poetry, Bufford said, is that "there's no right way to do it." Any collection of words that means something to someone is poetry.
To "just try something out and see" is their advice to anyone who wants to try poetry but doesn't know where to start.
Barrera had an entirely different introduction to poetry. In English teacher Richard Geib's class, freshmen do a unit on poetry. "I just got hooked," he said. He explained that poetry is a way for him to "say things that I couldn't say otherwise."
At the beginning of Barrera's writing experience, he described himself as a hopeless romantic. "They were all just crush-y poems."
His poetry developed into a form of stress relief, and are now something he uses to "give people hope."
"It's hard to show people empathy," he said, and poetry is his way of doing that for people who are going through hard times. His hope is that "it sends the message that I care."
Poetry is subjective, and you get out of it what you put into it; "If you want to think about it as just a flowery poem, you can see it that way and it's still beautiful, but if you look deep into it and then try to relate it to yourself," Barrera said.
According to him, that's when it becomes something more than just a poem you read in English class.
In middle school, Barrera thought poetry "wasn't art," and would fervently argue his point. When he looked deeper into what poetry is and what it means, he discovered that poetry is "almost one of the most personal" forms of art there is.
Barrera's poetry is more intimate—meant to be saved for himself or read to one person. He doesn't want or feel the need to openly share his poetry.