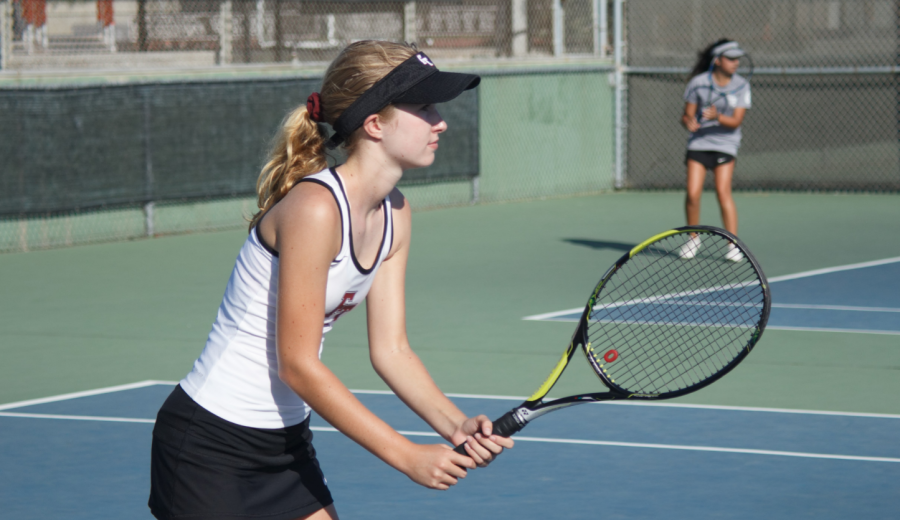 The Dragons roared with victory once again after Thursday afternoon's girls' tennis match on Sept. 28 against Thacher School. Foothill ignited their home courts with energy that burned throughout each game, set and match. Dominating Thacher 11-7, the team secured a 7-0 overall record, and a 3-0 league record.
Thacher, a well-rounded team, challenged the dragons' ability to be consistent in their play. But Foothill's singles players had no problem shutting down their opponents and winning a combined 8 out of the 9 sets played.
On court one, Erin Gaynor '19 competed with Thacher's number one singles player. Both players had a strong game, and Gaynor kept the score close at the beginning of the set but pulled it together quickly and snagged a 6-2 win. She moved on to crush her next opponents 6-0 and 6-1.
Following Gaynor's suit, Noelle Hayward '21 rose to defeat Thacher's number one player in a tie-break. As the two battled it out, Thacher's high-ball strategy proved to be no match for Hayward's menacing overhead. A missed shot by her opponent in the set-determining game left Hayward victorious with a score of 7-6.  
Hayward, like Gaynor, swept, with scores of 6-0 and 6-3 on her last two sets. Enkela Qoshlli '18 finished with set scores of 2-6, 6-1 and 6-2, losing to Thacher's number three player.
Throughout every singles match, both teams displayed admirable sportsmanship as compliments were exchanged across the net.
Positivity is no foreign concept to doubles team Alyssa McClain '18 and Sherlyn Khouvilay '18. Thacher's number one doubles team swept, handing McClain and Khouvilay their first loss of the season, 5-7. They started the set ahead 5-2, but lost momentum towards the end. Even through their struggles, their spirits remained high.
According to Alyssa McClain, the two "always find a way to laugh." Khouvilay adds that their positive attitude keeps their energy up, and without it, they get "slow and messy."
While McClain and Khouvilay laugh off pressure, many have a more difficult time overcoming mental boundaries.
Coach McClain suggests that "the way to get through pressure is taking a deep breath, moving your feet, and you've got to have experience." The girls practice for an hour a day, and he knows that they're fundamentally sound and able to perform well. But the ability to overcome nerves and cope with pressure is a skill which must be practiced in order to be perfected.
Although young doubles team Jolie Seemayer '21 and Ella Puganne '21 have less match experience at the high school level, the two were able to score for the Dragons by beating Thacher's number three doubles team 6-3.
McClain was satisfied with team's performance, especially considering that Thacher won the fourth division of the California Interscholastic Federation (CIF) last year.