Cafe Du Suro delights Main Street with the perfect place to relax and recollect
Looking for a new hangout for you and your friends? Cafe Du Suro is the perfect new place to study and relax. While releasing some stress from school you can munch on baked goods, savory foods and delicious drinks.
In Downtown Ventura on Main Street, a new cafe takes its place as the cute, French hangout. When you
walk in you are greeted with the smell of fresh baked bread in the air and classical music buzzing in the background. There is an area in the front with comfortable seating: a couch and a fluffy rug, in the center sits a coffee table where you can set your food down to relax. On the right side of the cafe, there are large wooden tables complete with benches and chairs, perfect for a study group.
I have been to Cafe Du Suro a few times, and every time I always order their "choclatine." Every bite
contains fluffy fresh baked bread with a light drizzle of chocolate. This baked good is one of many, however, it is the best seller for sure. We can't forget the classic flaky croissant that melts in your mouth and rips apart like cotton candy. All pastries I've had from Cafe Du Suro continue to amaze me with how they delicately serve your mouth with wonderful flavors.
The very first time I went to the cafe I was with a group of friends. My two friends and I decided to get a ham and cheese pressed panini. The paninis were served on beautifully
patterned plates, and all of us were quickly intimidated by the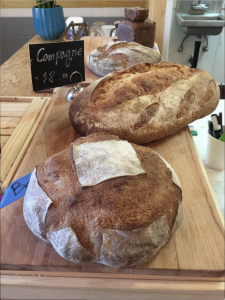 blue bread that held the ham and cheese. Within the first bite I fell in love with how the sourdough bread complimented the ham and swiss cheese. The sourdough bread was filled with different types of grains and tasted absolutely fantastic. I would definitely take the panini over a burger any day!
The prices were slightly expensive but definitely worth it. Two lattes and a choclatine cost $11.50 all together. Compared to pricing from Starbucks, Cafe Du Suro is maybe a few dollars over or at equal amounts. The money was well spent on for the recharging caramel drizzled lattes, pastry and the experience of a relaxing evening and the wonderfully kind employees that greet you with a smile.
All in all, Cafe Du Suro is a phenomenal, authentic French cafe. This cafe brings Main Street more unique culture with their friendly service and mouth-watering food.