Foothill softball fights Fillmore to the end, loses 7-4
During the bottom of the sixth inning, as the sun beat down from the cloudless sky, Taylor Escobar '18 took her stance at home plate, ready to swing. Under the pressure of attempting to close the 5-0 score, Escobar hit a line drive deep into left field, running two bases and then stealing third.
Escobar's hit changed the tone of the game and established the intensity that lasted throughout the seventh inning.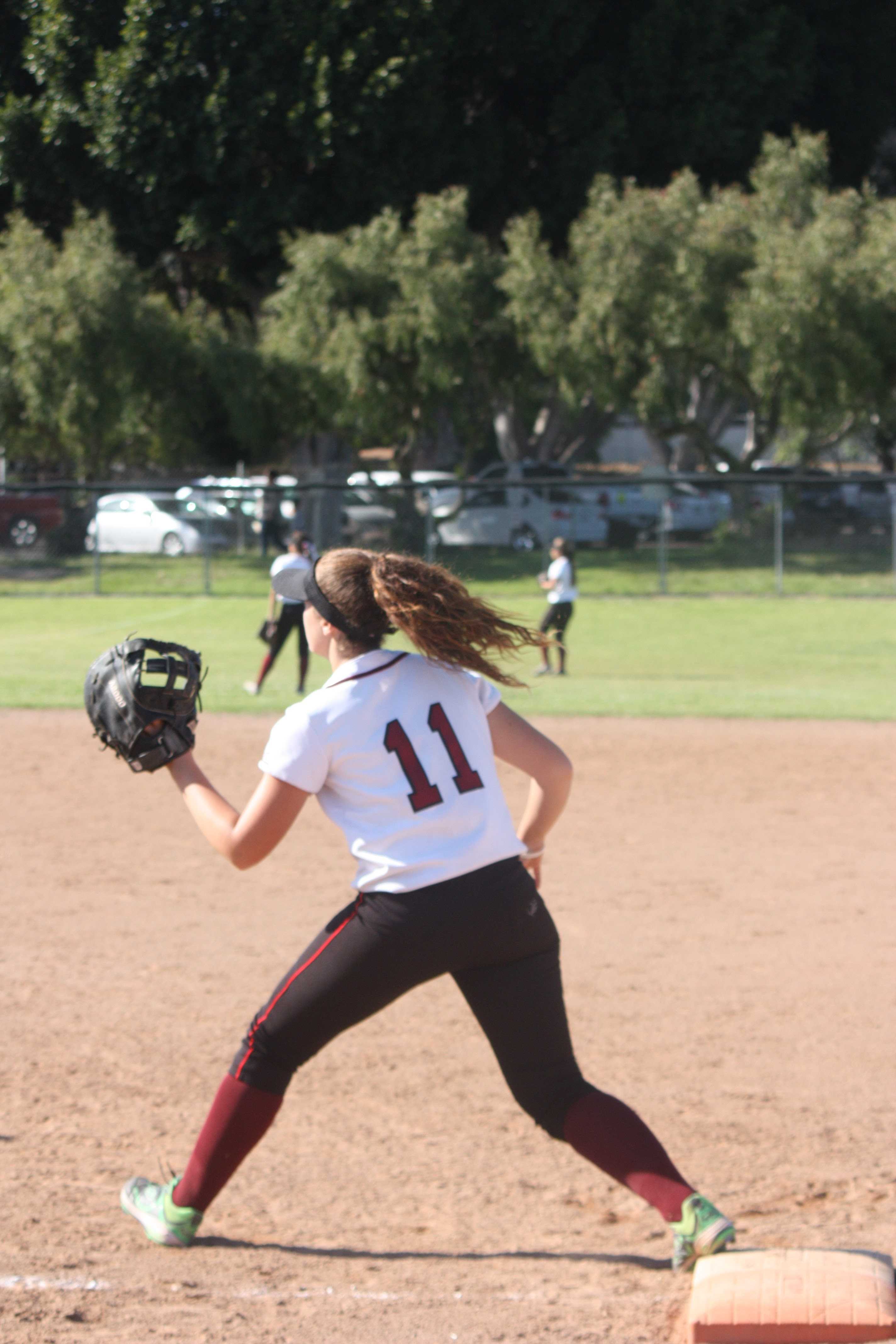 On Thursday, the Foothill softball team played against Fillmore High School at Ventura College. Despite "home field advantage" and playing hard to catch up, the Dragons were thwarted and defeated by Fillmore with a final score of 7-4.
With Kat Tafoya '19 on the pitcher's mound, the top of the first inning started with three consecutive outs, as the Dragons prevented Fillmore from reaching first base. In the bottom of the inning, Tafoya was Foothill's first batter, but was thrown out at first base. Soon after, both Jamie Dietz '19 and Jazmine Razo '18 were also thrown out at first.
The second inning began with Fillmore hitting a line drive down center field, turning into a double. Fillmore scored the first four runs of the game within minutes of each other, hitting two singles, a double and stealing home base. With Fillmore in the lead 4-0, the Dragons stood up to bat, but Fillmore threw three consecutive outs.
[soundcloud url="https://api.soundcloud.com/tracks/318911620″ params="color=ff5500&auto_play=false&hide_related=false&show_comments=true&show_user=true&show_reposts=false" width="100%" height="166″ iframe="true" /]
Jessica Mendoza '18 took Tafoya's place on the pitcher's mound during the top of the third inning who, under her lead, only allowed Fillmore to score once more. In the bottom of the third inning, Mendoza started by hitting a line drive down center field, making it to first base. Taylor Wreesman '18 came next, attempting to bunt the ball, but was thrown out at first, which allowed Mendoza enough time to slide into third base. Mendoza took her chance to make it back to home plate as Escobar hit a single, but Mendoza was ultimately tagged out as she slid into the plate.
Mendoza retaliated by throwing three quick consecutive outs after a single in the top of the fourth inning. However, Foothill didn't make it past first base when it was their time to bat, as Fillmore threw three outs within the first four Dragon batters. The fifth inning was also a stalemate, as neither team scored any runs.
Head Coach Priscilla Rouse-Becker believes that Foothill played "an incredible sixth inning" that shifted the intensity of the game, as they attempted to overpower Fillmore by scoring four runs. After three consecutive outs for Fillmore, Escobar hit a double into left field and stole third base. This inspired Dietz, who then hit another double after Tafoya's walk, which allowed Mendoza to score Foothill's first run of the game.
"Escobar ignited that inning," Rouse-Becker said when reflecting on what she called the most exciting part of the game. "She came out strong and aggressive; hit the heck out of the ball. It changed our momentum, in a positive way."
[soundcloud url="https://api.soundcloud.com/tracks/318912488″ params="color=ff5500&auto_play=false&hide_related=false&show_comments=true&show_user=true&show_reposts=false" width="100%" height="166″ iframe="true" /]
Shortly after, Razo contributed to the score by also hitting a double, allowing both Tafoya and Dietz to score. Razo later scored Foothill's final run of the game, bringing the score to 5-4.
However, Fillmore fought back by stealing home twice and preventing the Dragons from making another run in the bottom of the seventh. The game ended with a final score of 7-4, in Fillmore's favor.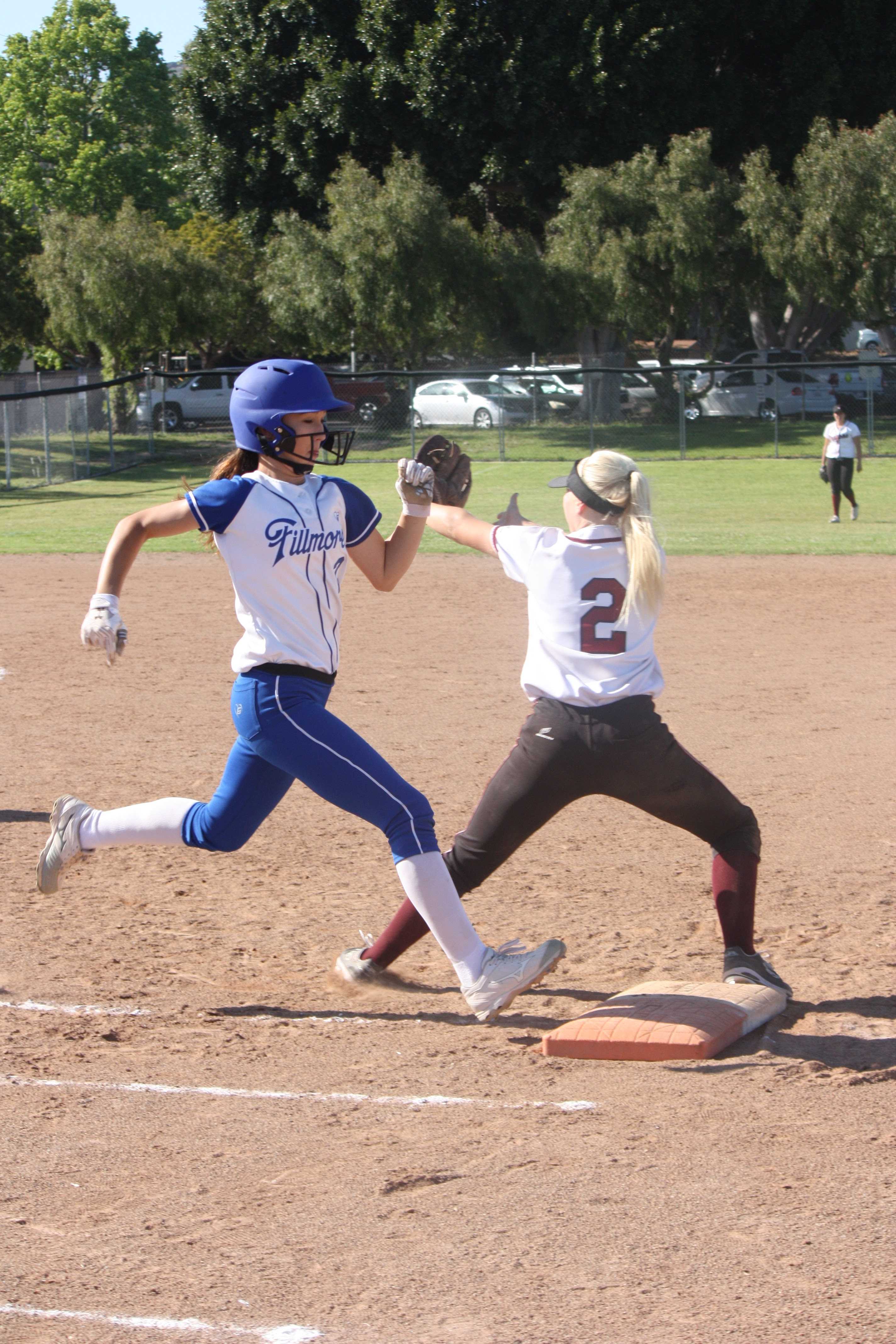 Rouse-Becker believes that in order to win against "higher quality" teams, the girls need to "get in [the game] a little earlier."
"We've been sitting on the game and scoring late, and with the quality of teams we are playing these days, those late inning rallies haven't been enough," she said.
"So one thing we have to work on is to come in, get fired up, and get runs on the board early," she continued. "Then I think we will start seeing more wins."
Escobar feels similarly, as she believes the team "stepped it up" because they wanted to win, but thinks they also need to improve on "coming out strong" and "playing hard the whole game."
Wreesman, who played catcher with a sprained ankle throughout the entire game, noticed that the team has been playing better as they have "started to come off of a slump."
"It was really encouraging to see us come back, almost all the way, to win it in our last few innings, and see our team progress from that slump we've been in the last few games," she said.
Becker wishes that the team will "keep chugging away" and "always strive to be better" as the season begins to wind down.
Despite the Dragon's defeat, Wreesman believes the softball team is "making a comeback" in the middle of the season and is hopeful to make playoffs in the near future.
"Our league competition has been up-and-down as everyone has been winning and losing to each other, so I do think we have a chance to make it to CIF this year," she said.