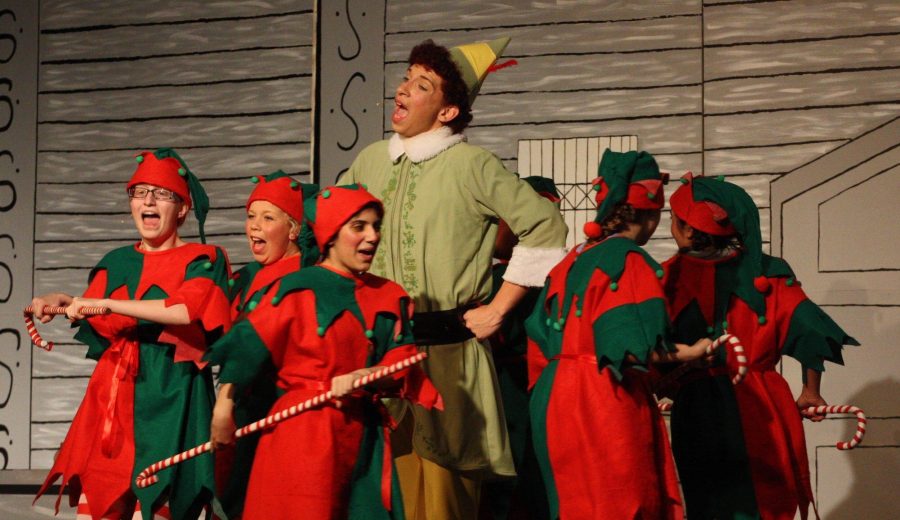 Buddy the Elf makes his appearance right as the show starts, prancing across the stage like one of his former reindeer companions, singing "loud for all to hear" in order to "spread Christmas cheer."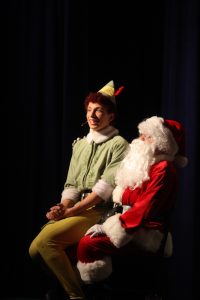 The Buena High School Drama Department surely filled the hearts of the audience with holiday spirit and shifted their minds toward the coming season. Laughter ensued throughout the entire production, allowing audience members to leave Buena's auditorium in a light-hearted, vibrant mood.
"Elf the Musical Jr" is a modern twist on the 2003 classic that features relevant technology, comedy for teens and children alike, and musical numbers. It follows the life of Buddy the Elf, portrayed by Reginald Whigham '19, who seeks a relationship with his biological father in the Big Apple.
Buddy's life has essentially been a lie, as believes that he was born an elf, but eventually discovers that he is human. As the unusual elf attempts to understand his role as a human, he experiences love, family and the "grinchy" New Yorkers.
Tatum Harris '17 portrays Jovie, Buddy the Elf's love interest. Not only is Jovie Buddy's girlfriend, but a key character in aiding him on his quest, as she helps Buddy get Santa's sleigh working again after it crashes. Harris' character shows an immense amount of transformation as she goes from having little Christmas spirit to having enough spirit to spread to those around her as well.

The friendships Harris made throughout the journey of this musical were her favorite part of creating this production.
"There are so many people who I had no idea went here before the show, and it's really great to get to know them and just know all of these new people," Harris said.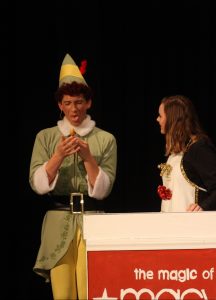 The cast was definitely unique to this production, as it comprised of a diverse array of students, composed of "all kinds of grades, all kinds of people, and all kinds of cultures," according to Harris.   
Sam Votrian '20 starred in the musical as Walter Hobbs, the "grumpy old man" and executive to a successful children's book company. Hobbs faces the denial of his unknown elf-child and faces disbelief when both his child and spouse take liking to the odd human.
Emily Hobbs, the wife of Votrian's character was played by Anna Rajala '17. The stay at home mother direly sought a closer relationship to her husband. Mrs. Hobbs sees Buddy's passion for Christmas cheer and grows fond of him over time.
Like Harris, Rajala referred to the cast as "one of the most diverse I had ever worked with."
"It was a bunch of people who would normally never do a musical, so you got literally every kind of person in the show," Rajala said.
Both Votrian and Rajala agreed that the transitions were a difficult challenge to overcome.
"We don't have wing space and so we knocked over so many things trying to move all the sets. It was really stressful," Rajala mentioned.
Foothill student Mallery Kinnun '17 really enjoyed the show and appreciated the holiday spirit it offered.
"I really liked when they sang the song about singing for Christmas spirit and that they all danced around, that was really fun," Kinnun said, "or the Macy tap dancers. Those were my favorite parts."
[soundcloud url="https://api.soundcloud.com/tracks/297181441″ params="color=ff5500&auto_play=false&hide_related=false&show_comments=true&show_user=true&show_reposts=false" width="100%" height="166″ iframe="true" /]
The musical kept the energy high from the opening of the curtain to the closing of the curtain, adding a fresh twist to the classic film. The musical featured a variety of numbers including "Happy All the Time," "I'll Believe in You" and "There is a Santa Claus," providing for a "sparklejollytwinklejingley" show.
"Elf Jr." is a definite must see for all ages and perfect way to kick start the Christmas season. For goodness sake, fake snow sprinkled over the cast members as they wrapped up the final number of the show.