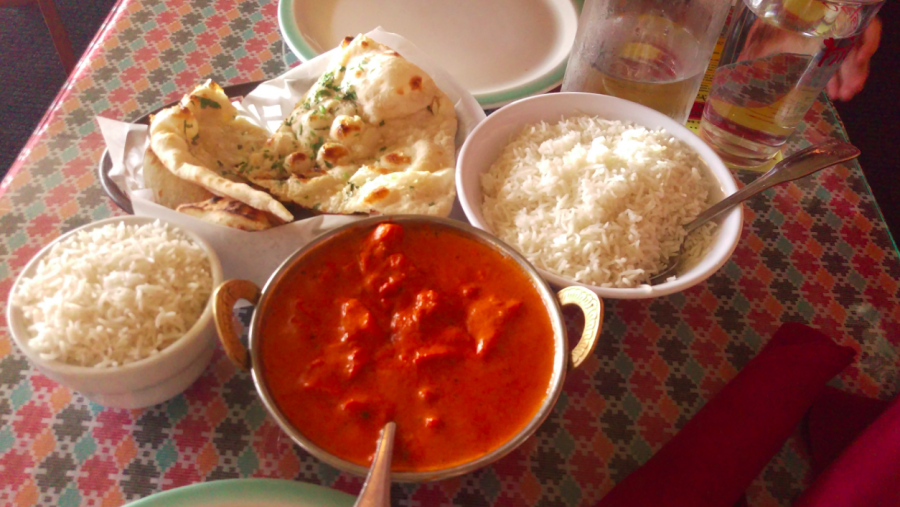 Ventura is filled with Asian cuisine, however it's easy to get caught up in the most well-known genres and the most popular eateries. Expand your horizons and give these five different types of Asian cuisine a try.
Sushi Fresh Ventura: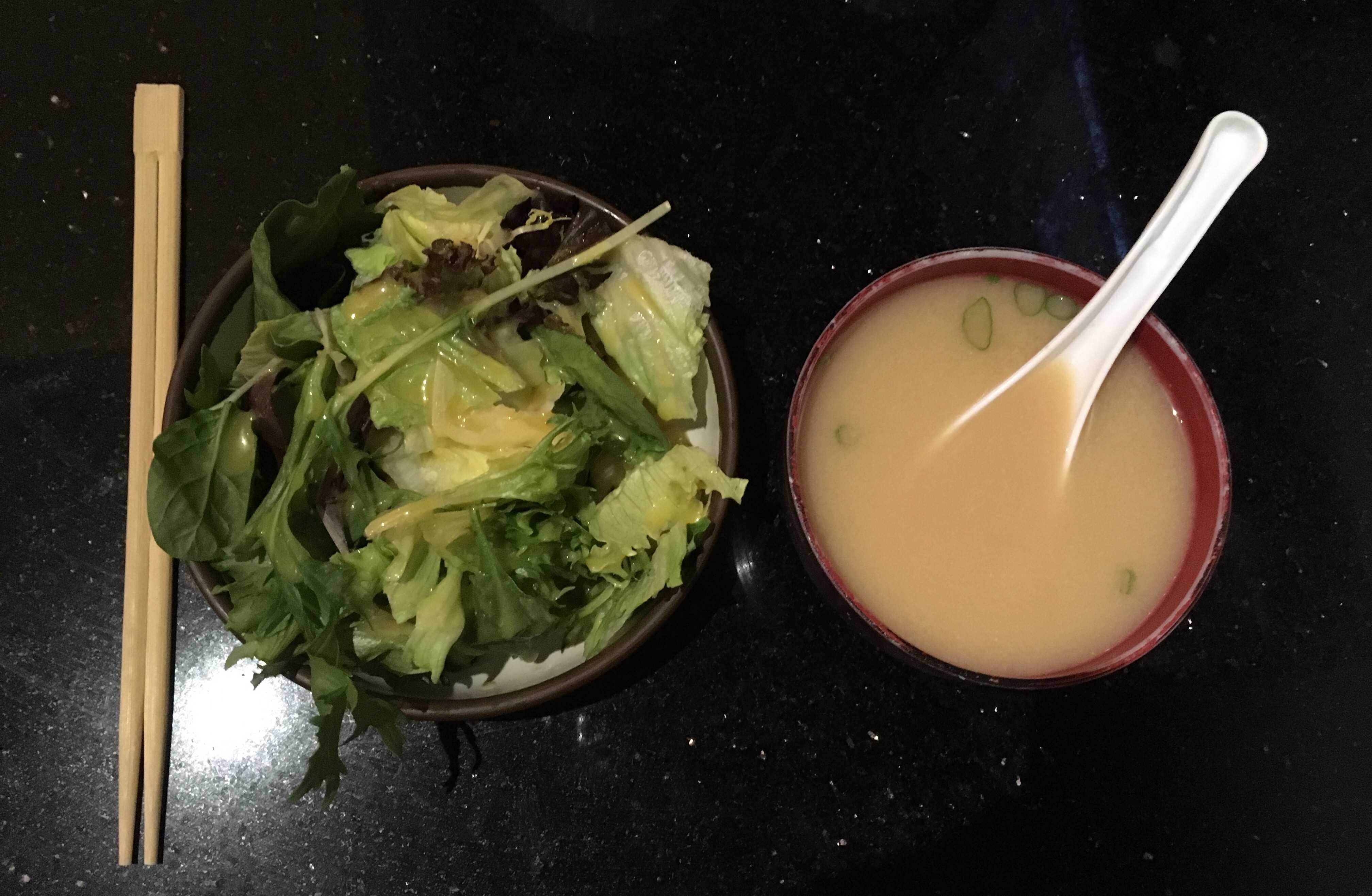 While heading down Telegraph Rd., and in the mood for a delectable Japanese meal, swing by Sushi Fresh Ventura for a feast that will not disappoint. Sushi Fresh Ventura is situated in a prime spot in the Victoria Plaza, not too out of the way for most and in the hub of East Ventura.
Upon arrival you are immediately greeted by friendly hosts and waiters and shown to your table. Menus immediately follow, as well as sushi, sashimi or roll orders. Sushi Fresh Ventura offers a wide variety of Japanese options ranging from sushi to sashimi, to rolls, to tempura, to teriyaki dishes, to Japanese ramen.
After previewing the menu, I decided to order the classic "dinner box" so that I could try a variety of what the restaurant had to offer. The "dinner box" includes miso soup, salad, rice, gyoza and an egg roll. This option allows customers to choose two out of the plethora of choices, which include chicken, beef, or salmon teriyaki; sesame chicken; vegetable, shrimp, or mixed tempura; Mexican or spicy tuna roll; or sushi. I ordered the salmon teriyaki and mixed tempura, and let me tell you, the meal was so filling that I couldn't even finish my plate.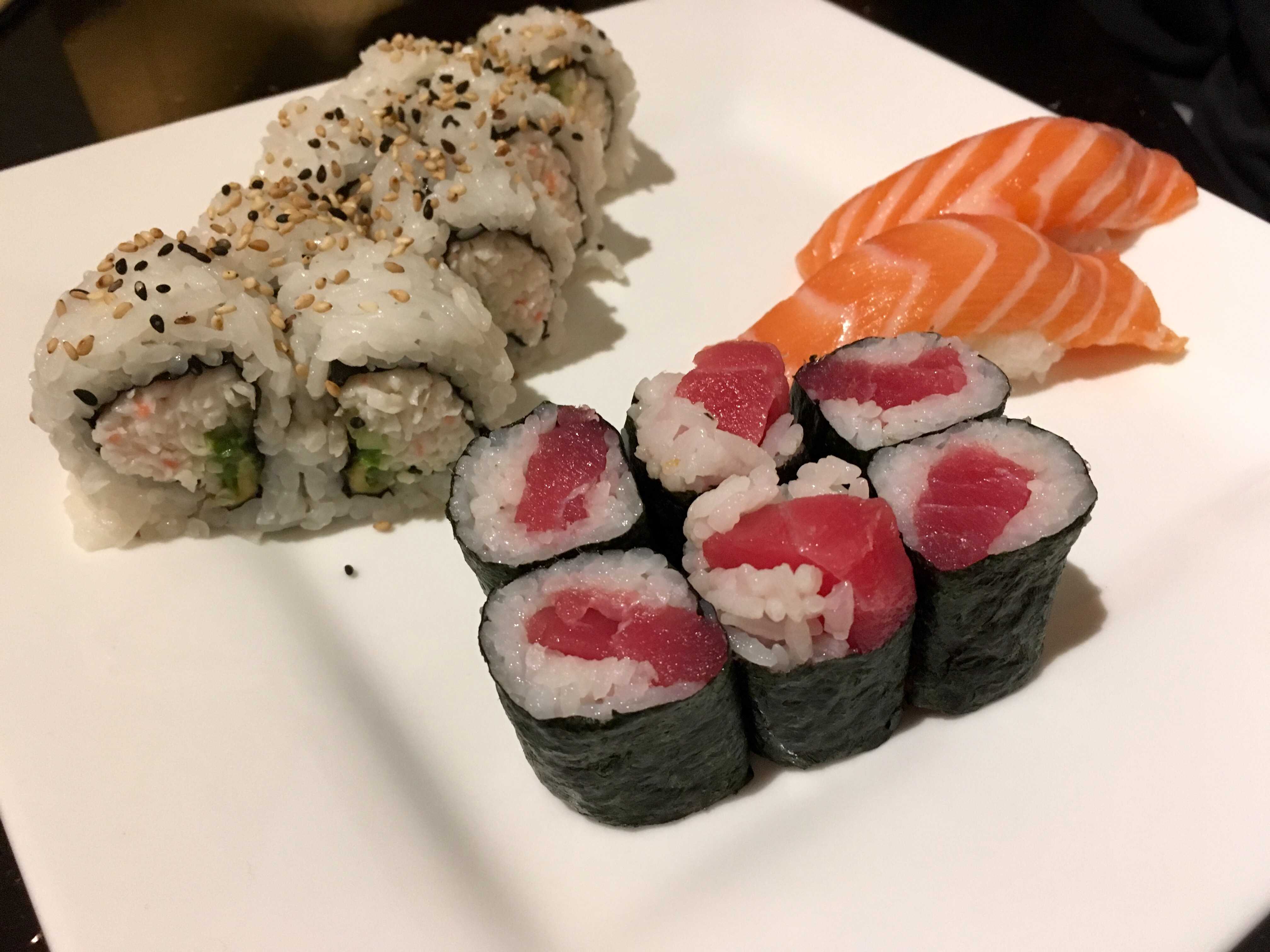 I am pretty picky when it comes to salmon, but I decided to give it a try. The fish was cooked to perfection, crispy on the outside and soft on the inside. It was served with a sweet and tangy teriyaki sauce, in which each bite was exquisite.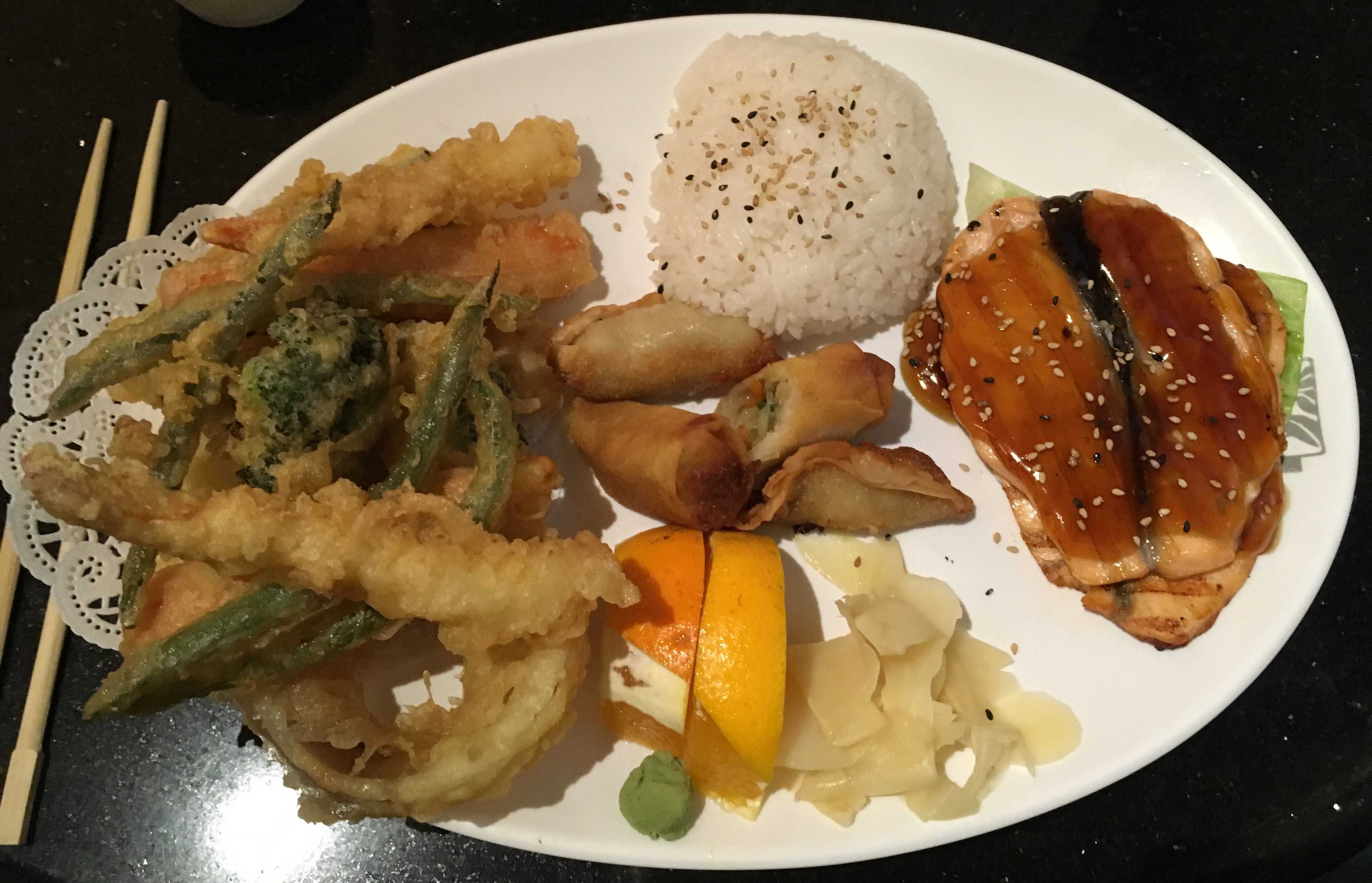 The tempura was some of the best I've had.Each strip of shrimp and each vegetable slice was evenly coated with a light, airy batter that was fried just to the right texture. The tempura wasn't too oily or too dry, but just right.    
The presentation of the meal is classy, appealing and appetizing. The service is wonderful, with waiters and waitresses constantly checking up on you to make sure you are pleased.
The prices are not too expensive, but not too cheap either, ranging from $3 to $9 for sushi, $10 to $15 for a variety of rolls and $13.95 for the dinner box. However, you get what you pay for, and I left on a full stomach and with to-go boxes for days later.
– Brooklyne Shepherd
Jasmine Thai
Although there are several extremely popular Thai restaurants in town, Jasmine Thai provides authentic dishes with a touch of modern flare. Located on South Victoria Ave., Jasmine Thai is close enough for off campus dining at lunch, or a fun place to dine with family for dinner.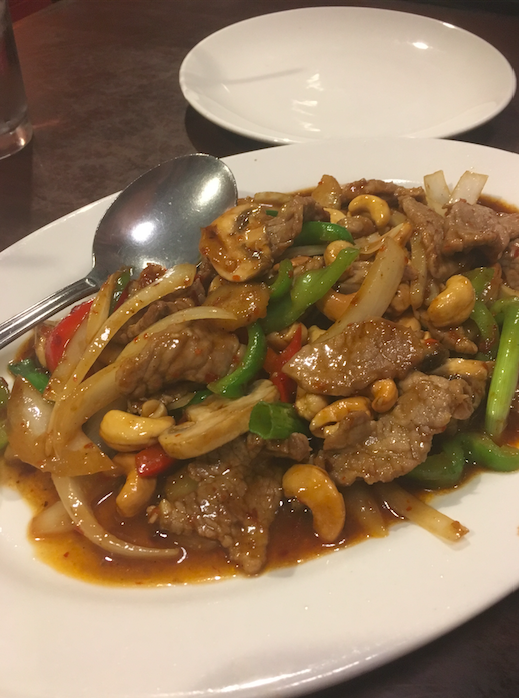 Once kindly escorted to your seat, you can start glancing through the wide variety of menu items. For those who love a kick of heat, the several items with a "spicy" symbol are sure to please.
However, for people who have a tamer mouth, there are still equally flavorful dishes to spark your tastebuds. From wontons, to salads, to soups, to curries, to noodles, to every "A La Carte" item in between, Jasmine Thai is sure to have something everyone enjoys.
Because I was with company, we decided to try three different dishes to share, ensuring we would get a taste of every type of food they offered.
Our one spicy item we selected was the Crunchy Cashew with beef, a sweet and spicy fusion of bell peppers, water chestnut, onions, mushrooms and cashews. Although you could definitely taste the kick, it wasn't overwhelmingly spicy. Being someone who enjoys food on the tamer side, this was perfect for me.
The beef was tender and flavorful, and mixed with the soft crunch of the cashews and the tangy sauce, it was the perfect combination of flavor.
We selected the Pad Thai with Chicken for our noodle selection, which was a combination of Thai noodles, egg, onion, bean sprouts and crushed peanuts. The noodles were soft and some of the most flavorful I've ever tasted, sending your mouth into a happy state of heaven, especially when mixed with the juicy chicken and flavorful add-ons.
We also acknowledged their wide selection of fried rices, and decided the Pineapple Fried Rice sounded too good to resist. We ordered this one with vegetables rather than meat, figuring the concoction mixed with the thai fried rice, pineapple chunks, raisins, onions, bell peppers and cashews would be perfect.
The rice was perfectly cooked, and the acidity of the pineapple mixed with the sweet, chewy raisins was a purely addicting combination, making it for sure my favorite of all the dishes.
Although not the cheapest dine, it is certainly worth it, especially considering the amount of food and the overall experience. With beautiful presentation of each dish, portion sizes that are sure to send you with days worth of leftovers, and flavor like no other, Jasmine Thai is perfect for any of your Thai food needs.
– Julia Fickenscher
New Kung Fu'od
New Kung Fu'od isn't necessarily a brand new addition to Ventura. In fact, it's been serving our community for 23 years. This family owned and operated hole in the wall, will not fail you with its customer service and food.
Located on the hustling streets of Victoria and Telephone, they serve a variety of customers. Restaurant owners are the type to remember your name if you come in often enough. After serving the Ventura community for two full decades, they've had plenty of time to create refined and delicious recipes.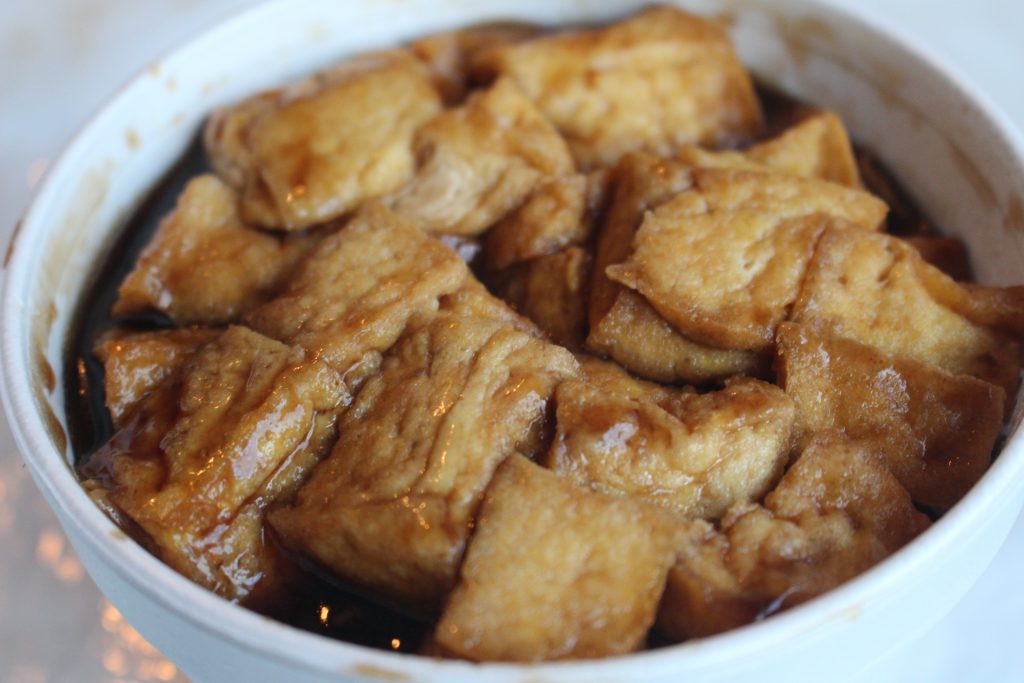 Popular items include their Orange Chicken for something sweet, and Kung Pao Chicken is a favorite of my family's for its spice. Personal favorites of mine include their Veggie Fried Rice, Kung Pao Tofu and any of their Chow Mein. Any of the Kung Pao items pair perfectly with their fried rice and will not disappoint. Food is savory, but not overboard on the oil.
They only accept cash which isn't much of an issue because of the various ATM's in their area. The wait for take out isn't usually very long. Small orders take around five minutes and larger orders twenty.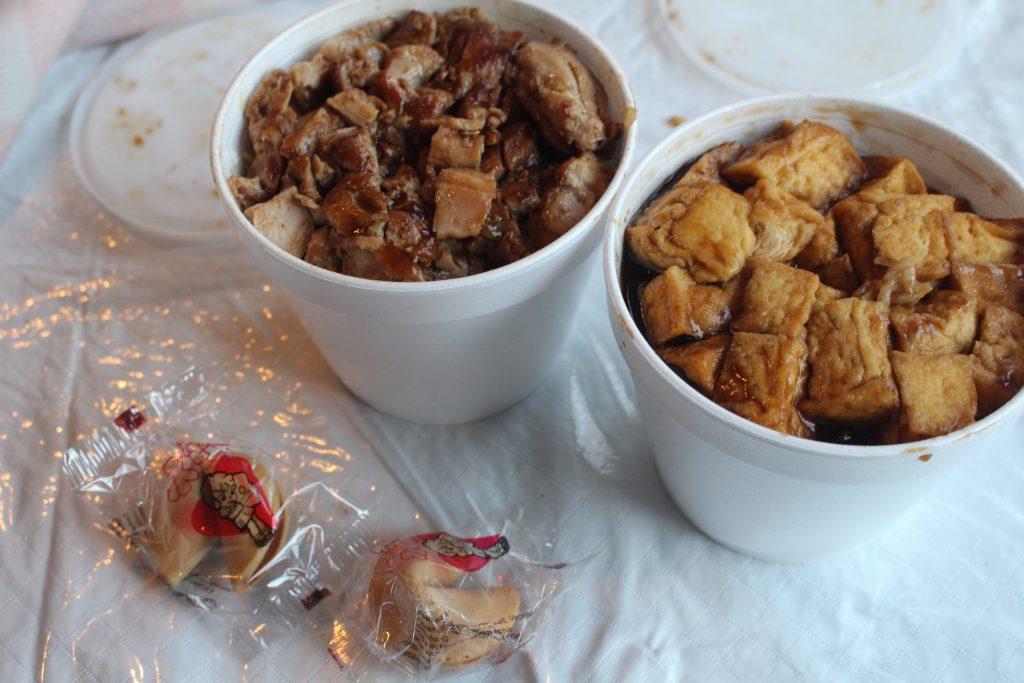 Kung Fu'od's rice bowls are all under $5, but large meals for families can add up quickly. Ordering several dishes in larges can quickly turn into a $30 meal. However, I've seen families leave with even higher. The restaurant is very easy to go to on a budget, just don't get carried away.
This restaurant has been a family favorite of ours for years, and was my mom's go-to restaurant when we were younger. Regardless of which member of my family goes in, they recognize us and ask how we're doing. You can't go wrong with Kung Fu'od.
– Suvee Ranasinghe
Mai's Cafe
Should you find yourself dining at Midtown Ventura's Mai's Cafe, it's likely that your food will be delivered to you by none other than the restaurant's owner and namesake, Mai Pham herself. Just north of Ventura High School, sharing a Main Street block with Santa Cruz Market, the family owned and operated restaurant serves it's guests a unique variety of Asian, Hawaiian and Vietnamese cuisine, derived from recipes originated by Mai's grandmother.
To prime your palate for an odyssey of consumption are a wide selection of unique beverages, including the popular Vietnamese sweet ice tea, and it's less common variation, the delectable sweet iced coffee (both available with boba pearls). Should neither versions of the classic drink peak the interest of your taste buds, several fresh fruit juices, smoothies and hot brewed teas are excellent alternatives. Also open to cafe patrons is a bar filled with both locally brewed and mass-produced, name brand beers, premium wines and an array of Japanese sake.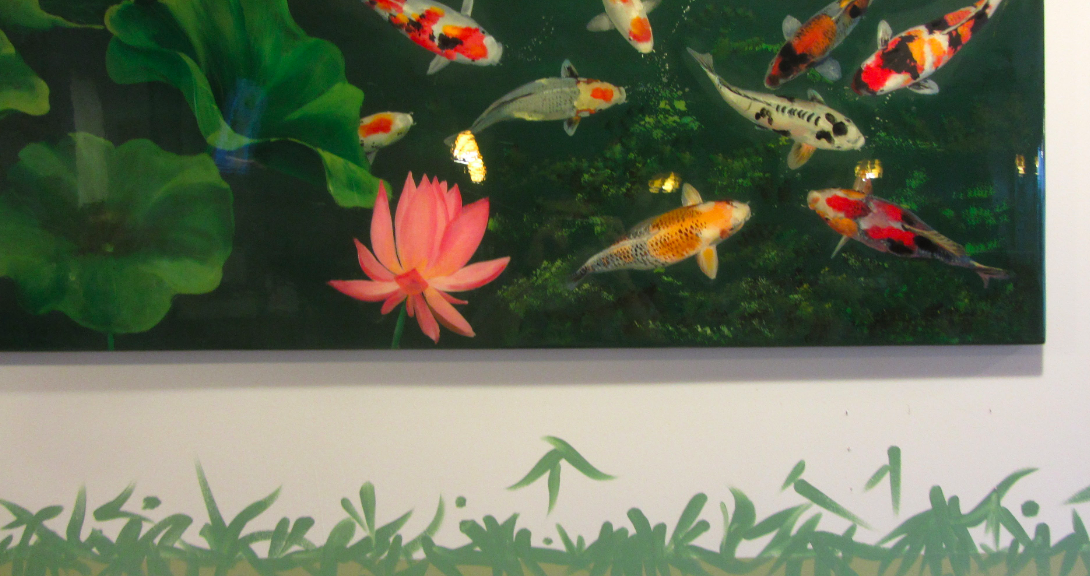 As far as appetizers go, a simple crowd pleaser would be the Bánh Xếp, pork dumplings, for $7. The eight pieces are more than enough to share with others, so long as you won't end up battling to coat their flakey shells in the cup of sesame soy sauce they're served with.
For adventurous eaters, a must-have appetizer is the $11 Êch Chiên Bơ: deep fried frog legs. Splayed over a bed of lettuce, the limbs are coated in a light, crispy batter. The meat is mild and tender, not unlike chicken, although tangy fishy undertones permeate every bite of the amphibian's flesh. Roasted in garlic, butter and onion, and paired with a sweet dipping sauce, the legs are a treat.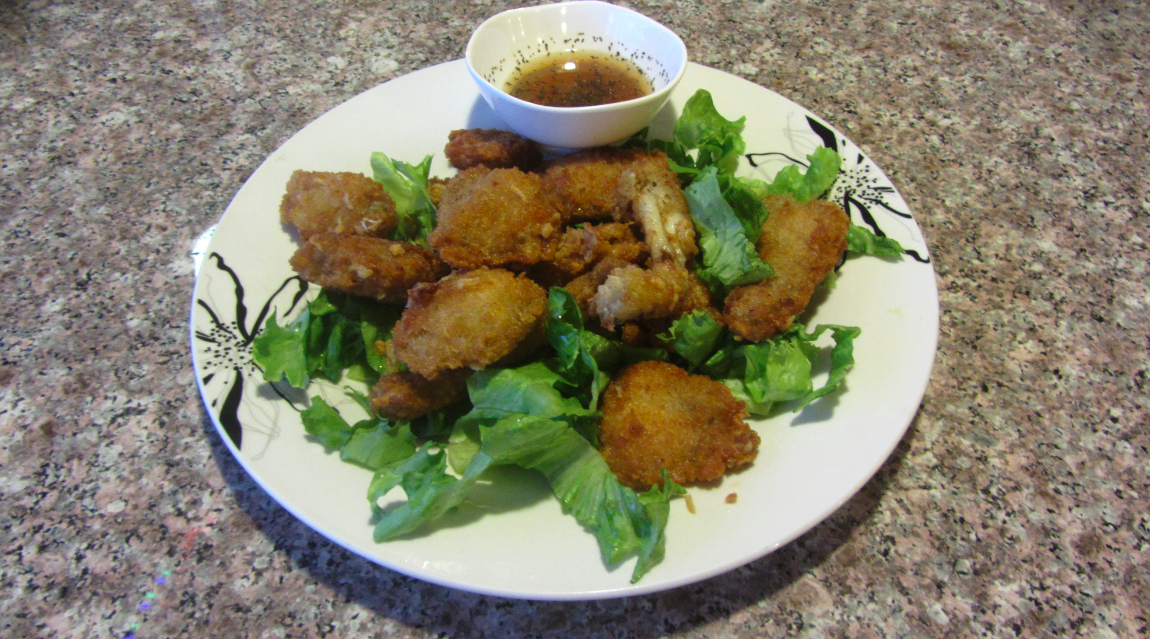 Recommended by Mai's sister, Tréc-Oanh, whose English name is Jennifer, was the $11 stir-fried Gà Xào Xả Ớt, a main course of chicken, vegetables and noodles, flavored with spicy lemongrass. The soft, thin noodles are a lovely foundation for a mountain of green vegetables, and soft chicken.
Another notable staple is the 'famous phở', of which the restaurant crafts eight different versions. Ranging from only $7 to $8, flavors such as the classic Phở Gà (chicken), Bò Viên (beef meatball) and the pork and shrimp Won-Ton Phở are certainly worth a try.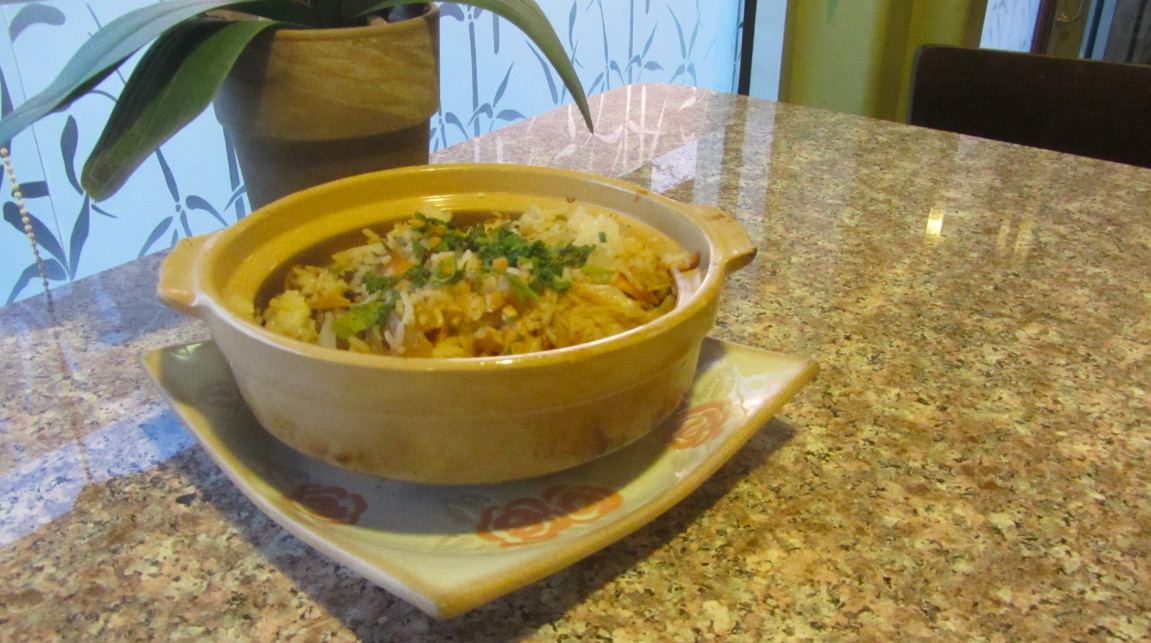 One of the simplest yet most flavorful dishes is the Cơm Tay Cầm. In English, simply: clay pot. This entrée features a generous helping of hearty fried rice cooked in a deep blend of spices with ginger, black mushroom, bamboo shoot and onion. It's presented steaming in a brown clay pot, just as the name suggests.
With a courteous wait staff, a cornucopia of flavor and portions large enough to grant you a feast of leftovers in the days following your visit, the charming Mai's Café is a prized jewel in the crown of Ventura's appetite for the bold.
– Lorenzo Alexander
Himalaya Cuisine of Nepal, India and Tibet:
On the corner of Ventura Avenue, a restaurant simply known as Himalaya provides some of the boldest and most unique flavors in town.  Serving cuisine from countries such as India, Nepal and Tibet, Himalaya has countless options, each cascading flavor and unparalleled spice to every taste bud.
The ambiance of Himalaya is like no other. Beautiful red walls with golden artistry as well as oil paintings surround you as you dine. The paintings and the pictures show Mount Himalaya and all its glory. Music is constantly playing, filling the air with the sound that is of a restaurant somewhere in Tibet or Mumbai.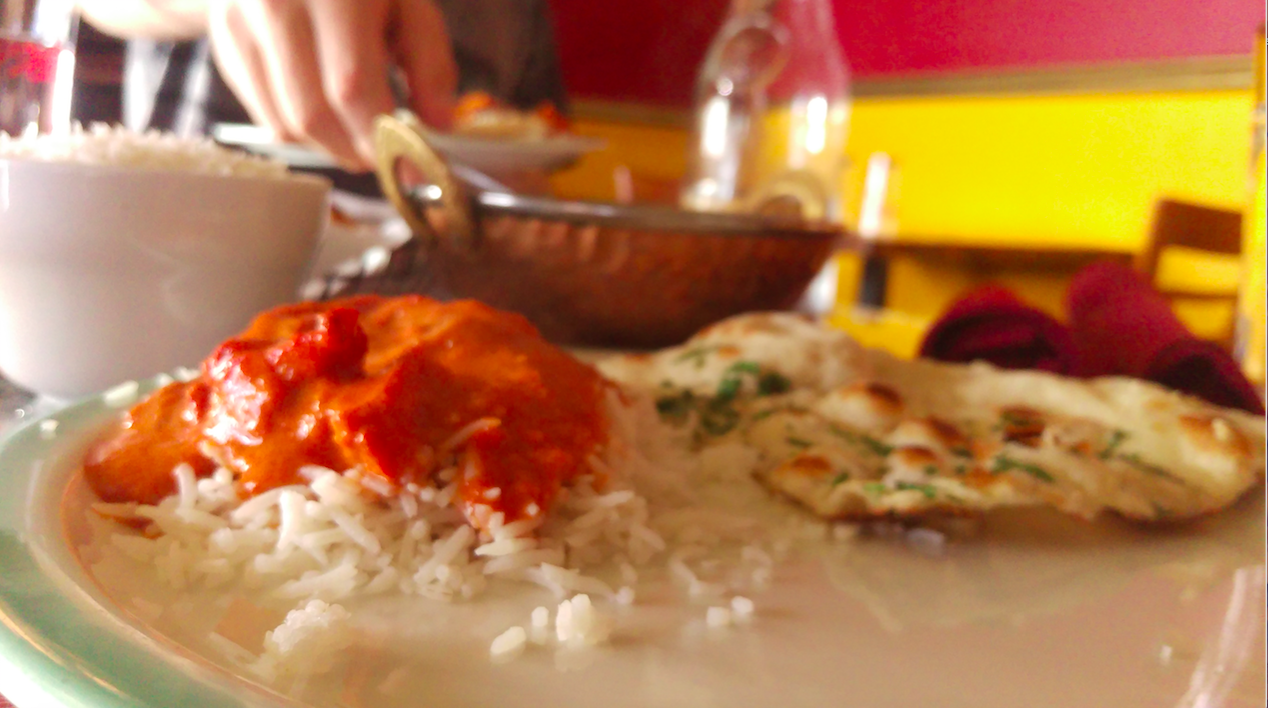 To start off, a classic order of samosas, crunchy, delicate morsels full of potatoes, peas and curry sauce, usually do the trick for your pre-meal, providing a general taste for some of the other dishes on the menu. Other appetizers such as chicken tikka naan, vegetable pakoras and namche yak chili tantalize and appeal to Himalaya's many patrons, but by the time the samosas are done, you're ready to order your main course.

Most people are aware that the classic chicken tikka masala at Himalaya is one of the best in town. With bold spice and a vibrant red creamy sauce, the chicken tikka is best devoured with white jasmine rice and garlic naan bread. Other lesser known dishes include lamb vindaloo, saag paneer and madras chicken, all incomparable to the more popular dishes.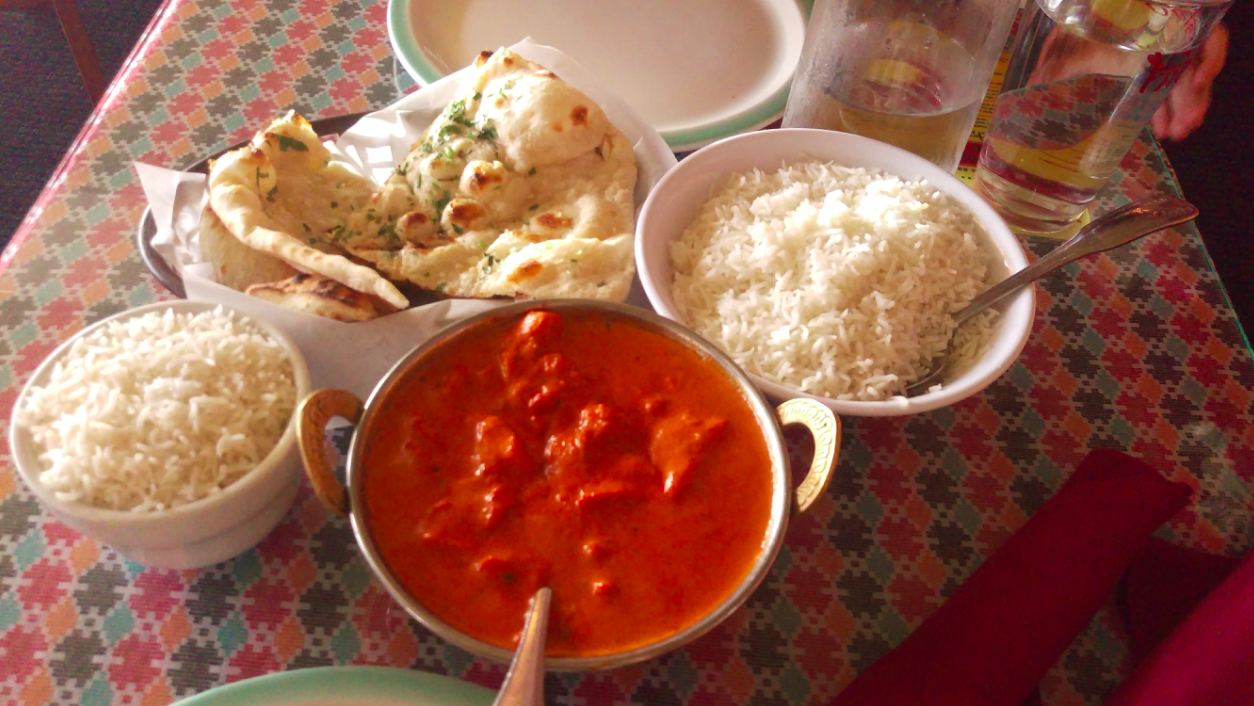 Once the decadent meal is finished, you can enjoy a mango lassi, a sweet and creamy yogurt beverage. The mango lassi is not the only item on the dessert menu surpassing common expectations.
Other desserts include kheer, commonly known as rice pudding, gulab jamun, succulent and sweet balls of fried dough submerged in syrupy sweet rose water, kulfi, indian ice cream in two flavors of either mango or pistachio and kabuli naan, sweet bread stuffed with pistachios and cashews topped with coconut shreds and homemade maple syrup.
With so many excellent choices, Himalaya provides exemplary food that fills you up instantly, making it so the next time you're hungry the only thing that inhabits your mind is the thought of a steaming hot plate of lamb vindaloo and a basket of garlic naan at your side ready for the hasty and unrivaled consumption. Himalaya is a must when choosing to eat out in Ventura.
– Zach Castro