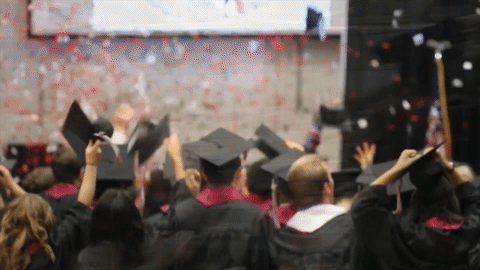 The iconic melody of "Pomp and Circumstance" filled the Ventura College gymnasium today as Foothill's 14th class of seniors was honored and celebrated at the graduation ceremony for the Class of 2016.
The iconic melody of "Pomp and Circumstance" filled the Ventura College gymnasium today as Foothill's 14th class of seniors was honored and celebrated at the graduation ceremony for the Class of 2016.
"These seniors have changed Foothill in so many positive ways and I know they will have the same effect on the world they are about to enter," Principal Joe Bova said to commemorate all that the Class of 2016 has done.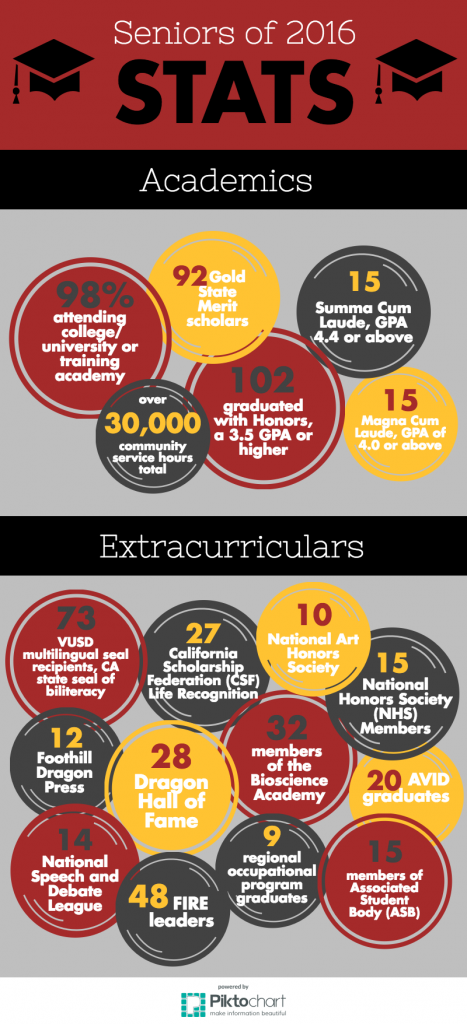 "The Class of 2016 has expanded Foothill's reputation of academic excellence by helping the school rank one of the top schools in the state and nation," Bova continued. "They have reached out to the community both locally and globally, giving up their time to benefit others."
The ceremony began with the entrance of the teachers and the select juniors who are on the Dragon Honor Court. Students on the Dragon Honor Court help with senior events including graduation.
The seniors then commenced their procession to their seats. Many high-fived and hugged their designated partner and some even did a cartwheel.
Senior Class President Bailey Liljekvist gave the opening speech and Daisy Sumaya performed "The Star Spangled Banner."
After that, Bova gave some of the highlights of the Class of 2016.
Ninety-eight percent of the Class of 2016 will be continuing on to college or training academy after high school. One hundred and two seniors, almost 50 percent, graduated with Honors, which entails achieving a 3.5 or higher Grade Point Average (GPA) all four years of high school.
Thirty-nine seniors were awarded with Magna Cum Laude, which means that they maintained a 4.0 GPA or higher all four years, and 15 graduates were presented with Summa Cum Laude, which means that they achieved a 4.4 GPA or better throughout high school.
This graduating class achieved a new record for Foothill history. Seventy-three seniors were Ventura Unified School District multilingual seal recipients and also received the California state seal of biliteracy, which is the most Foothill has ever had.
The five salutatorians, Myan Ahron-Ezer, Emma Birch, Cliff Danza, Holden Kenedy and Ashley Quezada, were awarded their medals by Assistant Principal Ron Briggs and then the three Valedictorians, Fidelity Ballmer, Charlotte Fox and Bryn Treloar-Ballard, were presented theirs by Assistant Principal Lisa Harvill.
Next, senior Mary Mendoza took to the podium to present her speech, "An Array of Colors."
"I can't stand in front of this class and describe high school in one word," Mendoza said. "I cannot package it all into one neat little phrase because it wouldn't be fair."
……………
"It was neither black nor white rather an array of colors. Different tones and hues mixed together and blended, creating new stories," she said.
Following Mendoza's speech, Bova officially presented the Class of 2016 as high school graduates and Board of Education President Barbara Fitzgerald accepted it.
After the exchange, various members of the Board of Education began the most anticipated moment: the calling of the names to receive diplomas.
When all of the students had received their diplomas, senior Corinn Conant sang the graduation song, "Wherever I Go" by by Miley Cyrus, accompanied by her guitar.
Valedictorian Fidelity Ballmer gave the final speech, "We Can Do Hard Things," encouraging students to continue through life with the perseverance they gained through Foothill experiences.
"I invite the graduates to think of all the difficult things you worked through to earn your place in these seats today," Ballmer said.
"Think of that one class that you were almost positive was going to end you, but didn't because you are sitting here today," she continued.
"We are who we are not despite the hard things we have worked through, but because of them," she said.
Finally, Ventura Unified Superintendent Michael Babb led the Class of 2016 in their turning of the tassels. Caps were thrown and confetti rained down on the excited students.
The "Column of Colors" closed the ceremony. Teachers lined up in two rows and students walked through them to hug and thank the teachers that led them to this milestone.
Graduation ceremonies closed with Journey's "Don't Stop Believin'" which tied in with Ballmer's speech. She hoped students would be prideful of this success and continue to strive for greatness in the future.
"High school is really hard but we can do hard things," she said. "And we did hard things."
Background Gif Credit: Julie Knowles & Claire Dinkler / The Foothill Dragon Press
Thinglink Credit: Emily van Deinse & Carrie Coonan / The Foothill Dragon Press
Infographic Credit: Chloe Hilles / The Foothill Dragon Press
Storify Credit: Bella Bobrow / The Foothill Dragon Press
https://storify.com/FTHSDragonPress/graduation-2016