Student teams up with Get In Touch Foundation to bring breast cancer awareness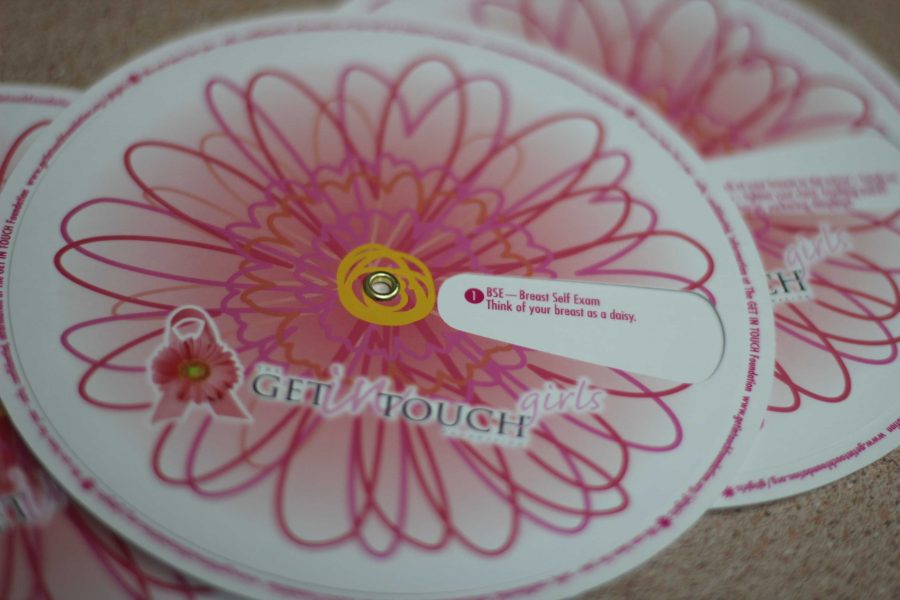 Sienna Romero
January 19, 2015
About 40,000 women were expected to die due to breast cancer according to breastcancer.org, in the year 2014. One in 8 women will develop invasive breast cancer in her lifetime, leaving people without their mothers, daughters, aunts, and loved ones.
But what are "Foothillians" expected to do?
Junior Karina Cole decided to not start in great leaps, but in small steps.
"My mom had breast cancer three years ago. It really affected her. […] We thought that this would be a good way to learn more about it because I was younger when my mother first got it and it really scared me," she said.
Cole teamed up with Nurse Mary Johnson and the Get In Touch foundation to bring more awareness to Foothill.
The Get in Touch foundation donated "Daisy Wheels" to the school, which has information regarding self breast examination. They state when self examination should start and how it works.
The "Daisy Wheel" is a pink wheel that rotates, giving a 'tip' each turn on breast self examination. An app on the Iphone is also available for more information.
They are currently in the health office and will be distributed to anyone interested.
The Get in Touch foundation also has a Daisy Bowl, which is held to raise money for the foundation.
When signing up for the Get in Touch foundation in May of last year, Cole was motivated to bring more awareness to the school due to her mother being a breast cancer survivor.
"I hope that girls will feel more comfortable going to the nurse and talking to them about breast self-examination and asking questions about it. […] If my mom had discovered her breast cancer sooner, she probably would not have contracted the stage her breast cancer was at," she said.
[soundcloud url="https://api.soundcloud.com/tracks/186654662″ params="color=83360f&auto_play=false&hide_related=false&show_comments=true&show_user=true&show_reposts=false" width="100%" height="166″ iframe="true" /]
Johnson is also a big supporter of the self examination process and thinks it should be done monthly. She says that you always want to be on high alert for "lumps" that are alien.
"There might be a little lump, there might be a little pain, sometimes there is no pain. It's usually that you feel a different lump than what you felt the month before," she said.
Johnson sees the potential of the Daisy Wheels, and thinks that the awareness will bring positive outcomes that reach
"I think for, not only the girls at Foothill, that every woman can teach their families too," she said.
"For women it's important to start breast exams and it's a life long process, so it's important to start off early. And it's important to see how your breasts feel. It gives you an opportunity to act on it immediately."
Background Photo Credit: Elizabeth Anthony/The Foothill Dragon Press