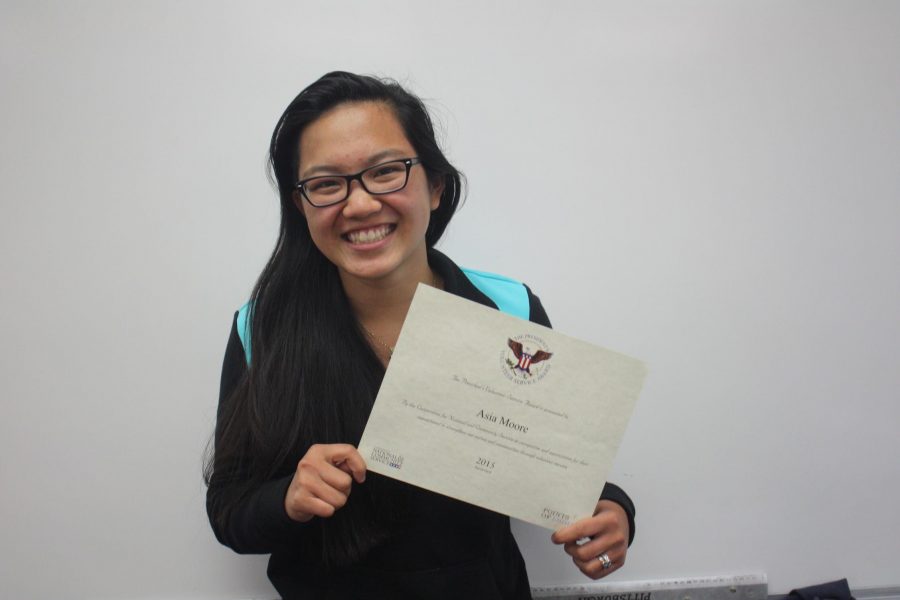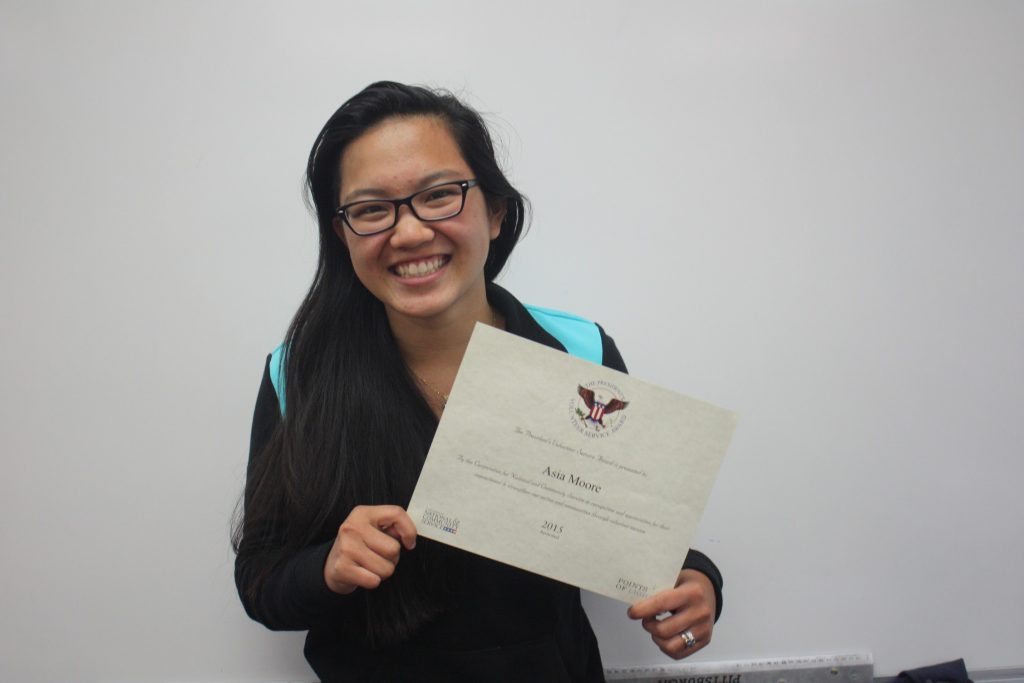 After becoming a finalist for the Ronald Reagan Scholarship and earning over 300 hours in community service, senior Asia Moore received the gold award in the Presidential Volunteer Service Award. Although it was an honor to receive it, getting the notification about the award came as a surprise to Moore as she did not originally apply for the award.
Principal Joe Bova was the first to receive the award packet in the mail, and stopped Moore in her tracks one day to present it to her, as well as express his congratulations.
"I was surprised because I didn't really think I'd get something after I was told that I didn't get chosen as a finalist for the scholarship," Moore said. "I thought that that was kind of the end of it and that I wasn't going to get anything from it. […] I remember opening it and thinking 'What is this? What would I get if I was already told that I was declined for the scholarship?'"
Her initial goal was to win the Ronald Reagan Scholarship, but after being declined, Moore did not expect to earn anything afterwards. But the Presidential Volunteer Service Award is paired with the Ronald Reagan Scholarship, so all the community service hours that Moore submitted for the latter automatically transferred over to the former.
Although obtaining the recognition was not what she originally set out for, Moore considered the award a great honor for all the community service work she has done in the past few years.
"Since I love what I do for my community service, it's not that big of a deal to me to get all these hours. But it was definitely nice to get rewarded for putting in 300 hours for the community service project," she said.
Senior and close friend of Moore's, Charlotte Fox, thought it was amazing that Moore was given recognition for all the hard and altruistic service she has done for her community.
"It's really cool because Asia puts so much effort into making the world around her a better place and it's really awesome that she was recognized for all the amazing work she does," Fox said.
Moore has worked on several different community service projects including Girl's Club and volunteering at summer camps. The majority of her hours, however, came from working at the California Horse Rescue (CHR) in Meiners Oak.
Every Sunday, she helps rehabilitate the horses, as well as groom them, aid in the upkeep of the rescue, and participate in fundraisers. Moore chose the organization for her sophomore year Be The Change project, and has stuck with it ever since.
"It's such a rewarding feeling to be working with this horse, and you sort of know their backstory but you really don't know it completely because they've been abandoned or neglected," she said. "But you do know that they have issues, and it's really great to watch them and […] have them do something and know that you aided them in this rehabilitation."
On the site, Moore came across a thoroughbred quarter horse cross named Big Red. Pretty soon, working Big Red became one of her favorite aspects about volunteering at CHR.
Moore is proud to be able to represent Foothill for the Presidential Volunteer Service Award.
"I have never really represented us outside of the BioScience Academy, because BioScience Academy is more of what I focus on on the Foothill campus. But it was really nice to represent something besides the BioScience Academy," Moore said.