ASB decides not to spend "rainy day" fund of $24,000
For the past several months, Foothill's Associated Student Body (ASB) Adviser Melanie "Captain" Lindsey has believed ASB's $24,000 "rainy day" fund was out of compliance with California law.
The "rainy day" or "reserve" fund is controlled by ASB, and was established in 2009 by BioScience teacher and former ASB advisor Darcy Duffy.
The reserve has been built up by moving a percentage of the school's annual income into the account at the end of the year. ASB president Evan Askar said that approximately $5,000 has been put in each year.
Duffy, former ASB adviser, created the fund as a safety net for the school.
"If there's any type of emergency or catastrophe, those types of things, it's your start-up," Duffy said.
Lindsey agrees that the fund is necessary.
"We don't have money anymore. It's not like we have all this extra money this year to spend on cool things," ASB vice president Nick Vaughan said.
"Last year there was a fire at Ventura High School, and a bunch of the art rooms burned down. That reserve fund would then get used to replace the art equipment, the benches, anything that got lost in that fire," Lindsey said.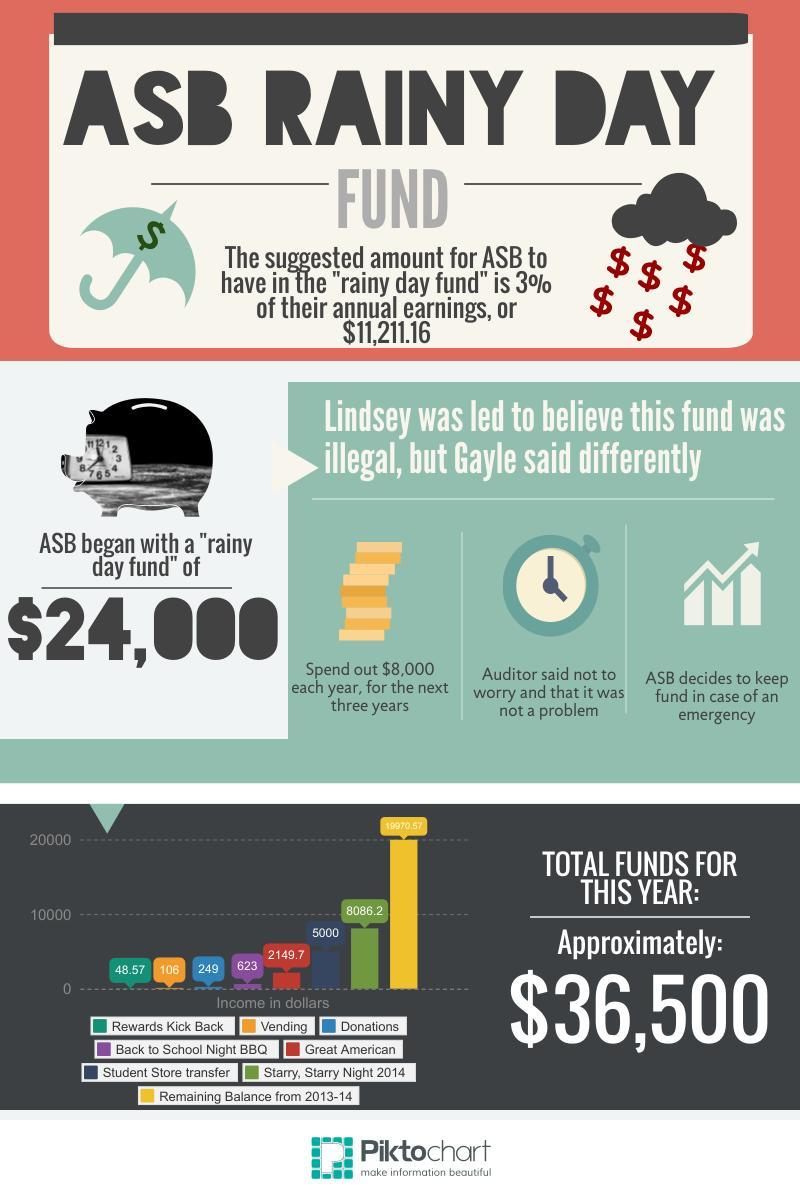 Lindsey initially believed the reserve fund might be illegal after she attended a California Association of School Business Officers (CASBO) workshop in September. She was trained by an auditor who said a school is not allowed to have a reserve fund and suggested she spend it down.
"I went into panic mode. 'Oh, shoot, we're breaking the rules, we need to fix it,'" Lindsey said.
For this reason, ASB was planning on spending $8,000 per school year from the reserve fund for the next three years, beginning this year.
Askar and vice president Nick Vaughan said that they thought the loss of parking funds and decrease of expected income from fundraisers would be covered through the reserve fund.
However, due to no longer being able to charge for parking spots and a lack of participation in the new Great American fundraiser, ASB needs $11,000 in order to run the events and activities they had planned for this year.
"We don't have money anymore. It's not like we have all this extra money this year to spend on cool things," Vaughan said, adding that he thought that the reserve fund could be a "lifeline" for ASB
But late last month, when Lindsey referenced the CASBO binder, it contained different information than what the CASBO auditor had told her.
"I went into my CASBO binder, which is the binder I live and breathe by, because that's ASB funding and controls all school funding," Lindsey said. "It says that a school may have a reserve."
"So [the auditor] is saying no, CASBO binder is saying yes," Lindsey said.
In order to clarify the situation, Lindsey  checked with Ventura Unified's auditor Roger Gayle when he visited Foothill on Nov. 21.
Gayle told Lindsey that the recommendation is for ASB to keep up to 3 percent of the school's annual income in a reserve account.
"The money is there for the students. So, you don't want to have an excessive amount in [the reserve] that carries over and is not used for the purpose of the students," Gayle said in an interview with the Dragon Press. "That's up to the […] student body council to decide."
To read about the $11,000 ASB budget deficit, click here
According to Foothill's bank statement, a total of $373,705.43 passed through the ASB account last year. The recommended reserve fund to transfer to the next year would be 3 percent of the total income, or $11,211.16.
The current reserve fund stands at $24,000, which is about 6 percent of the total income and is over the recommendation.
However, Lindsey and Gayle said that this is not a strict regulation.
"[Three percent] is just a general guideline for the district. You can have more than that," Gayle said.
Lindsey said that she is not worried about the fund being over the recommendation because Gayle and the state auditor will let her know if there is a problem.
ASB has decided to not tap into the fund.
"The money [should] stay where it is," Lindsey said.
If the reserve fund had the recommended amount of 3 percent of total income, it would "buy us nothing", she said.
"Could you imagine having to replace something on this campus and only having [$11,211.16], which is what 3 percent of this is? It wouldn't fix anything," Lindsey said. "We'd be totally out of luck. I think it's fine left there."
Fidelity Ballmer contributed to reporting this article
Background Photo Credit: Rachel Horiuchi/The Foothill Dragon Press