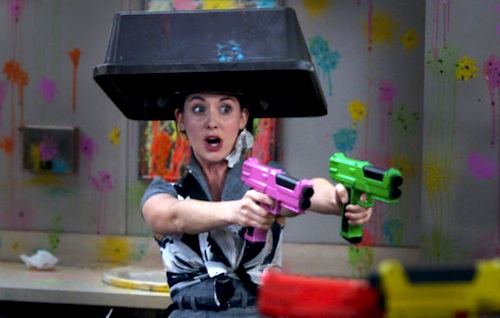 10: Community "Conspiracy Theories and Interior Design"
If the idea of building a fort the size of an entire residence at college doesn't excite you, then you are physically incapable of being excited. Troy and Abed, the show's zany secondary male characters, create a fort so elaborate it has its own Turkish district and parade (they had the proper permits). This episode combined an intriguing premise, including a criss-cross plot fans of the short-lived show Rubicon would love, with genuinely funny moments.

9: Modern Family "Unplugged" 
In this hilarious episode, Claire and Phil announce to their family that they will not use electronic devices in an attempt to improve their communication skills. Of course it is difficult for people in the 21st Century to give up their gadgets, but this show depicts their struggles with such honesty that it is easy to empathize with their situation. The show also has a humorous subplot involving Mitchell and Cameron trying to get their daughter into a prestigious pre-school.

8: House "A Pox on Our House" 
This episode marks the return of an eradicated, typically fatal disease. Or so we think. After a girl brings up a jar from a sunken slave ship, she breaks out in rashes that appear to be those of smallpox. House then goes on an egotistical quest to prove that this girl has smallpox. But in order to do so, House has to break through the quarantine that the CDC has put on the hospital. The team then races against the clock to prove their diagnosis. This episode includes the drama, sarcastic humor, and mystery that makes House such a successful, enjoyable show but it stands out among the rest for its captivating plot line and for the even more cruel and hilarious way that House treats his staff.

7: Family Guy "The Splendid Source"
Have you ever wondered what the origin of dirty jokes is? Peter, Quagmire, and Joe certainly have. This episode takes the viewer on a journey to find where exactly the world's dirty jokes come from. While on this search, the gang is kidnapped and brought to a secret island which beholds Earth's geniuses who have united to continue producing dirty jokes for the world's enjoyment. This episode features all of the awesome stupid humor Family Guy fans can't help but love. With an anti-climactic ending, this episode embodies the essence of Family Guy and the result is an unforgettable, hilarious episode.
6: How I Met Your Mother "Robots vs. Wrestlers"
No, this is not the episode where he meets the kids' mother. But, it is an amusing distraction in which the gang attempts to go to a Robots vs. Wrestlers brawl, but instead get caught up in a pretentious party in an apartment. With interesting guest appearances by Ariana Huffington and the Will Shortz, the editor of the New York Times crossword puzzles, the episode was clearly the funniest How I Met Your Mother episode of the year.

5: Glee "Rocky Horror Glee Show" 
Who would have thought that a cheeky, over-the-top TV show could use a cheeky, over-the-top movie as an inspiration for an entertaining TV show?

4: 30 Rock "Live Show" 
With very few slip-ups (at least on the West Coast version of the show) and the added humor of Julie Louis-Dreyfus of Seinfeld fame doubling as Liz Lemon (played by Tina Fey) during their trademark quick scene changes, this episode was hilariously done and surprisingly well put together.

3: The Office "Classy Christmas" 
To be entirely honest, this year's Office has not been the best. With sometimes tired plot-lines and almost too familiar characters, the show has lacked some of its oomph. But this episode (the show's most recent) busts out all of the stops, with the return of Amy Ryan's character Holly and Dwight and Jim's snowball fight/massacre, the hour-long episode directed by Rainn Wilson (who plays Dwight Shrute) was easily the tightest and funniest episode of the year. The Office worked in its genuine pathos to go along with great acting and witty dialogue to have their best episode of the season, so far.

2: The Daily Show "Rally to Restore Sanity and/or Fear" 
No, it wasn't a Daily Show episode in the traditional sense, and it may have featured a little too much music for a comedy show, but it was nonetheless a very interesting experience. Stewart and company moved their act from New York City to Washington D.C and hosted a rally with around 200,000 people in attendance, which has got to be some kind of record for a fake news comedy music variety show rally featuring large caricatured puppets. After the silliness, Stewart addressed his audience with as much sincerity as he could muster to deliver an excellent speech about the state of this country, and while the Rally may not have been transcendent, it was at the very least extremely entertaining.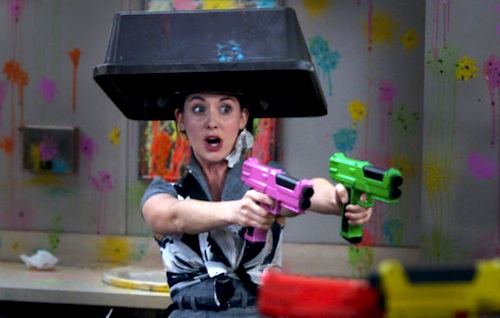 1: Community "Modern Warfare"
The only show with two episodes on the list, the best thirty minutes of television of this year aired on May 6. The entire school of Greendale becomes a war-zone when the Dean announces that whoever wins a paintball tournament that takes place on campus will have priority registration for the upcoming school year.
What follows is a bevy of action-movie references with awesome jokes about chess clubs, video games and old people underwear. The school becomes a paint splattered wasteland that Willow Smith would surely enjoy, and the characters become war-hardened veterans over the course of a single day. What is overwhelming about the episode is how much fun it all looks, how much you want to be at that school and do ridiculous things with these people. It definitely has no bearing in reality, but you want it to.