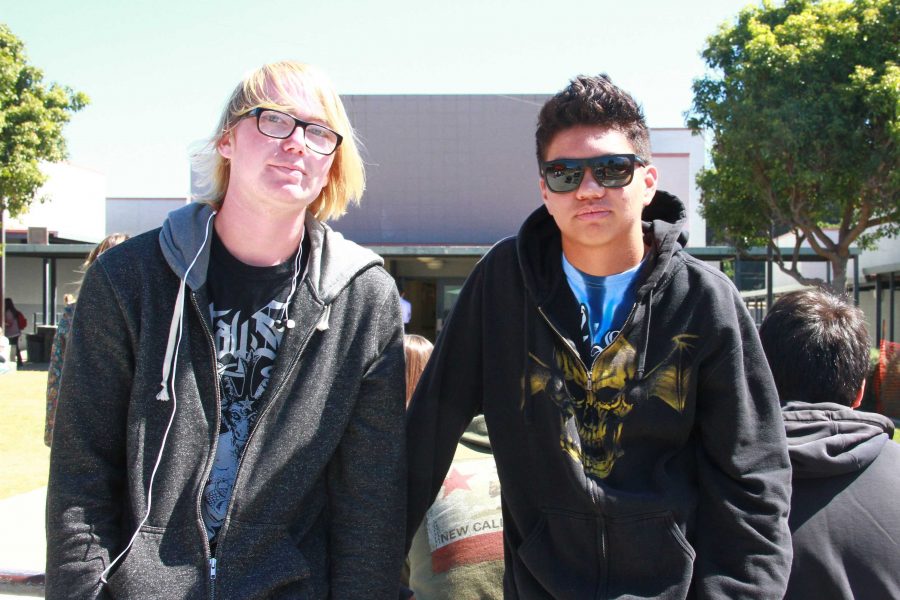 Senior Michael Hampton and junior Eric Searcy formed metalcore band "Half Past the Revolution," also known as HPTR, in fall of 2013. Since then, they've played venues such as the Malibu Plains Club, Rock City, and Foothill's own Air Guitar.
Hampton has been interested in music his whole life and doesn't remember a day spent away from his iPod. In the band he plays electric guitar, and loves performing in front of crowds.
Searcy also has a long time relationship with music. He grew up listening to classic rock. He plays bass and writes lyrics, and says it's such a cool experience to "see other people enjoy [their music]."
[soundcloud url="https://api.soundcloud.com/tracks/169673773″ params="color=ff5500&auto_play=false&hide_related=false&show_comments=true&show_user=true&show_reposts=false" width="100%" height="166″ iframe="true" /]
They were looking for a unique band name, thus "Half Past the Revolution" was created. There is no intended meaning. They believe it is important for their fans to have their own interpretation of the band along with their music.
HPTR's logo is a combination of the communist sign of a hammer and sickle, merged with the anarchist "A." They are often asked about its meaning.
"We're not communist. I used the hammer and sickle as more of an idea to show the Marxist sense of communism where everyone's equal. The other half is anarchy," Searcy explained.
"If you're upset, do something about it, " he added, referring to the logo's meaning as a whole.
The genre of music they play is classified as metalcore, which has hard rock elements and is harsher than the average pop song's vocals. It is sometimes referred to as "Screamo" which Searcy says, "isn't a real genre."
Originality is very important to HPTR, because they don't want to be dismissed simply because of accusations that they are "Satanic" because of their heavy-metal sound. They aren't going for the typical hard rock all black look, Hampton explained, they like to mix it up.
"I wore a tie dye blue shirt to our last show with a pink hat," he said.
But when it comes down to it, Searcy says the look doesn't matter, because "we all have the common interest of our music."
They perform covers, including their famed "Talk Dirty" by Jason Derulo, but they also have original pieces. The song they are most proud of is also their slowest. It's called "Broken Bows, Broken Promises."
"It's definitely one that the crowd really likes," Hampton said.
The band says it's their version of a break up song, containing what they describe as powerful lyrics that leaves the crowd in awe.
HPTR's greatest writing influence comes from the band "Avenged Sevenfold," along with instrumental influence from "A Day to Remember," because of their ability to blend a common pop feel with heavy metal aspects. HPTR doesn't only have screaming vocals, they have what some would call "regular singing" in songs too.
A main goal of theirs is to get a recording contract, along with a platinum record. They're a full-fledged band, including other members residing around Ventura County, and have a fan base, but they aren't quite living the rockstar lifestyle yet.
"Being in a band is almost like a job. You just have to time manage," says Hampton.
Both Hampton and Searcy manage homework and band practice in Newbury Park.
Before they started practicing at Rock Nation, they were the typical garage band, holding rehearsal at HPTR guitarist Connor Trietsch's house. That is, until a neighbor began filing multiple complaints against them. They're no longer allowed to play there.
Just goes to show how hard they rock.
HPTR social media
Facebook: https://www.facebook.com/halfpasttherevolution
Instagram: http://instagram.com/halfpasttherevolution/
Twitter: https://twitter.com/HPTR_Official
YouTube: https://www.youtube.com/user/HPTROfficial
SoundCloud: https://soundcloud.com/half-past-the-revolution