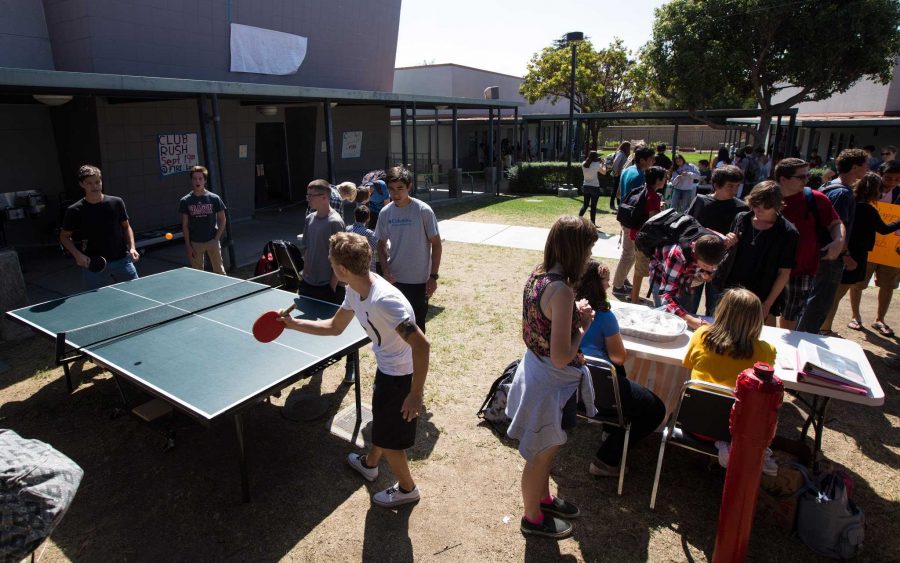 Foothill's students got the opportunity to join new clubs at the annual Club Rush this Friday.
During the rush, the clubs set up tables baring food and sign up sheets. There were decorated tables with trophies, ping pong equipment, glitter, and bracelets hoping to attract potential members.
With a range from Girl Up to Culinary Club, Club Rush provides a way for the students of Foothill Technology to explore different interests.
Students could venture into debating, playing ping pong, or even advocating for the rights of women in other countries. Other Foothill clubs include:
Generation Church (GC)
Anime
Kiwins
National Honor Art Society (NHAS)
Breaking Point
National Honor Society (NHS)
Gaming
Programming
Students Against Destructive Decisions (SADD)
Clubs each offered something unique to the people passed by their table. The art club offered sugar free taffy and the ping pong club offered a free match to anyone that would join.
…………………
Once the event was up and running, students swarmed the tables.
"This is one of the reasons why I came to Foothill," was a frequent comment said when waiting in the various lines at the tables.
Alex Schmitt, ASB member and Club Rush coordinator, described the tasks which were necessary for the event to be run efficiently. The planning began a month prior to the event.
Joining a few clubs herself, Schmitt emphasized the importance of clubs within the high school system and how it could be beneficial in the future.
"[It is] a good way to meet new people, get more experience and looks good on college applications," she said.
Emma Zeko and Olivia Morales, two freshmen that are already enjoying their new school, said that clubs were a "great way to get settled in [to Foothill.]"
Tess McLaughlin is a junior and a co-founder of Girl Up, a United Nations club. Currently the treasurer, she described the benefits of Club Rush.
"It gives everybody an opportunity to see what the school offers," she said.
The Girl Up table was surrounded with people. It was covered in bracelets, pins, and a number of informational papers.
"[Girl Up] helps girls through advocacy and fundraising," she said.
"We work on things to make sure they have education […] and do not get married off at a very young age because one out of every seven girls, in developing countries, gets married at the age of 15," she said.
McLaughlin co-founded the club last year, and after that years Club Rush, McLaughlin saw an improvement to the numbers of the club.
"Just from Club Rush, we will get quite a few initial members who are interested and it will probably thin out a little bit, that's what happened last year," she said.
"Last year we had about 100 girls who signed up and said they were interested and then it went down to more like 20 people," she said.
Senior and ping pong club president Jameson Mah started the club the year prior with 10 friends. He became interested in ping pong at a camp at the University of California Davis, last summer.
"I thought that a lot of students would benefit from it, so I decided to make it a official club," Mah said.
"Club Rush is pretty cool because it's a chance for all the students to see everything [Foothill] has to offer and allow everyone to get involved in all kinds of different things, " he said.
[soundcloud url="https://api.soundcloud.com/tracks/168602513″ params="color=ff5500&auto_play=false&hide_related=false&show_comments=true&show_user=true&show_reposts=false" width="100%" height="166″ iframe="true" /]
"It's a pretty exciting experience especially at the beginning of the year."
When asked about the turnout of the club's numbers after Club Rush, Mah set a goal for the club.
"I expect like, 100 [new members]. If I don't meet the 100 mark, I'll be very disappointed," he said.
Assistant principal Ron Briggs is a first year 'Foothilian' and experienced Club Rush for the first time this year.
"[Club Rush is] a great way to get involved in things they may not normally get involved in out of the classroom […] giving them opportunities that they would not normally have," he said.
Background Photo Credit: Austin Hunt/The Foothill Dragon Press