Motivational "Finish Strong" rally wards off senioritis
Teachers and administrators motivated seniors to avoid "senioritis" and to "finish strong" at the this year's senior rally on Wednesday.
At the beginning of 4th period, seniors to their seats in four different chair sections based off the Teenage Mutant Ninja Turtles; Raphael, Michelangelo, Donatello, and Leonardo.
As the rally kicked off, art teacher Justin Frazier, assistant principal Ron Briggs, principal Joe Bova, and ASB adviser Melanie "Captain" Lindsey appeared dressed in Ninja Turtle costumes, complete with turtle shells created by Art Club, and revealed that each section corresponded to one of the Ninja Turtles.
[soundcloud url="https://api.soundcloud.com/tracks/167328780″ params="color=ff5500&auto_play=false&hide_related=false&show_comments=true&show_user=true&show_reposts=false" width="100%" height="166″ iframe="true" /]
"The teachers […] were really enthusiastic about being the turtles, they thought it was pretty hilarious," senior class president Will Hammer said.  "When they came out dressed in their get-up all the students seemed to like it a lot."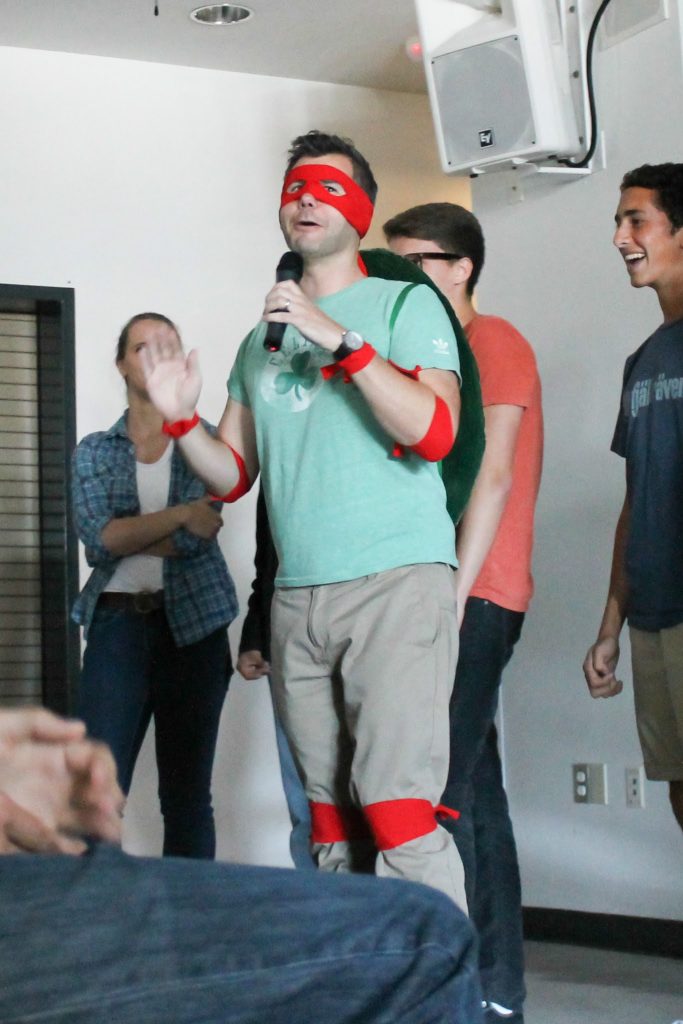 The first activity of the rally was a game of luck, where students predicted the outcome of a coin flip by touching either their head or their "tail."
As incorrect guessers were eliminated from the competition, Spirito Hall filled with the victorious "Yes's"and disappointed "aww's" of correct and incorrect guessers.
Next, they watched inspirational videos, including a TED talk by Maysoon Zayid.
Zayid is an Arab-American stand-up comedian with cerebral palsy.  In the video, she gives a comical summary of her life and career, with an inspiring moral behind the whole story; "if [she] can can, then you can can."
"I liked the TED talks video they showed. It was very inspiring and I think it'll help with my Dragon talk," said senior Kaleb Kunes.
Dragon Talks, modeled after TED talks, is the annual senior project and was launched during the rally.  Dragon Talks allows students to explore whatever topic they are most passionate about and present it to the school at the end of the year.
After initiating the Dragon Talks, a dance-off ensued with students representing each section dancing in front of the whole class.  The entire senior class laughed and cheered together, not only for their own section but for all of the dancers.
Eventually, the four Ninja Turtle teachers had their own dance battle which induced even more laughter, especially from other teachers.
"Dance-off was new, so we were really asking people to put themselves out there on that one," Lindsey said.
Another new activity was the pizza eating contest in which eight students quickly ate Domino's pizza while the rest of the seniors cheered them on.
After the fun games, however, the rally took on a more serious tone as Lindsey spoke to the seniors about how she endured her own challenges in high school.
"It feels nice to know [that] someone cares enough to put on this kind of rally […] and to go up there and share such a vulnerable part of herself with 442 kids," Hammer said.
The goal of the Finish Strong Rally is to motivate the students and give them a sense of unity and school pride.
"With 'senioritis,' [students] get unmotivated, especially at the beginning of the year," said Finish Strong commissioner Maddy Do-Linh.
"[They] just want it to be over with, so I thought getting everybody […] to do games and hear some inspirational talks […] would be very helpful to get everyone pumped up and all together," she said.
All in all, seniors said this rally left them informed, inspired, and filled with exciting memories.
"For senior year to be successful it's good to have a feeling of unity, a feeling of motivation, and a feeling of cohesiveness," Frazier said.
"We kinda get them motivated and let them know that we're on their side, and that we want them to succeed."
…………………..
Background Photo Credit: Joel Mayorga/The Foothill Dragon Press