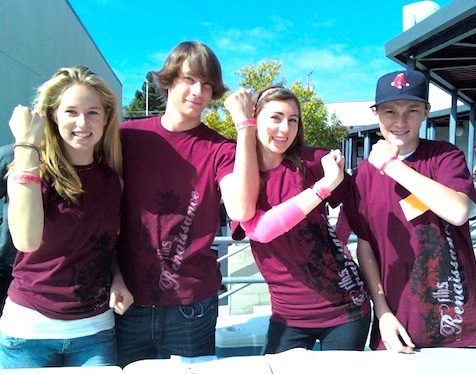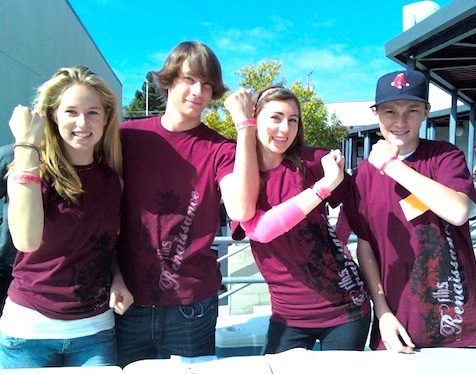 Students in third period classes were visited Monday by ASB leaders who proceeded to pass out red "Drug free is the way to be" wristbands. Students were reminded that being drug-free is not just a standard for this week, but for life.
Though it is true that not all teenagers are involved in illegal drug use, those who resort to the use of painkillers can still be plagued by its life-threatening results. Red Ribbon Week not only reminds students to abstain from drugs, but to realize the hard-hitting facts and after-effects of drug use.
Kimberly Coverly, the ASB junior class president said, "I hope that Red Ribbon Week raises awareness of the dangers of drugs throughout our school. I know some people at our school won't take the week seriously, but for those who do, I hope it makes an impact on the decisions they make in the future."
According to Leadership adviser Darcy Perez, Red Ribbon Week has been an annual event ever since Foothill's establishment. She stated, "I have been at Foothill six years and I know we have had it every year."
Red Ribbon Week officially became a national event in 1988, led by President Ronald Reagan and First Lady Nancy Reagan. However, the startling true story that inspired the campaign involves the heroic actions of the late undercover agent Enrique Camarena.
According to the I'm Drug Free website, Camarena was working on a case in Chihuahua, Mexico involving a major drug cartel. Though initially successful in his findings, Agent Camarena and some of his cohorts were caught, tortured, and killed by vengeful drug cartel leaders. Friends of Camarena paid tribute to his sacrifice by wearing red ribbons and vowing to live drug-free lives.
Trevor Kirby, Foothill ASB special projects director, is in charge of Foothill's Red Ribbon Week this year. Among his duties are supervising the daily events, purchasing items for the week, and "making sure everything runs smoothly," he says. Monday was the kick-off, and though there was to be a trivia game during lunch on Tuesday, due to the rainy weather, Kirby resorted to passing out Red Vines for those who were still wearing their red drug-free bracelets.
For Kirby, this week means a lot to him: "For some, it means to spread awareness, but for others, it celebrates how most of us are drug free. "
As a former Buena High School student, Kirby mentions that drugs were more within reach during his year there (though he did not partake in drugs), whereas Foothill is a completely different environment.
"I'm hoping that in regard to the entire week I can help at least one student and steer them away from drugs and [help them] to live a better life. Ultimately it's their choice, but I'm hoping to give them the information before they choose," Kirby finishes.