Dragon Talks: A one-of-a-kind "passion project" for seniors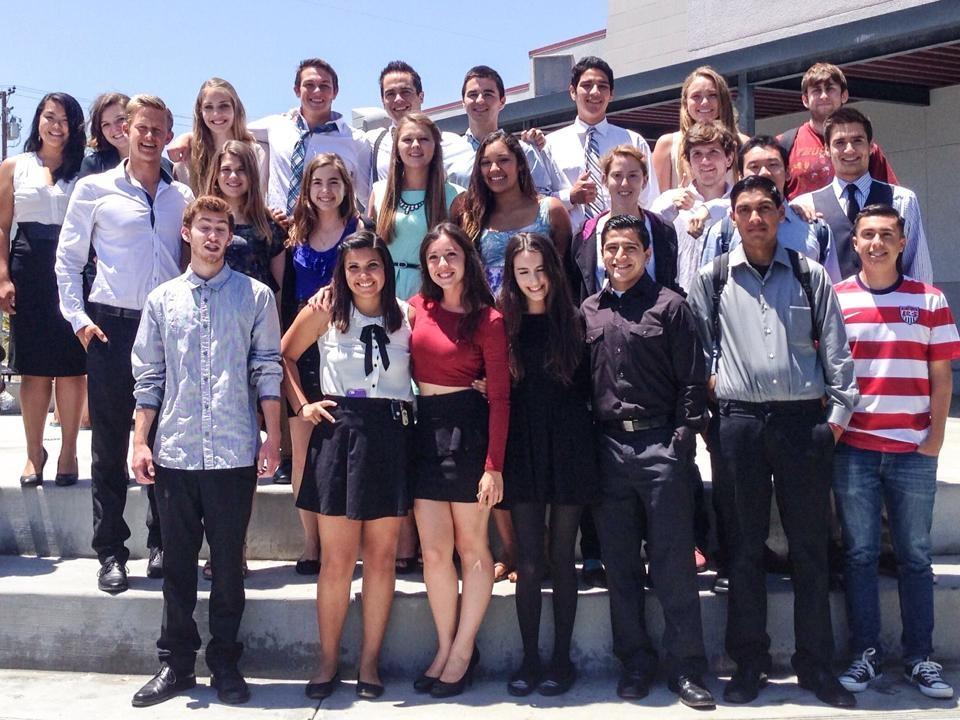 Seniors spoke on how fitness can help your life, why Generation Y is so unhappy, and bananas in the second annual Dragon Talk presentations earlier today. Different than a regular assigned project, the Dragon Talk project asks seniors to impart their passion and wisdom on underclassmen before they graduate.
The project was integrated into Foothill last year, and it is modeled after TED Talks. All seniors participate in this project by preparing a 10 to 12 minute speech on a topic of their choosing and presenting a Powerpoint or Prezi.
After each "round" of five presentations, students who were watching voted on their favorite presentation on a google document. The seniors who got the most votes moved onto the next rounds, and there were 25 overall winners.
"TED Talks are ideas worth sharing, and we believe that our students all have ideas that are worth sharing, and they think they have ideas that are worth sharing," English teacher and Dragon Talks production team member Karen Rodrigues said. "The passion that they have, it gives them something to talk about for ten minutes that others might want to know about."
The topics were varied for each person, and ranged on a wide scale from funny, to serious, to life changing.
Kayalin Akens-Irby did her Dragon Talks about "The Power Of One," explaining how every individual could make a difference in the world and environment. She encouraged underclassmen to do small things to help the environment.
"I mean, in the beginning stages [the project] was kind of tedious, but we realized that it would all come together and it actually ended up benefitting us at the end," Akens-Irby said. "But the end product of putting together your speech and your PowerPoint and just being like 'Yeah I'm going to say that! And I'm going to talk about this!' was really fun. I loved that it was a passion project."
"I was thinking about other things that I might want to do or that might be interesting, but I was like 'No, I can't walk away from this school as a senior and not spread my message to as many people as possible,'" she said.
Senior Lucy Liao did her Dragon Talk about "Why Generation Y is Unhappy." She talked about why she thinks success doesn't always equal happiness.
"I chose this topic because I was just really stressed out this year […] You don't have to six AP classes to get into a good college. So I thought it was important to let people know that, that you don't need to be really prestigious [to be successful and happy]."
Many students enjoyed hearing about the seniors' talks and were excited to for the project themselves in the future.
Junior Delaney Warren really enjoyed senior Cristian Alamillo's speech about movies. Alamillo said that they teach important life lessons and are more engaging than books or plays.
"It seemed like it was put together pretty well, and I liked that he went deeper with it- like not just saying that movies are fun to watch, but that they connect with us and that they have a deeper meaning," Warren said. "I am really excited to do this project, because I get to talk about what I'm passionate about, and not something that teachers assigned to me, so I can't wait!"
Many seniors thought that the Dragon Talks was a positive experience that they benefitted from.
"I think it's better [than a regular project] because not a lot of people have that experience of talking in front of people, and I feel like this school gives you a lot of chances to talk in front of people, and you're going to need that a lot, especially in your career," said senior Miztli Tinajero, who did her project about how running was an outlet for her, especially after her grandfather's death.
[soundcloud url="https://api.soundcloud.com/tracks/152565261″ params="auto_play=false&hide_related=false&show_comments=true&show_user=true&show_reposts=false&visual=true" width="100%" height="150″ iframe="true" /]
Many teachers in the Dragon Talks production team also thought that this project was highly beneficial to students.
"[With this project they learn] so many different things; the poise of speaking in front of a group multiple times, hopefully how to make eye contact with an audience, and pacing," said senior adviser Melanie "Captain" Lindsey.
"[They learn] how to engage people," English and AVID teacher Jason Dinkler said. "Because it's a talk, it has to be beyond just sort of an analytical thinking. It has to be connecting and engaging and making people interested in what you're saying, so that's not an easy thing."
Lindsey said she thought this project was better for the students than a regularly formatted high school project with a given topic.
"This they will be interested in; this they will care about. If I tell them to write about T.S. Eliot they may not care, or it's just boring with no creativity and it doesn't allow them to think for themselves or explore their own interests, whereas this is the exact point," Lindsey said.
"All four years we hear, 'I want to study stuff that I want. I want freedom, I want choice.' So there you go, that's what you get your senior year. You get freedom, you get choice, you get to talk about what you're interested in."
Underclassmen, you can start thinking about the Dragon Talks project now: PDF for Dragon Talks Instructions
Background Photo Credit: Josh Ren/The Foothill Dragon Press