Singers enchant audience with Disney classics in "Company Sings Disney"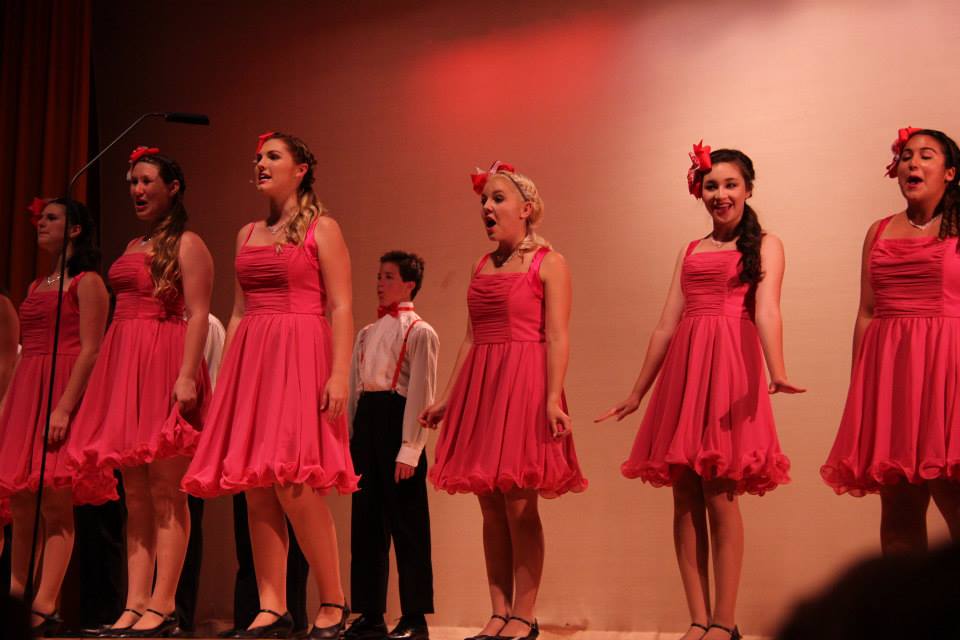 "Gary, I don't got time for dancing," Foothill's foreign exchange student Maija Saarinen said to the pianist as she began her solo, "Almost There," at "Company Sings Disney" on Friday night.
The senior belted out the tune from Disney's The Princess and The Frog, hitting every note and every key, while dancing within the audience.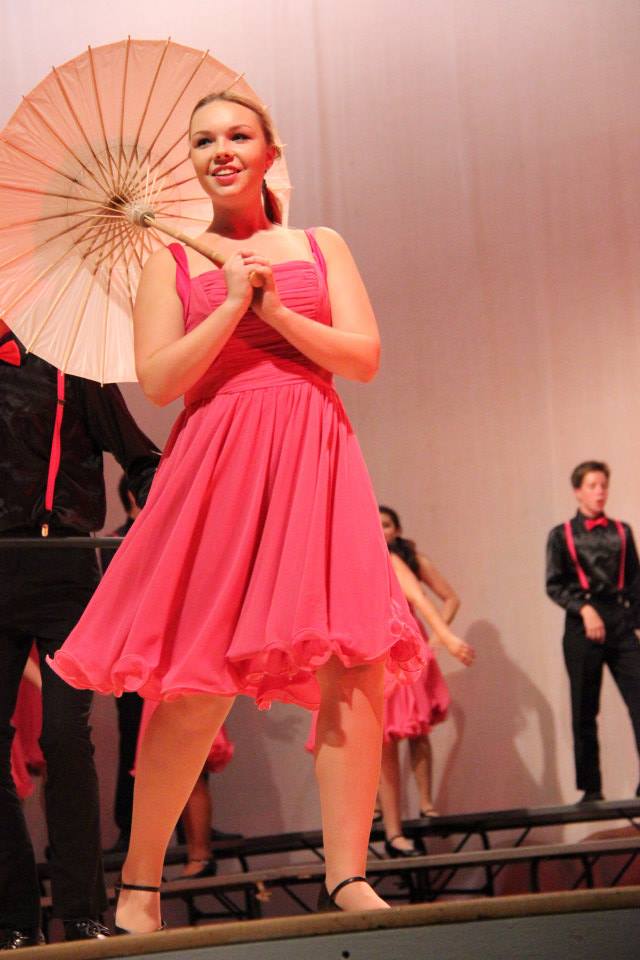 The dance-heavy show was filled with songs from Disney classics such as Aladdin, Mary Poppins, The Lion King, Cinderella, Pocahontas, and Toy Story, and even included numbers from newer movies such as Brave and Frozen. It was Company's third show of the year, their previous performances including "Not Entirely Wicked" and "Share the Joy."
Accompanist Gary Poirot provided the music while Madeleine Schreifels, Samantha Hazan, Mimi Mize, and Seryozha LaPorte choreographed and staged the show.
After the many requests made by her students over the past four years, Director Heidi House decided to let them sing Disney.
"I thought, 'Let's do Disney this time,'" she said. "I think Frozen, the movie, the popularity of that really inspired it. I wanted to do something that my elementary students would come in and enjoy."
And enjoy they did. Foothill Senior, Alejandro Robles attended the Disney theme show, making it his first Company production.
"I really liked the show. I never would've thought these shows were going to be this amazing," he said.
Foothill seniors weren't the only ones enjoying the singing; seven little girls came to the show dressed up as various Disney princesses and danced and sang along to the show.
Foothill junior Cameron Liljekvist said he enjoyed seeing young children in the audience.
"In the end it's so much worth it because [of] seeing little kids in the aisle dancing to the Disney songs, it's so cute and it's worth it," he said.
Liljekvist was also thrilled to be performing Disney songs.
"I was super excited because I grew up with Disney and singing those songs when I was little," he said. "Now I am singing in front of a crowd, it's just awesome."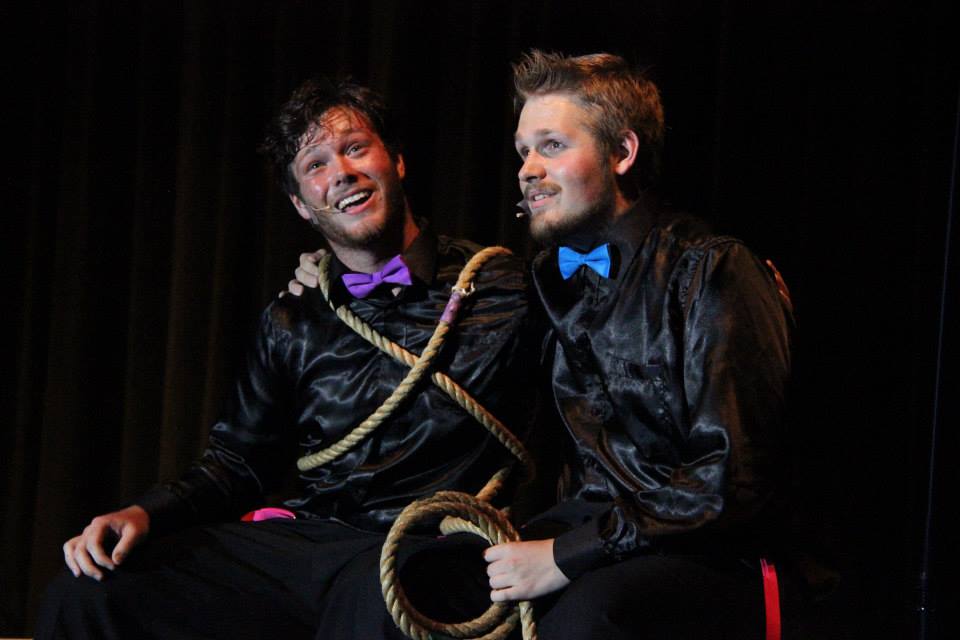 [soundcloud url="https://api.soundcloud.com/tracks/152226769″ params="color=7b0c0c&auto_play=false&hide_related=false&show_artwork=true&show_comments=true&show_user=true&show_reposts=false" width="100%" height="166″ iframe="true" /]
The show began with the Disney classic "When You Wish Upon a Star," sung by the Company girls.
Then Liljekvist came onstage dressed as Lumiere, greeted the audience and launched into "Be Our Guest" from Beauty and the Beast as the Company boys came down the aisles, through the audience.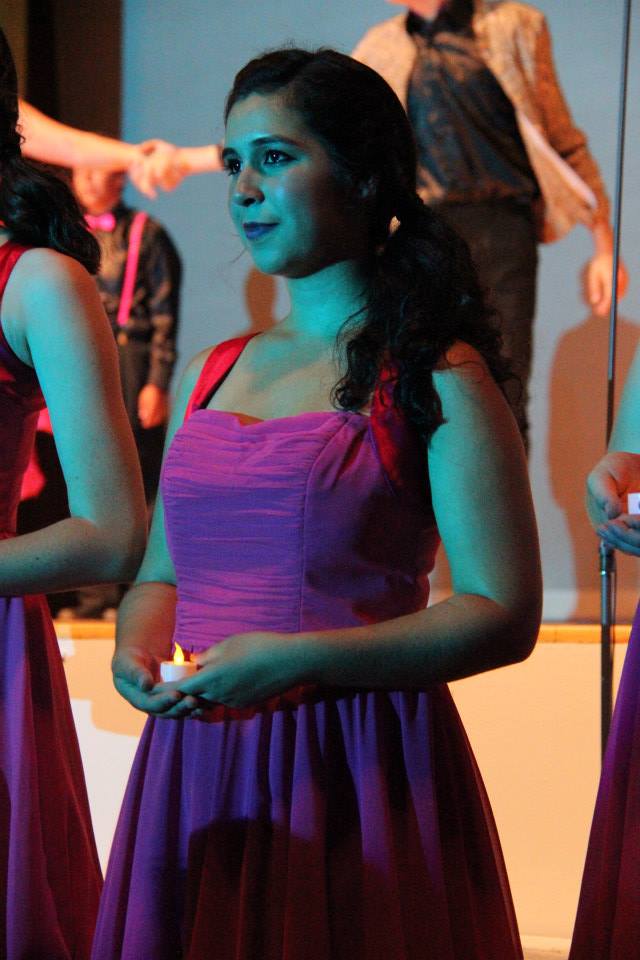 Then came "Bibbidi Bobbidi Boo" from Cinderella with the rest of Company.
Solos included "Someday My Prince Will Come," sung by Kia McMillin and "When She Loved Me," sung by Foothill senior Hanna Rivera.
Rivera said she was excited when she learned she would be singing Disney.
"It was one of the best themes that I think we've had. So I think we were really lucky to get this," she said.
The performers then all gathered onstage and performed a Scottish jig while soloist Isabella Marshall sang "Touch the Sky" from Disney Pixar's Brave, her fiery red hair matching that of the princess herself.
After, Foothill senior Mallory McPherson-Wehan came on stage with her best friends and started singing Hannah Montana's "Nobody's Perfect," the crowd cheering immediately.
Then the whole Company group came out to finish Act 1 with "We're All in This Together" from the iconic High School Musical. While incorporating moves from the original dance, the Company members made the song their own with individualized moves.
Wehan said this was her favorite song because, "my two best friends in this and I choreographed it and figured it out, so it was really fun for us to do it."
Act 2 began with costume changes. Everyone was decked out in zebra striped tops and famous song numbers from both the Lion King movie and Broadway musical were performed. These songs included "Circle of Life," "Hakuna Matata," "The Lioness Hunt," "He Lives in You," and "Endless Night" with Ventura High student Claire Winch as a soloist.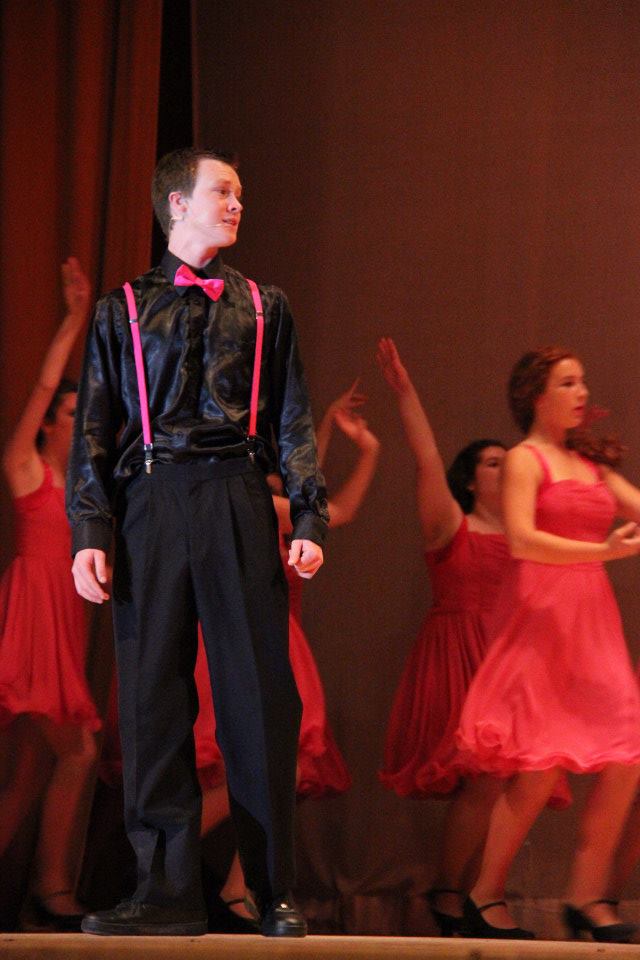 Liljekvist said this was his favorite performance of the night.
"I think it sounded the best. We had the most energy and it's just my favorite song throughout the show," he said.
The Company girls then put on a classy performance of "Cruella De Vil" with Foothill senior Kinsey Thomas playing the fashionable villainess.
Soloist Ashley Adams came out in a Pocahontas inspired outfit and sang "Just Around the Riverbend."
The Company members came out and performed "Put On Your Sunday Clothes," with the girls carrying parasols and the boys carrying canes.
Arabic inspired music filled the auditorium as the boys sang "Arabian Nights," thus leading Company into the Aladdin Medley which included "One Jump Ahead," "One Jump Ahead (Reprise)," "Friend Like Me," "Prince Ali," and "A Whole New World."
Some of the performers put unique twists on the songs. Gina Garrett played the piano herself while performing a jazzy version of "He's a Tramp." Nick Cerezo sang "I Won't Say I'm in Love" from Hercules, originally sung by a girl, with his own "Muses" singing along with him.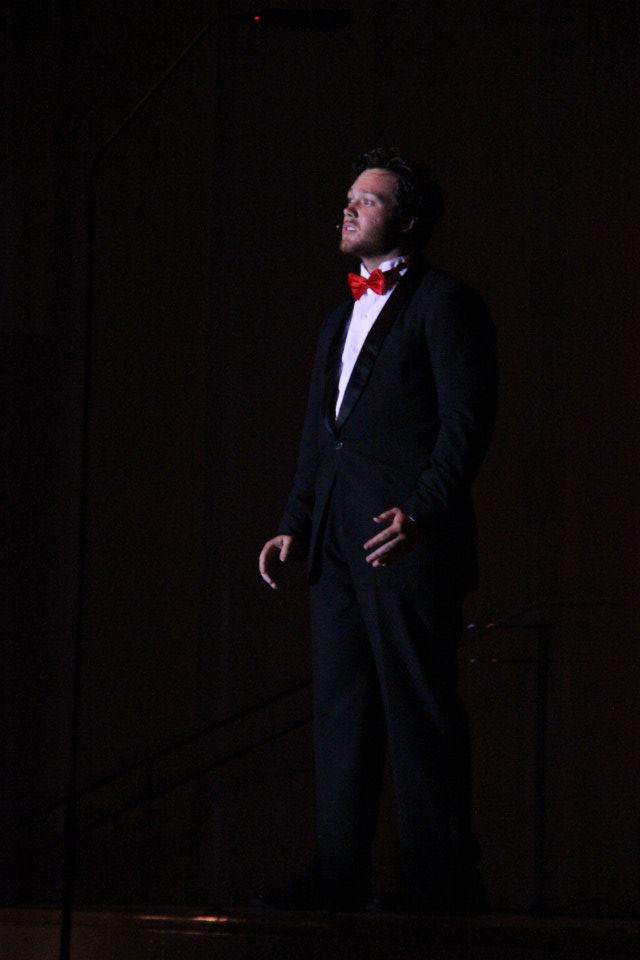 Favorites of the night included "I'll Make a Man Out of You" where the eight boys marched on stage and showed off their martial arts moves to enthralled crowds; the Mary Poppins Medley, complete with red and white ribbons and brooms; and the Frozen Medley, where students dressed in cooler colors shined as they recreated memorable scenes from the popular Disney hit.
The Frozen Medley began when Eric Stuart and Jack Nothwang ran through the audience as Kristoff and Sven, comically singing "Reindeers Are Better Than People."  The whole group followed by singing "For the First Time in Forever," with Liljekvist and Izzy Kress following with "Love Is An Open Door." Ventura senior Jacob Mizraji, dressed up as Olaf, danced to and sang "In Summer." The medley ended with "Let It Go," completed with sparkling lights, shimmering fabric, and elaborate dancing.
Rivera's favorite part of the Frozen Medley was "Let it Go."
"We've been working on it for a really long time and I thought it was fun to use the props with the shiny [fabrics] like that," Rivera said. "It was the first one we sorta started with and to have it being the ending one of the show was really fun."
The group finished off with "A Dream is a Wish Your Heart Makes" and took a bow with the entire audience cheering and clapping loudly.
"I thought the kids did an outstanding job," Heidi said. "It was the most challenging concert we've ever had so far."
[soundcloud url="https://api.soundcloud.com/tracks/152227320″ params="color=690c0c&auto_play=false&hide_related=false&show_artwork=true&show_comments=true&show_user=true&show_reposts=false" width="100%" height="166″ iframe="true" /]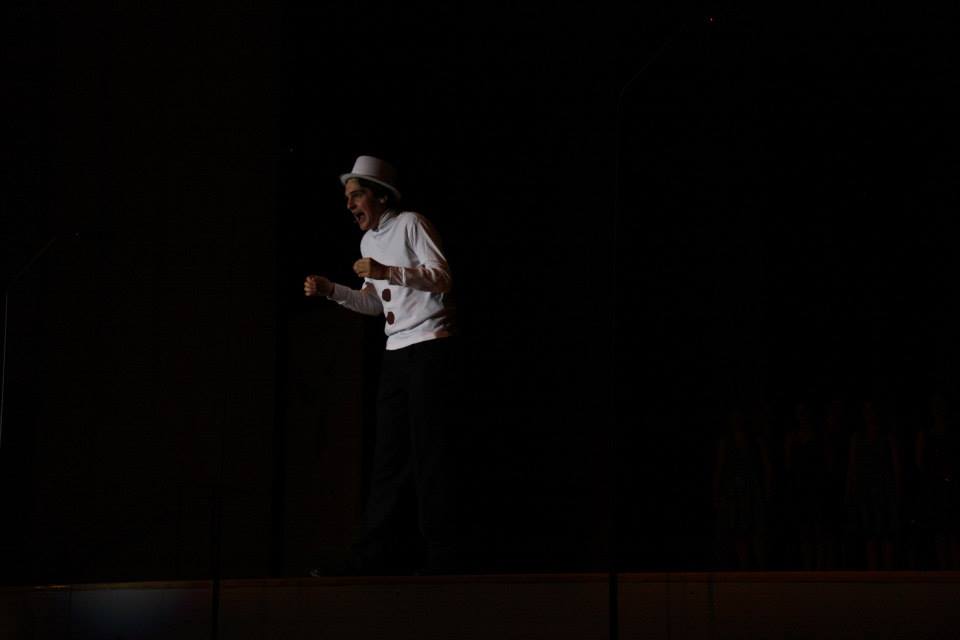 McPherson feels bittersweet performing in her last Company show. McPherson has been a Company member for the past four years.
"I'm going to miss the singing and dancing and how it's made me feel," she said. "It's just incredible knowing that you were part of something really great."
At the end, Heidi thanked the audience, and exited the stage, holding one of her students hands up in triumph, as the all district show choir finished their last show of the year.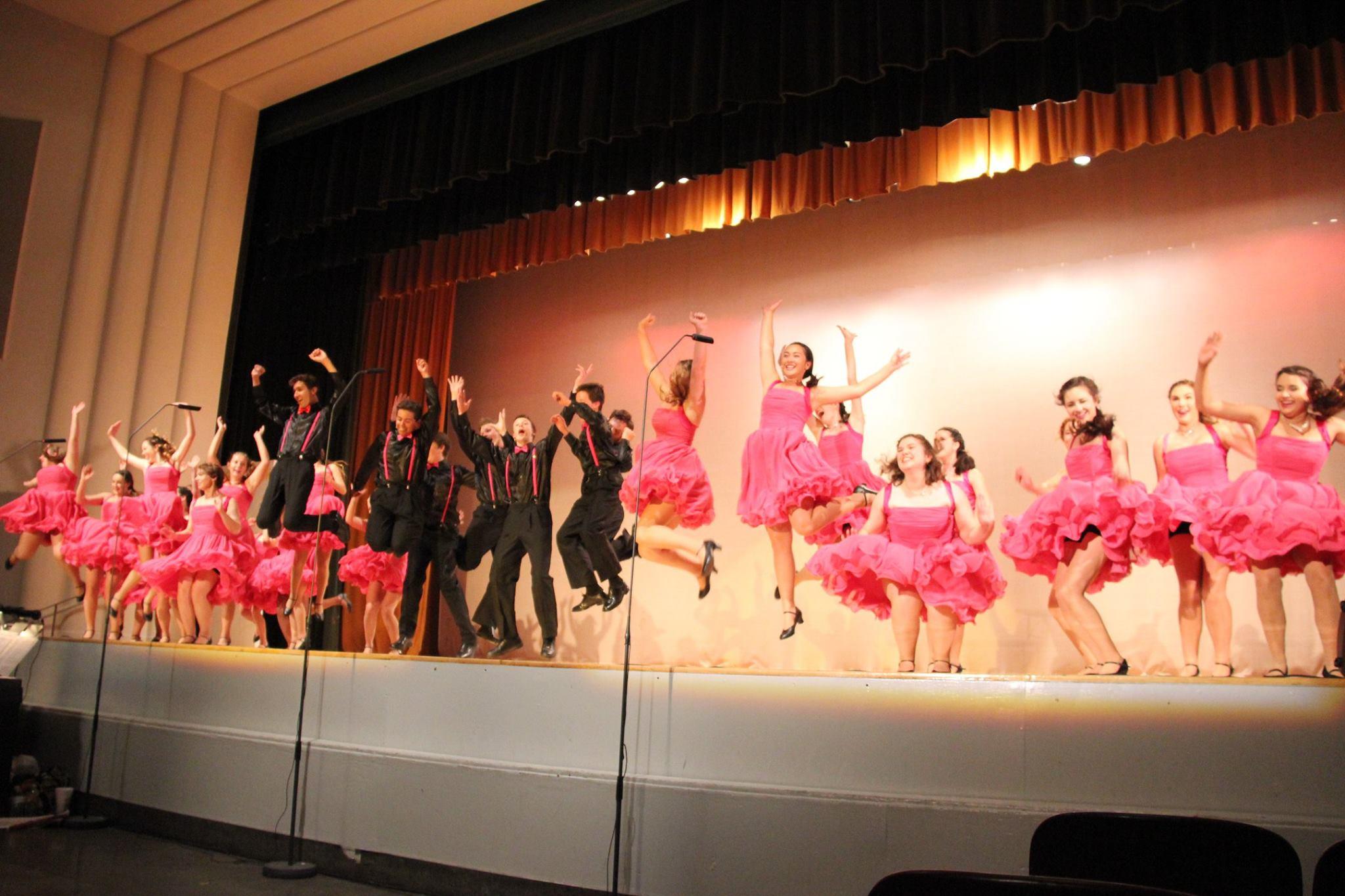 Background Photo Credit: Karina Schink/The Foothill Dragon Press