Everyone should be buzzing about BuzzFeed


The social news and entertainment website, more commonly known as Buzzfeed, has an app in the App Store that brings all of the content from its website into your phone. The BuzzFeed app is basically a mini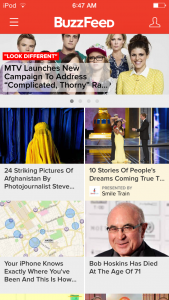 version of it's larger website counterpart that still brings you the full experience of BuzzFeed.
BuzzFeed web users will feel right at home while using this app. It does a good job at formatting articles to fit on mobile screens. The square block look prominently portrays the feature image to give you an interface that looks visually appealing. The design is nice because it doesn't assault you with too many stories at a time, unlike the website. There is also a menu button similar to Facebook that gives you a list of categories and options, making it easily navigable.
The best part of this app, however, is obviously the content. The staggering array of articles, news blurbs, videos, and stories, turn minutes into hours. Sharing posts and activities is conveniently integrated in the app. If you do not already have a BuzzFeed account, you can enter your Facebook info and an account will be created for you. Although, no login is required to use the app.
Another positive thing about this app is its apparent lack of advertisements. There are no ads to be found throughout the app. There are some posts that have a small "promoted by" followed by a company name, but generally the articles aren't obvious product promotions.
Although the BuzzFeed app has a lot going for it, it can be a bit unreliable. Twice, while taking a quiz, the app has crashed on me. This seems to be a widely regarded problem and is reflected in some of the user reviews for the app on the App Store. This glitch doesn't happen very frequently, but it does devalue the usefulness of the app. However, with only a few bugs, it doesn't detract from the overall experience that much.
BuzzFeed on mobile is arguably just as good, or even better, than just browsing the website. There are multiple options for sharing stories, personalized feeds, and a never-ending stream of stories adds up to hours of entertainment.