City Maps and Walks needs a serious upgrade
The City Maps and Walks app aims to be an all-in-one travel app for visiting attractions in major cities across the globe. The core of the app is based off of downloading audio/informational tours about local attractions in the city you are visiting. Each download includes a paragraph of information about each site, a basic map of the city, and sometimes a short, one-minute audio clip. There is potential for this app to be great, but there are numerous of details holding this back.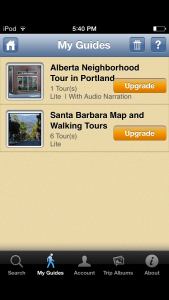 Self-guided tours are always a good way to experience local attractions if they are put together well and easy to follow. Unfortunately, City Maps and Walks does not fall under this category. It fails to meet expectations of a smooth experience of a good tour guide, mainly because of usability.
This app is not user friendly.
First off, there are advertisements that show up at the bottom of the screen that get annoying. The menus are not easy to navigate and getting to where you want to go can be confusing. Also, to get features such as having the tour route displayed on the map, walking directions, and the ability to find your location, you must upgrade the app for several dollars. And when you upgrade, it only applies to the specific city tour that you are using, so you will need to pay for a separate tour in a different city. A network connection is not always required, but there are reminders that pop up multiple times telling you that some features are restricted until your phone has data.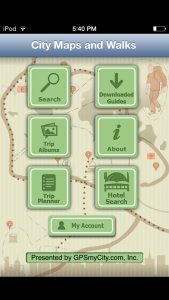 However, the first and most obvious flaw you might encounter in this app is the fact that it's not optimized for any of the "5 series" devices. There is a black bar both at the top and bottom of the screen if you happen to be using an iPhone 5 or 5th generation iPod Touch.
It's not optimal, and clearly shows that this app has been neglected by it's developer. The color scheme and buttons are likewise not updated to flow well with iOS7, and are a bit old school. It does have a workable menu system, but that's practically required in the travel category of apps.
After providing many reasons why this app is poor in its construction, there are still useful aspects. It does provide free information about local sites and city maps that are accessible offline. So if you are willing to overlook all the flaws, it can definitely be a useful resource for discovering points of interest in a city.
To put it plainly, the poor quality of this app is apparent. Its lackluster design that hasn't been updated in seven months stares you right in the face if you use an iPhone 5 or iPod Touch 5th Gen. It's restriction of features, that are assumed to be free by reading the description, may or may not be worth paying for considering the time window a vacation provides. You might be able to get by using this app, but searching for more desirable alternatives is probably a better choice.