App Review: Audiobooks from Audible gains a more mobile audience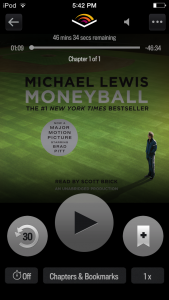 With Audiobooks from Audible, listening to a good book can be only a few taps away. This app is used to download audiobooks to your device available for listening anywhere. Audible is a sub-company of Amazon, so entering an Amazon account is required for use.
Although it is a free app, the audiobooks themselves are not free. There are several plans available for purchasing audiobooks, but the standard one allows the download of one audiobook every month, for $14.95 per month.
After buying an audiobook from their website, it is available for download to your device for offline listening. At an advertised 150,000 or more audiobooks available, this app will have something for everyone.
Audiobooks can be a great way to 'read' a book while doing another activity while listening. Access to audiobooks from a mobile device is a great way to listen because they are not limited like more traditional CD audiobooks. It's a convenient tool that has lots of value.
This app is very user-friendly. It has menus and playback options that are easy to navigate. The one part that just doesn't make sense is the tab at the bottom of the screen that is labeled "More Books." When you tap on it, it brings up a screen that says "Audible is home to a vast catalog-you'll find:"
bestsellers

science fiction

romance

classics

humor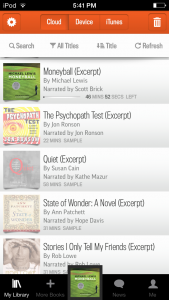 However, that's all the tab does.
It would be helpful if there was a way to search and download individual audiobooks from this tab, but there is no option for that anywhere in this app. Going onto Audible.com is the only way to purchase new audiobooks, which is a small inconvenience. After that, it becomes possible download them onto your device.
The aesthetic design of Audiobooks from Audible is quite nice. It has a color scheme of dark shades contrasted by bright orange. It also has a tab that tells you about statistics of listen-time, badges, and listen-level.
Having a book available to listen to anywhere is really easy and perfect for long road trips or plane flights. It makes it possible to 'read' a book while having your hands or eyes busy.
For being a free app, it is high quality. You do have to pay if you want a full audiobook, but it can be enjoyable just to listen to some of the excerpts, which can be about 45 minutes long. This app is perfect for passing time at your house or on a long trip.
Background Photo Credit: Cliff Danza/The Foothill Dragon Press