One Dollar, One Child, Hope for Haiti.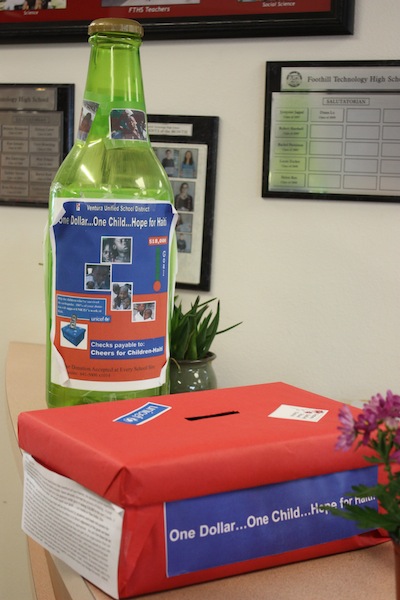 Hang on for a minute...we're trying to find some more stories you might like.
On Tuesday, January 12th 2010, an earthquake struck Haiti and caused chaos throughout the country.  The earthquake has shattered the country and taken thousands of lives. Those who survived are left to deal with the loss of people close to them, horrible injuries, and the destruction of the towns that they lived in.
Many of us are trying to do something to help those still alive in Haiti. Some have already donated money and supplies to relief groups dedicated to assisting the survivors. But the Ventura Unified District is hoping to raise $18,000 in the next three weeks for the survivors of the earthquake.
The Ventura Unified School District says "If every student and employee gave just one dollar, we would reach our goal."
Their motto is "One Dollar, One Child…Hope for Haiti."
No credit or reward will be give to those who donate money. The feeling of knowing that their donation has helped relief organizations to save lives in Haiti is all they'll recieve in return.
Campus Supervisor, Dana Eaton, commented about the situation in Haiti: "I think the students here at Foothill are very generous."
As of Thursday, February 5th, Foothill had raised $682 towards our school's goal of $1,000.
Boxes will be placed at the school sites in the district, along with posters to signify that the boxes are for Haitian relief money. Each Tuesday, our district will collect the money and see how much we have raised for those in Haiti. The final donation will be sent to Unicef, who will turn it into much needed supplies and other relief efforts.
Anyone who wishes to donate more than a dollar can write a check to Cheers for Children.
Photo: The collection bottle and box found in Foothill's front office for those wishing to donate to the cause. Photo by Trevor Adams, The Foothill Dragon Press.