Tornado damages Ventura homes, businesses (20 photos)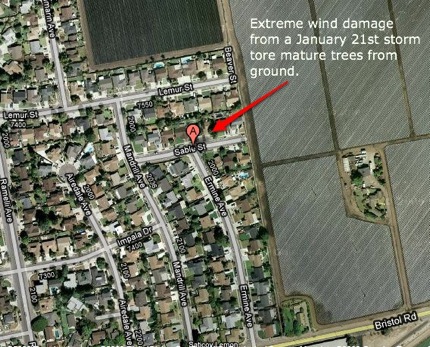 Dragon Press Editorial Board
January 22, 2010
Emergency operators at 911 started receiving calls at 12:31 p.m. Thursday from witnesses claiming a tornado had just swept through their neighborhood. Dozens of trees were knocked over and housing tiles lay scattered across the damp ground.
At 1:30 p.m. an incident crew from the Ventura County police and fire departments set up an incident command center on the corner of Sable Street and Ermine Avenue. Two houses away, a giant tree blocked the road. Another landed on a nearby home.
The resident, Heike Rockhold, wasn't home when it happened.
"I was at work when my neighbor called me and said 'a twister hit our street, a tree is on your house, and I'm sorry,' " Rockhold recalled.
The tree punctured the roof of her house in two places, and a branch went through into a bedroom. A roofer had begun the process of trying to fix the hole to stop further damage that might come with the expected rain.
Rockhold was surprisingly calm and managed to keep a smile on her face.
"Nobody got hurt, so that's a blessing," she said.
The wind has caused quite a stir in East Ventura and set many people working together to clean up the damage. The police and fire departments were quick to respond and continue to work hard to ensure the safety of the neighborhood.
Public information officer for the city of Ventura, Anne Hallocks, reported that though witnesses are calling the incident a tornado, there has been no verification. The official description is an "extreme wind incident." [Editor's Note: Officials later agreed that the wind event was, in fact, a tornado.]
Rockhold's nearby neighbor, Darlene Ketola, was home when it all happened.
"I just finished a client phone call and saw the wind blowing my French doors, then the shingles started hitting the door," Ketola said, describing the scene. "It was like a mini twister took most of our shingles off our roof and took that neighbor's tree and then threw it into their house."
That wasn't the only tree to be damaged on her road either. Pointing to what looked like an almost undamaged eucalyptus tree she continued.
"See the top of that tree? The wind just snapped it off. A 20-foot section. Part of it flew into the field and part in the neighbor's yard."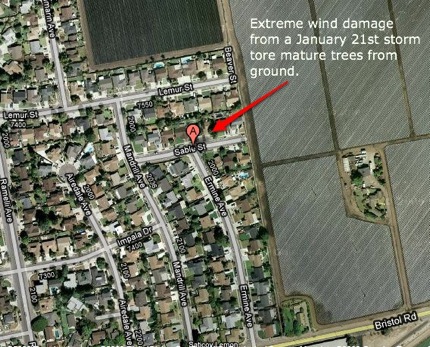 As for damage to Ketola's residence she added,"We are all very lucky, by God's grace it just took a couple tiles, nothing else."
The tree collapsing on the house was the worst of the damages reported, but police teams are canvassing the neighborhood and checking for any damage that may have happened behind houses. Teams are also working on cleaning the streets of debris.
The wind damage continued northeast from the neighborhood and included a farm building along Montgomery Ave with its roof ripped off.
Bessie Bales is the owner of one of the houses affected by the incident. A city tree collapsed and was blown towards her house, hitting her own tree and uprooting it.
"I don't care about the city tree, but my husband and I planted that tree when we first moved here. We planted it in 1964. I'm really sad about my yard tree."
Going through Bales's backyard and blowing about her lawn furniture, the wind continued to Junipero Serra Elementary School where it caused damage to trees and the roof of the school.
The school did not evacuate its students during the incident.
"It was loud and scary!" said one kindergartener, Andrew Boyd. But aside from causing some noise, no major damage was found.
"No injuries have been reported," said Hallocks, but there have been 18 tree failures, or the complete uprooting of a tree, 25 calls to 911 regarding the incident, and several downed power lines on Hallifax Street.
Photos by Elizabeth Roemisch, The Foothill Dragon Press.
[Edited January 25: Officials now agree the event was a tornado.]