One accessory that you can't go wrong with is a bow. The styles of bows are endless, making it hard to choose which one you want. Ranging from fabric clip-ins to cute accent clips, bows work with any hairstyle. The perfect bow transforms a boring look into an eye-catching one, and they are perfect pieces to play around with to express your own unique style.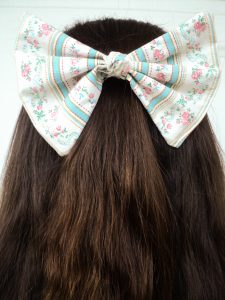 1. Half up, half down
In the mood to stray from the usual hairstyle, but not wanting to commit to putting it up? Trying the half up, half down is an easy switch. This look is really simple and works for everyone. Simply take two sections of hair from both sides and pin in place with either bobby pins or an elastic. How much hair you choose to pin back is totally up to you. It is also cute to braid the two sections before pinning them in place, and this adds detail to an otherwise simple hair style. After you're satisfied with your half up, half down style, add in a bow at the point where you have secured the two pieces of hair. Adding a bow as an accessory tops off this look and gives it just the right amount of style.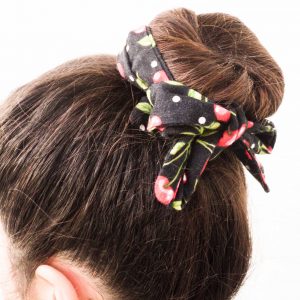 2. Ballerina bun
Even though ballerina buns are associated primarily with ballet dancers, they are a perfect hairstyle choice when going for a polished look. A great way to add flair to this classic look is by wrapping a bun wrap around the base of the bun. These are great to use because you can shape the wrap into a bow that is facing the front, back or side.They also come in a variety of colors and patterns. Start by putting your hair up in a high ponytail, then twist the ends of it around to form a loop with the hair. Pull the tail through the loop to form a loose knot. Fold the loose ends around the bun and secure with bobby pins. Once you've created this look, spray with hairspray and tie that bun wrap into a small bow.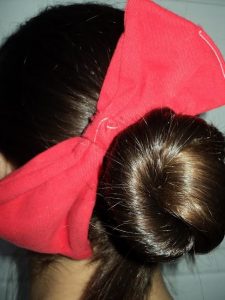 3. Low bun
Low buns are one of the easiest looks to rock because they range from messy to intricate. They seem to effortlessly transform to go with any look, and are extremely simple to create. Add a larger bow for this hairstyle because since the bun is low, a bigger bow will draw more attention. Go with a bow that has a cool pattern like a chevron print or one with floral accents to coordinate with an outfit. To achieve this look, all you need to do is pull your hair together at the nape of your neck, making a low ponytail, and secure it with an elastic . To make the bun messy, loosely wrap the ends of the bun around the ponytail and instead of tucking the pieces that stick out; leave them. If messy isn't the look that you're going for then wrap the ends tightly instead of loosely. Finally, secure both looks with bobby pins.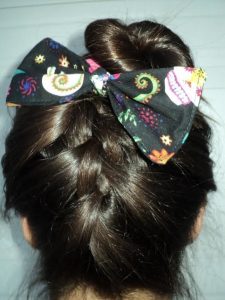 4. Top knot with braided back
Want chic without too much effort? The top knot is a must-try hair trend. It is uncomplicated, and adds boldness to any outfit, especially when it has a braided back. The easiest way to construct this hairstyle is to start off by turning your head upside down, so that the hair is hanging downward. Once you've done this, separate the hair that is closest to your neck into three sections and braid them together. After the braid is completed, gather the rest of your hair into a high pony and secure it with an elastic.Twist the hair into a bun and secure with bobby pins. Finally, attach a stylish bow to the back of the top knot to finish off the look.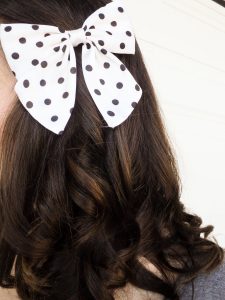 5. Cute curls with bow clips
Curls are ideal when you want to wear your hair down because they frame your face and create a fun and flirty look. In order to create this soft look grab a curler and some hairspray. Wand curlers work best to create soft, wavy curls. To make your curls look natural, change up the direction in which you curl each piece of hair. After curling, run your fingers through your hair to add volume. After you are satisfied with your curls, add some bow clips. These are delightful accents that look cute while also keeping hair in place. Create your own look by mismatching colorful clips with the bows to draw attention to your lustrous locks.
7 Super cute bows for your hair: http://t.co/kmGK64HYNNpic.twitter.com/vlvVWVo52B

— Hair (@HairNotes) March 3, 2014
Despite what many think, bows are appropriate for all ages and aesthetics, so don't regard them as juvenile. Bows are obviously girly and sweet, but it all depends on how you wear them. They can be chic when worn atop a braided top knot or whimsical when adorning a half up, half down. The possibilities of bows are endless, so "put a bow on it" and take advantage of this versatile trend.
Background Photo Credit: Paris Shepherd and Josh Ren/The Foothill Dragon Press