Ventura students pull off deep themes in "Rimers"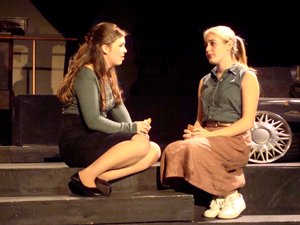 Hang on for a minute...we're trying to find some more stories you might like.
Bright headlights. Screeching breaks. A mournful-looking group of people.
This is how Ventura High School's production of The Rimers of Eldritch introduces itself to audience members.
Written in 1966 by Lanford Wilson and directed by Stefoni Burgi, Ventura High School's drama teacher, the play follows the citizens of Eldritch over the course of about a year.
Neighborhood gossip and close relationships fuel this entertaining but deep look into small town life. The characters soon break away from being a sad-looking group and become very strong, individual characters. Still, they all share an otherworldly quality that makes you feel like you're watching bits of a Twilight Zone episode rather than a realistic play.
The play is non-linear, so you shouldn't worry about not understanding everything in the first half. If you pay attention to the characters, the plot will fully reveal itself after intermission. Repeated scenes create a level of dramatic irony which help to understand what is going on, but it also left me wanting to jump up on stage to tell the characters what to do.
Though this is a dramatic play, it has some humorous moments as well. After an extremely well-acted argument between Evelyn Jackson and Cora Groves, played by juniors Courtney Baird and Claire Burgi respectively, a short comical scene about the weather allows the audience to take a breath and relax again.
The actors and actresses make the play, as there are no set changes and hardly any props. We meet Eva Jackson, a crippled, 14-year old girl portrayed by junior Lauren Smith, and her friend Robert Conklin, a brooding, 18-year old played by junior Joe Sartee. Kyle Harvey, also a junior at Ventura, delivers a convincing performance as Skelly, the town's agitated, old hermit.
Rimers has some mature themes, making it even more impressive that the cast and crew have been able to pull off such a demanding show. However, it is advised that children under 13 not attend the show. I will admit that I was having doubts about liking such a heavy play, but I'm now hoping that I will find time to see the last performance!