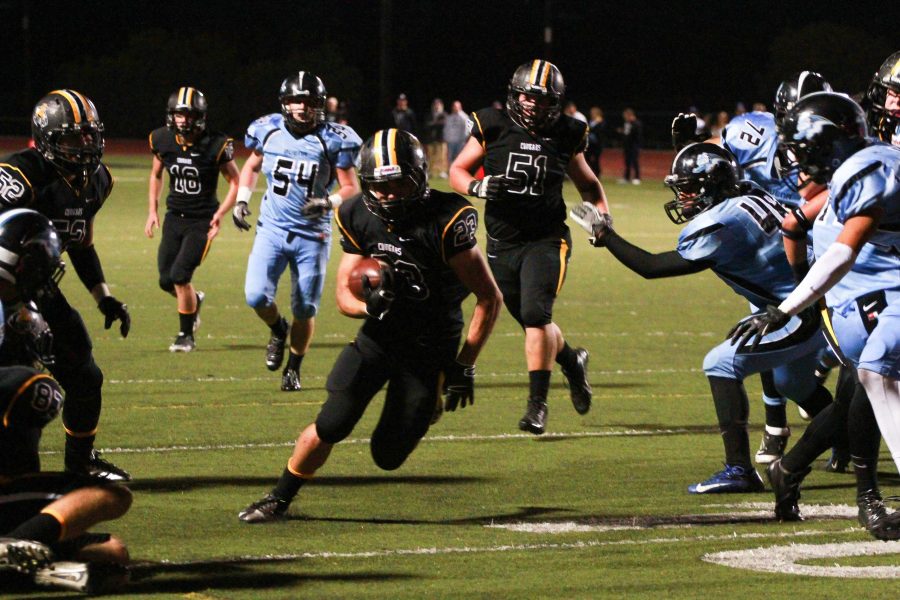 [embedvideo id="78441177″ website="vimeo"]
[dropcap size=dropcap]I[/dropcap]n a decisive 31-0 victory, the Ventura High School Cougars cinched the CIF Channel League championship from their rivals, the Buena High School Bulldogs, this Friday.
The game began with a moment of silence to honor Suzanne Brown, who was killed in 1986 as a result of a drunk driving accident, and after whom the trophy presented to the winner of the Buena-Ventura game is named.
Ventura's senior Jack Peterson put the first points on the board, with a throw up the left side of the field for a touchdown in the first quarter. A field goal for the extra point set the score at 7-0, in favor of Ventura.
By the end of the first half, the score was 21-0, with touchdowns by Ventura seniors Zak Crawford and Brice Winans. Halftime performances were made by Ventura's cheerleaders, dance team, and hip hop team.
In the third quarter, Buena's defense redoubled their efforts, and kept the Cougars from scoring throughout the whole quarter.
In the fourth quarter, the game became noticeably rougher, with one Buena player helped off the field after a helmet-to-helmet hit, and one player from each team ejected from the remainder of the game for fighting.
Though Buena's senior Tyler Harbert made a 67-yard run, the Bulldogs were unable to capitalize on the play, while Ventura scored one field goal and one touchdown, securing the blowout victory against their rivals for the fourth year in a row.
Jubilant fans and players immediately erupted into cheers. Crawford could hardly find the words to express his elation.
"It [the win] means everything to us. The trophy is what we fight for all year," he said.
Ventura's head coach Tim Garcia was similarly proud of his team's victory.
"We kept the hope, and we kept driving, and we kept the overall goal in mind and never lost sight of it," said Garcia.
Buena's head coach Tim Gutierrez was disappointed by the loss, but has not lost hope.
"[If] we won tonight, we're secure, we're going to the playoffs. We didn't meet that goal. Hopefully we meet that next week," he said.
Additionally, Gutierrez hopes that his players don't get bogged down by the hype of the Buena-Ventura rivalry.
"We try to not worry about the rivalry so much, we try to just play football," said Gutierrez. "That's part of the best thing we do."
Credit: Emily Chacon, Bridget Parrino, and Kazu Koba/The Foothill Dragon Press
Background photo: Ventura junior Tyler Peralta dodges Buena players as he runs with the ball. Credit: Aysen Tan/The Foothill Dragon Press