When the weather gets fierce, so does the competition for who can better equip you for the conditions. One long-lasting rivalry is between outerwear giants Patagonia and The North Face, and FDP Fashion investigates Foothill students' opinions on this two-sided topic.
The North Face began in 1966 in the North Beach neighborhood of San Francisco. The North Face sells clothes for men, women and children, along with a very broad outdoor and recreational equipment line.
Patagonia started in 1957 selling tools for mountain climbing; by 1972 they were selling clothing. Their flagship store is in our very own town, Ventura. Patagonia sells clothing for men, women, children, and infants, books, DVDs and certain travel necessities such as water bottles, backpacks, and bags.
Both Patagonia and The North Face were created as the environmental movement was gaining strength; this led to a focus on the environment and sustainability. Both companies focus on durability. This allows people to reduce the amount of products they buy, and their products have been known to last a lifetime. Both companies also make donations to organizations focused on the well being of the environment.
In a random survey of 30 Foothill students who were asked if they liked Patagonia or The North Face more, 24 of those surveyed chose Patagonia. This makes sense because it is a local company that employs many families in Ventura.
Junior Tyler Cobian prefers Patagonia over The North Face.
"Patagonia is better quality, has a lifetime warranty, and is more environmental than The North Face. The lifetime warranty means that if you buy anything and it tears or breaks they'll replace or fix it. If it's an older model they might give you a newer one," Cobian said. "[Patagonia] is warm and comfortable. It's function over fashion."
Although he thinks Patagonia is very expensive, he feels that what you get out of the product makes it worth it.
Junior Carly Bell also likes Patagonia more than The North Face.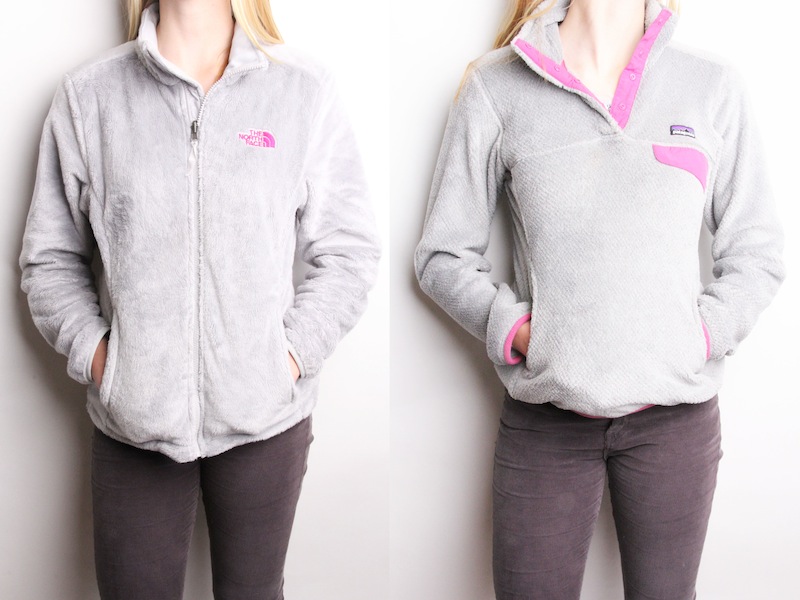 "I like Patagonia because that's what my mom gets because one of her friends works there. I had some The North Face stuff, but it wasn't as nice as Patagonia. Patagonia lasts a long time, and I have some sensory issues so it feels better than The North Face."
Junior Cassandra McCambridge likes The North Face because it keeps her warm and is comfortable.
"I like the look of The North Face better than Patagonia. Although [The North Face's] clothing can be overpriced, so can Patagonia's."
It seems that at Foothill and most places on the West Coast, Patagonia may be preferred, while The North Face is usually the choice of the East Coast. Whether you like one or the other, they both make a great candidate for a nice, warm jacket when the temperature drops.
Editor's Note: All photos in this article were taken by Lauren Pedersen/The Foothill Dragon Photos
If you've noticed any students at Foothill with an amazing and unique style that you think deserves recognition and a feature article, send us an email with your suggestion! Please include the full name of the student and their grade, along with yours! Send the emails to:  FoothillsFashion@gmail.com